About the 2010 Asian Games
About 2010 Guangzhou Asian Games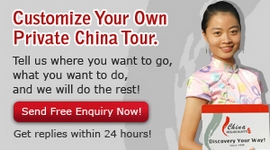 Guangzhou Hotels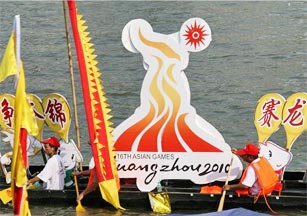 The 2010 Asian Games (XVI Asiad) are scheduled to be held from November 12 to November 27 in Guangzhou, Guangdong Province, China. Athletes are scheduled to come from about 45 countries all over Asia to compete in the Asian sports Olympics. They will compete in standard sports like track and field, gymnastics and soccer (football) and in Asian sports like several styles of Asian martial arts. All together, athletes will compete in about 42 different sports. Besides seeing Asian athletes in action, spectators can see the opening and closing ceremonies and see one of China's relatively prosperous megacity regions.
Popular sports in China and East Asia include table tennis, soccer, badminton and martial arts. Along with these sports, there will be weightlifting, softball and rugby competitions. Basketball has become very popular among China's children and young people due to watching American NBA games and Yao Ming.
The competitions will actually be held in four cities of the Guangzhou metropolitan region. These are Guangzhou itself, Foshan, Dongguan and Shanwei. Dongguan is a large and somewhat polluted industrial city that is one of China's largest exporting areas. It is on the CHR bullet train between the Louhu border in Shenzhen and Guangzhou, so travel there is convenient and quick and takes only about 40 minutes.
As part of the games, there will be opening and closing festivities that can be watched at Haixinsha Island in the Pearl River. People expect a light show, a mysterious lightning show, and the usual choreographed marching and dancing, etc. The opening ceremonies are directed and organized by Chen Weiya who was the assistant director of the 2008 Summer Olympics. He said that the ceremony will "surprise the world." The show will begin about 8pm and the"mysterious lightning" will be unveiled at 9:42.
This is the second time that China has hosted the games. The first time was in 1990 when Beijing hosted the 11th Asian Games. The Asian Games are the world's second largest multi-sport event after the Olympic Games and are held every four years. Hosting the 2010 Asian Games in Guangzhou gives southern China a chance to showcase its new economic power and prosperity. Guangzhou is part of one of China's major megacities. It is in Guangdong Province, which is a major electronics manufacturing area of the world. Tickets are already on sale.
Mascot and Emblem
Visitors to Guangzhou will see strange horned goats: a big goat and four small goats. They will be all over the city: on TV, on the buses, on clothes, on signs and all over the place. Cartoons of these goats will be played over and over on the flat-screen displays on the public buses and the metro system. For some reason, they are Guangzhou's official mascot caricature, and so they will be the 2010 Asian Games mascots. These goats even have names. A Xiang "阿祥" (pronounced Ah Sshyang), A He "阿和" (Ah Her), A Ru "阿如" (Ah Roo), A Yi "阿意" (Ah Ee), and Le Yang Yang "乐羊羊" (Ler Yang-yang). There is a complex historical myth and story associated with these names. But all together, these names actually form a catch phrase with a kaleidoscope of meanings and connotations including "joy" and "foreign."
The emblem of the 2010 Guangzhou Asian Games was announced in 2006 (see picture below). In this emblem, there is the Asiad sun symbol that is the emblem of the Asiads, four tracks and the Olympic flame. There is an unofficial emblem (see right of page title banner) with the biggest goat at the top and the four little goats representing the four tracks.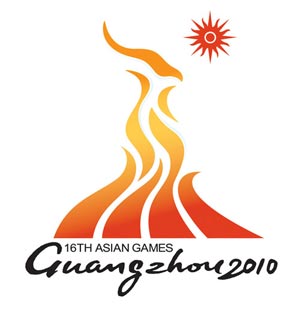 Participating Countries and Regions
East Asia: China, Hong Kong China, Macao China, Chinese Taipei, Japan, Korea, South Korea, Mongolia
Southeast Asia: Brunei, Cambodia, Indonesia, Laos, Malaysia, Myanmar, Philippines, Singapore, Thailand, East Timor, Vietnam
South Asia: Afghanistan, Bangladesh, Bhutan, India, Maldives, Nepal, Pakistan, Sri Lanka
Central Asia: Kazakhstan, Kyrgyzstan, Tajikistan, Turkmenistan, Uzbekistan
West Asia: Bahrain, Iran, Iraq, Jordan, Saudi Arabia, Kuwait, Lebanon, Oman, Palestine, Qatar, Syria, United Arab Republic, Yemen
Sports
Aquatics
Diving
Swimming
Synchronized Swimming
Water polo
Archery
Athletics
Badminton
Baseball
Basketball
Boxing
Bowling
Cycling
BMX
Road
Track
Mountain Bike
Chess
Chess
Weiqi (Go)
Xiangqi (Chinese Chess)
Cue Sports
Cricket
Dance
Dragon Boat Racing
Gymnastics
Rhythmic Gymnastics
Trampoline
Handball
Hockey
Judo
Kabaddi
Karate
Modern Pentathlon
Roller Sports
Rowing
Rugby Union
Sailing
Sepak Takraw
Softball
Shooting
Squash
Table Tennis
Taekwondo
Tennis
Triathlon
Volleyball
Beach Volleyball
Volleyball
Weightlifting
Wrestling
Wushu
Tickets
Ticket prices are not fixed and vary for the different events and matches. Most tickets range from about 10 RMB or 1.50 USD to 400 RMB or 58 USD. The Opening Ceremony tickets are very expensive: ranging from 1,600 RMB or 230 USD to 6,800 RMB or a cool grand in USD. Of course, like at the Beijing Olympics, there will probably be resellers selling tickets outside the various venues. People may book tickets at the official website of the 16th Asian Games (https://ag.tickets.gz2010.cn/AGTicketing/20816/HTML/EN/main.html?lang=en), at branches of ICBC bank, and at ticket offices in Guangzhou.