Xi'an Travel Guide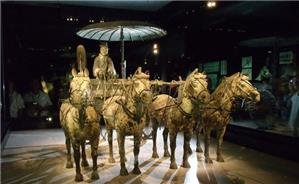 The Terracotta Army
Xi'an is the first of China's Four Great Ancient Capitals and played a very important part in Chinese history. Xi'an is characterized by and proud of its ancient heritage, and rightly so.
The immaculately restored and mighty city wall still dominates the center of the city, with traffic navigating through underpasses in its girth. Many modern buildings are in keeping with ancient style, especially the roofs.
Xi'an Attractions
Xi'an has world class ancient, religious, cultural, and natural attractions, including: Terracotta Warriors and Horses, The Ancient City Wall, Big Wild Goose Pagoda, Small Wild Goose Pagoda, Huaqing Hot Springs, Mount Hua, Banpo Museum, The Forest of Steles , The Great Mosque, and Qianling Mausoleum.
Xian Biking
You can ride around the city leisurely to experience the local customs of the street markets, the historical relics, and the old city walls that witnessed historical events. See Xi'an biking guide.
History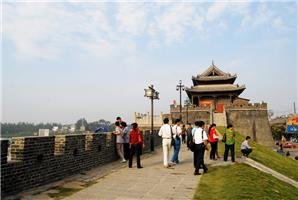 The ancient wall in Xi'an
"China" began in Xi'an, when Emperor Qin (from whom China gets its name) united the warring states in 221 BC and made his capital in Xi'an (or Shaan). The entombed Terracotta Army stands as a monument to the power of Emperor Qin.
Xi'an served as China's capital for the most dynasties: ten dynasties spread intermittently over a 1,100 year period, most notably the Han Dynasty (206 BC–220 AD) and the Tang Dynasty (618–907), golden ages in China's history. Tang opera is still popular in Xi'an night shows.
Read more about the History of Xi'an.
Geography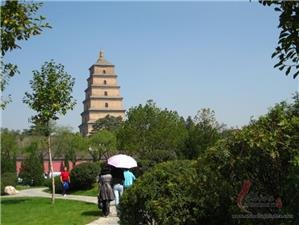 The Big Wild Goose Pagoda
Shaanxi Province has an area of 205,800 square kilometers and a population of 37 million people.
Xi'an is situated in the center of the Weihe Plain, bounded by the Weihe River in the north and the Qin Mountain Range in the south.
Beishan (the Northern Mountains) and Qinling (the Qin Mountain Range) stand as two boundaries dividing the province into three natural areas: the Loess Plateau in Northern Shaanxi, the Guangzhong (Vast Central) Plain, and the Qinba Hills. The plateau and hills make up most of the province's area.
Shaanxi has a continental climate with four distinct seasons. The months from March to November are the tourist high season as they are warmer.
See Xi'an Facts for more background info.

Questions and Answers About Xi'an Travel Guide
Fabrizio Pavesi
2013-08-31
Show Answer
Hello, this is Fabrizio from Italy and next week I''m coming to China for an exhibition in Shanghai. It will finish on friday afternoon and I''m going to have two days off then I''d like to visit Xi''an. May you help me with the arrangments?
Hi, We would like to arrange a Xian tour for you from Shanghai. Would you want to start your tour from Friday afternoon or Saturday morning? Would you fly back to Shanghai after the tour? I have suggested a proposal and sent to your email box. Please check it and if anything, just let me know. Regards, Coco guest replied on 2013-08-31
Kokweng Chia
2013-08-06
Show Answer
We are a small group of 5 persons ,will be making a trip to Xi''an on 1st week of Sept for 3 days. Our plan is Xi''an 2 days(TerraCotta a must see and others) and Huashan - 2 days.pls advise a suitable itinery for us.
Hi Kok, I have sent you an itinerary for your China tour via email. Please check it. Any questions, please feel free to let me know. Whitney Liao replied on 2013-08-13
Arun
2013-04-25
Show Answer
Are there in Asian Indian restaurants in Xi''an, China?
Dear Arun, We only know one Indian restaurant in Xian. which name is CACAJA (印度菜菜餐厅). It is at No.46 Yanta west Road, Yanta District(雁塔区雁塔西路46号). CACAJA was the first Indian restaurant in Xi'an and is close to the Big Goose Pagoda. It offers extensive menu as well as delivery delivery. It specialize in spicy curries, Tandoori Chicken, roti and naan bread. Lussie Lu replied on 2013-04-25
Joyce Wong
2013-03-27
Show Answer
Will be staying in Xian city center between 20 - 25 April. I would like to request for a English speaking tour for 3 persons - 1 day to Terracotta, city wall, museum etc. And 1 day travel by fast train to Luoyang to see Grottoes and Peony flowers. Pls arrange a suitable itinerary with a group/seat-in-coach and how much ?
Hi Joyce, we are very glad to arrange it for you. What class of hotel would you like us to arrange, please? For 3 persons, do you like one room with an extra bed or two rooms?
Whitney Liao replied on 2013-03-31
Margate
2013-03-19
Show Answer
Hi, Me and my husband are planning to go Beijing, Xian & Guilim. There other transportation beside airplane from example Train or bus leaving from Beijing to visit these two cities please advise. Thank you. Margate
Dear Sir or Madam, There is no bus from Beijing to Xian or Guilin, you could take a train. There are some high speed trains from Beijing to Xian, it takes about 6 hours and it costs about CNY825/US$133 for the first class. It takes about 23-24 hours from Bejing to Guilin and it costs about US$101 for the soft sleeper. You could search the details on our website. Please click: http://www.chinahighlights.com/china-trains/ Lussie Lu replied on 2013-03-20
April Offer $25 Coupon
Send your inquiry before Apr. 30, 2014, and we will email you a $25 coupon.
The coupon is valid till Dec. 31, 2014, for paying tour packages worth $250 or up.
The coupon cannot be used for paying flight tickets, train tickets, hotel rooms and day trips.
Travel Advice or Question? Ask us here
Xi'an Facts
Chinese Name: 西安
Chinese Pinyin: xī ān
Location: Northwest of China
Latitude: 34° 41' N
Longitude: 109° 04' E
Elevation: 397 M (1302 FT)
Area Code:029
Population: 8.4 million
Time Zone: (UTC+8)