Independent Travel to China on the Rise
- How one China agency is using the Internet to tap this growing market


-By Corinne Wan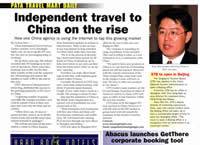 CITS Guilin's web site, www.chinahighlights.com, set up to tap the FIT market, has seen an encouraging jump in bookings.
Set up three years ago, the web site recorded only 50 bookings in its first year of operations. Three years later, bookings rose to 600. For the first three months of this year the company has 100 bookings and expects the number to reach 1,200 by the end of this year.
CITS Guilin's director of inbound travel, James Jing, attributed this success to the growing popularity of FIT travel to China.
"A growing number of people, especially the younger travelers, now want to explore China at their own pace and want only the hotel and air content.
"Others have, say, 10 days to spend and they want to go to off-the-beaten-tracks and not the usual destinations featured in packages."
The web site provides all the information a visitor to China requires, from destination updates to airlines to infrastructure. There is also an easy-to-use trip planner to help potential travelers tailor make their own trip.
"We're in the process of developing a hotel reservation system for all hotels in China. It should he up by June and visitors to our sites can then book the hotels direct while we do the rest," said Jing.
Travelers can make direct bookings at real time, with response guaranteed within 12 hours. Currently 50 percent of CITS' business comes from online hooking, with about 10 percent repeat business. Length of stay varies from a week to a month. The average is about 10 days.
Jing said the admission of China to the World Trade Organization has opened a lot of possibilities for companies such as his.
"More businesses and investments will flow into China and there will he numerous conferences and exhibitions. We will branch into offering PCO services through our new offices in Shanghai and Beijing. CITS GUILIN will open its Shanghai PCO office by the end of this year and Beijing in 2003.The company is expanding its range of products. It has included Tibet and is selling it either as a solo destination or as a combination with China.
"We need to have new products as China is so vast and lots of interesting places are still not exposed. Moreover with the current construction of the Three Gorges l)am, some tours such as the Yangtze Cruise will have to stop. We have to offer new products to our clients.
CITS Guilin's main markets are the US and Europe. Expecting an influx of American visitors to China, CITS of Guilin will open an office in San Francisco within the next few months.
CITS GUILIN plans to be the biggest FIT tour operator in China. However, it will still cater to the FIT market as group travel will still remain the main stay of the country's tourism industry.