Our Website & Logos
We are excited to have selected a new Logo which we believe represents the best of Chinese culture while being modern and sophisticated.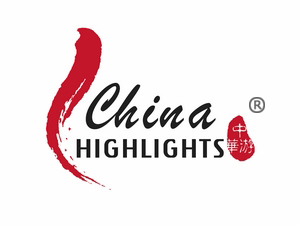 China Highlights' Trademark Successfully Registered in the USAnew
What does our new logo symbolize?
Red is the color of good luck, happiness and success in China. The brush is used in ancient painting and calligraphy. The fluidity of the brush stroke reflects flexibility. The stamp (chop) bears the insignia of China Highlights. Together they symbolize China's long history and culture. This new logo is our updated, stylish visual identity.
Our old logos
China Highlights Logo (From 1998 - 2002)
At the very beginning, China Highlights' logo was designed in a very simple and common style.

China Highlights Logo (From 2002-2006)
For a long time, China Highlight's logo featured a cute panda to indicate we are a China based local travel service. Our company has grown significantly in recent years and is now a leading online travel service provider. We feel it is time to update this logo.

Our Websites
Under the brand of "China Highlights", we have built 9 other web sites, each with its own theme.
Continue Reading:
- Top - or Back to Company Profile