Company History
The China Highlights division of Guilin CITS came into existence in 1998 when the company realized that the future of travel lay on the Internet. China Highlights was born and has grown from small beginnings to be the leading online operator and an innovator in the online Chinese travel industry.
Important Events for China Highlights Since 1998
2011
2010
2009
2008
2007
2006
2005
2004
2003
2002
2001
2000
1999
1998

China Highlights' Russian Version: chinahighlights.ru

China Highlights' Trademark Successfully Registered in China

China Highlights' Mobile Version

CITS Guilin Celebrates 50th Anniversary

China Highlights Praised Outstanding Travel Advisors and Tour Guides

China Highlights Finished Balloon Volleyball

Andrew Bynum in Guilin

2009's Version

Trip on Great Wall

Wow Factors Competition in our office

DiyChinaTours.com

Internationally Famous Ballet Group

Irish Ambassador and his Wife
The fourth generation of the China Highlights website went online including easier navigation and more China Travel Information. China Highlights chose a new logo.
The former Prime Minister of Nepal visited Guilin with China Highlights.

2007's Version

Former Prime Minister of Nepal

Awarded by PayPal
China Highlights sets up a new Quality Supervision Team/ Customer Feedback Team to provide better service to our customers
The Tibet information and travel web site www.tibettravel.info went online.
China Highlights held the 1st lucky draw
China Highlights train schedule search went online

Tibet Travel Info

1st Lunky Draw
Air ticket booking features were included in our service range.
China Highlights took the lead in Chinese domestic tourism in offering Paypal as a payment option.
The China Highlights "Community" went online.

Yangtzeriver.org

Guilinchina.net

Mybeijingchina.com
Start of the Web site for the German market: www.chinarundreisen.com.
Start of the Web site for the Japanese market: www.arachina.com.
The first Suppliers Conference was held in Guilin. China Highlights held a Suppliers Conference in Guilin from January 5 through 14. Over 50 suppliers and local partners from all over China were invited to attend the conference.
Mr.Gupta Rajat visited Guilin. The managing director of McKinsey & Company, USA, Mr. Gupta Rajat, was with us in Guilin with his daughter.
The new web sites www.beijingHighlights.com and www.shanghaihighlights.com were estabilished.
Chinahighlights.com's new version went online. The new version has greatly improved its usability and the Customer Service Section.
Started hotel reservation business.

2002's Version
China Highlights started accepting credit cards, making the booking more convenient.

China Highlights started accepting credit cards
CITS Guilin went to PATA (Pacific Asia Travel Association) 2000 in Singapore. Christine Gong and Rachel Qin attended. Booth number: F06; Mar 31, 2000.
The Clintons were in Guilin. CITS worked together with the foreign affairs office for the president's visit to the River Li. Click "Clintons"to see our sales manager Rachel Qin's picture with Mrs Clinton (July 7, 1998) and the 2000 Clintons on the Li River photo.
China Highlights offered Yangtze Cruise booking service.

The Clintons

PATA

Yangtze Cruise
The first group confirmed their tour with China Highlights.
Be a member of IATA: The International Air Transport Association
China highlights is a member of USTOA

USTOA

IATA
The domain name "chinahighlights.com" was registered.
The first edition of China Highlights was completed.

1998's Version
About Our Website
China Highlights was built in 1998 to develop travel marketing online. China Highlights' website has been upgraded to a new version five times, in 2002, 2004, 2007 and 2009.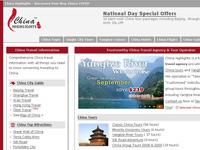 2007's Version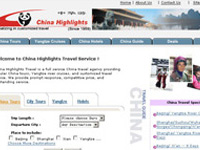 2004's Version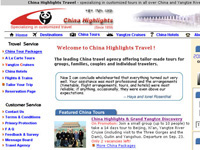 2002's Version
About Our Company
China Highlights is operated by Guilin China International Travel Service Co., Ltd (Guilin CITS), which was established in 1959, and was operated until October 2006 as a State Owned Enterprise owned by the Guilin Tourism Bureau. It was part of the CITS Group nationally. CITS Guilin was privatized in October 2006 as part of the Central Government's plan to divest itself of most of its state-owned enterprises throughout China. As a profitable and well run company, CITS Guilin was particularly easy to sell.
| | |
| --- | --- |
| Year | Number of Foreign Travelers |
| 2009 | 75,636 |
| 2008 | 91,200 |
| 2007 | 132,000 |
| 2006 | 115,120 |
| 2005 | 130,290 |
| 2004 | 105,644 |
| 2003 | 55,748 * () |
| 2002 | 137,599 |
| 2001 | 136,758 |
| 2000 | 114,348 |
| 1999 | 105,519 |
| 1998 | 81,097 |
* sales affected by SARS

About Us
Our Adwards
Got Top 10 Guangxi International Travel Agencies in 1996, 1997, 2000, 2004, 2009
Got Top 100 Chinese International Travel Agencies in 1997-2009
Go Top 8 Guangxi International Travel Agencies in 1998, 1999, 2007, 2009
Go Top 7 Guilin International Travel Agencies in 2000-2005