China Highlights is a Member of CATS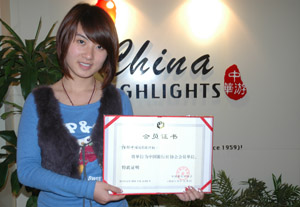 The China Association of Travel Services (CATS is a national association founded in Beijing in October 1997 by Chinese domestic travel agencies and regional travel associations. Membership is voluntary. The association is a registered and licensed by the Ministry of Civil Affairs of the People's Republic of China and the China National Tourism is represented on the Association.
The goal of CATS is to be a bridge between the industry, Government, members and other interested parties, and to a make a positive contribution to the domestic travel industry and sustainable tourism.
Any the domestic, legally constituted travel agency or organization from a related industry that supports the goals of the association is eligible for membership.
Official Website: http://www.cats.org.cn
We are also members of the following organizations