China Highlights is a Member of IATA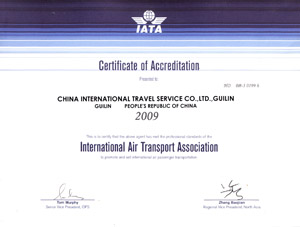 IATA:The International Air Transport Association
Member ID: 08-3 0199
Member Since: 1999
How to verify that we are a member of IATA?
Click here and put our code 08-3 0199 in the Numeric Code form to verify our membership.
Official Website: http://www.iata.org/index.htm
IATA - The International Air Transport Association - was founded in Havana, Cuba, in April 1945. It is the prime vehicle for inter-airline cooperation in promoting safe, reliable, secure and economical air services - for the benefit of the world's consumers. The international scheduled air transport industry is now more than 100 times larger than it was in 1945. Few industries can match the dynamism of that growth, which would have been much less spectacular without the standards, practices and procedures developed within IATA.
At its founding, IATA had 57 members from 31 nations, mostly in Europe and North America. Today it has some 230 members from 126 nations in every part of the globe.
The modern IATA is the successor to the International Air Traffic Association founded in the Hague in 1919 - the year of the world's first international scheduled services.
We are also members of the following organizations






- Back -