Mystery Shopper Program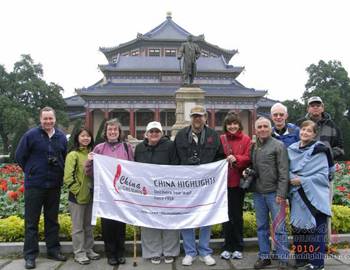 What does a Mystery Shopper do?
We ask selected customers to take part in our secret shopper program but we ask that their participation be kept strictly confidential so that we get a true representation of the service provided by the guides, drivers and local agency in each city.
Secondly, our secret shoppers complete a comprehensive questionnaire. Some questions are answered at the end of the tour while others need to be answered progressively during the tour. We ask the participants to email the completed questionnaire to us on returning home.
We ask our mystery shoppers to test the agency in one city only, during their trip so that we do not put too much strain on customers. After all they are our guests. Anyone wishing to do more is welcome!
To be a Mystery Shopper you must choose at least one city tour with guide service.
To say thank you for their help, we treat our mystery shoppers to a dinner in the city where the evaluation has conducted or alternatively take the group to a show at night, which ever they prefer.
What do our mystery shoppers get?
To say thank you for their help, we treat our mystery shoppers to a dinner in the city where the evaluation has conducted or alternatively take the group to a show at night, which ever they prefer.
Why do we have a Mystery Shopper program?
China Highlights invites all of our suppliers to attend our annual service and quality conference at the end of each year. This meeting is to help strengthen our relationships, to emphasize important policies, to improve the quality of the service that our customers receive and to keep our suppliers abreast of changes.
One of the ways we have of knowing what is happening "at the coal face" is our Mystery Shopper program. This tests the quality of the service of suppliers, guides and drivers.
How do I become a mystery shopper and receive a free dinner or evening show?
It's simple; just mention the mystery shopper program to our travel advisor when you submit you booking inquiry, or in the email with your travel advisor.
What our Mystery Shoppers said?
Thanks so much for the tickets to the ACROBATICS SHOW, I really enjoyed this! This is a show that all tourists will enjoy and should be sure to include in their itineraries. Fantastic entertainment!
I wanted to send out a special thank you to Coco Yang, my travel advisor.  Coco has been so helpful and so patient from the time I first started planning this trip in late May until the last day of my trip on July 28.  During my initial research for a travel agency to aid me with my trip to China, I reached out to at least 8 different agencies via the internet.  None responded to me as thoroughly and professionally as did Coco from China Highlights.  I worked with her to define exactly what I wanted to do and see; she took this information and refined it into an itinerary that was unsurpassed with excitement, entertainment and complete enjoyment from the time I arrived until the moment I departed.  Thanks so much for all your hard work and enduring patience to make my trip absolutely wonderful.  I will proudly reference you and China Highlights to anyone who is planning a trip to your beautiful country.
From: Cary Rogers' China Tour | Travel Advisor:
Coco Yang
Thank you for asking us to be mystery shoppers. It made us more appreciative of Eleven's high standards than we would have been if we had not been looking for her conduct and professionalism. We did not discuss the evaluation with Eleven and did not suggest things to conform to the questions on the form. We enjoyed the Peking Opera and thank you for giving it to us.
From: Michael Porter's China Tour | Travel Advisor:
Grace Wang
With China Highlights the guide and driver are a team dedicated to ensuring that guests have such a comfortable, safe and interesting trip that they can concentrate purely on enjoying the experience that is China. I have found this on all my CHT trips (three so far) and is why I will travel with them again and always recommend them to others.
From: Paule's China Tour | Travel Advisor: Jean Fu