What "Discovery Your Way!" Means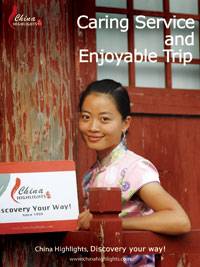 "Discovery Your Way!" means China Highlights specialize in 'discovery', that is finding out new and exciting things about China, and "customizing:, which means tailoring a tour to "your way". It has been our slogan since 2006 and it sums up key areas of our service: providing a genuine China experience with unbeatable flexibility.
Discovery
For many of our customers a visit to China is a much-looked-forward-to once-in-a-lifetime experience, and so we are passionate about creating as much access to China's unique and fascinating culture as possible in a limited time. For just about all our customers China represents a very foreign land, as far removed from life at home as anywhere on the planet, so there are huge opportunities for discovering interesting and mind broadening insights. A trip to China would be severely lacking, we believe, without a large discovery element included.
Your Way!
As a China-based company with a large team of experienced and trained travel advisors and a 12-year online history, we believe we have the expertise and connections with local suppliers to organize what you want in your China tour in the way you want it. 10,000 satisfied customers [link to testimonials] vouch for our ability to do things "their way". Our tours are (often individually) designed fit the needs and interests of our customers.
There are many things in China that you can discover with us that are not available from standard package tour operators. We have a range of theme tours, which cater to particular interests, as well as one of the biggest varieties of China destinations and attractions listed on the net, all of which can be seamlessly included in your tour. We really allow our customers to discover Chinese food, with restaurants chosen for their quality and local representiveness, not merely convenience on the tourist track.
There is so much on a tour of China that can be tailored to suit your needs and increase your enjoyment of a China tour, all of which we can arrange at a word from you: which attractions you want to see and for how long, souvenir shopping, free-time, extra activities like learning tai chi or visiting a local family, types of food offered; hotel location, room size and facilities; the pace of sight-seeing, transport, etc. Our tour guides are trained to be responsive to customer requirements while a tour is in progress, and we are available 24 hours a day to make any required changes or sort out any problems.
The exclamation mark at the end of our slogan emphasizes the attractiveness and hard-to-find-ness of such a customer-geared combination.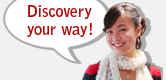 Custom Tailoring:
Design your own tour with our help to meet your unique interests. You don't have to compromise. Do exactly what you want to do! Let us assist you to tailor-make your own China experience.
Tell us what you need now!