The Early History of CITS Guilin
CITS (China International Travel Service) was established in 1954 in Beijing, as one of many government agencies under the State Council. In order to expand its business and provide better services, CITS filed an application to establish a number of sub-agencies around the country, including Chengdu, Chongqing, Changsha and Guilin on May 30, 1958. The State Council approved this application soon after, on June 9. Since then, 35 sub-agencies were established, including CITS Guilin, which was established in 1959.
Document One: The Application to the State Council for the Establishment of CITS Sub-Agencies (including CITS Guilin)
Document Two: The Approval of the Above Application by the State Council.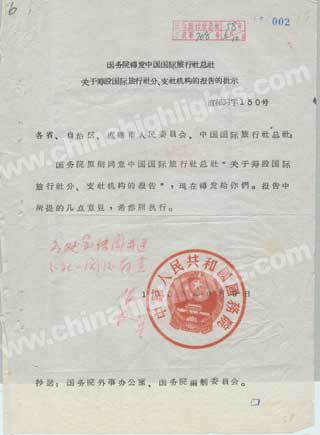 A book called "Dangdai Zhongguo De Guangxi" ('Guangxi in Contemporary China') records the establishment of CITS Guilin. On page 109 of the second volume, it says (translation):
Tourism agencies in Guangxi were first established in 1954 – CITS Nanning and CITS Pingxiang. CITS Guilin followed in 1959. The main responsibilities of those tourism agencies were to provide service for foreign tourists, sell international air tickets and train tickets, and to work with foreign travel agencies.
Original Chinese text:
广西的旅游机构始建于一九五四年。最初是中国国际旅行社南宁分社和凭祥支社,一九五九年又成立桂林支社。当时这些旅游机构主要是承办政府各部门和群众团体接待外宾的招待事务,发售国际联运火车、飞机客票,以及接待一些国外的旅行团和过境旅客。
Reference: Luo Zhengjin (1992). Dangdai Zhongguo De Guangxi (Second Volume, p 109) Contemporary China Publishing House, Beijing. ISBN7-80092-045-3/Z46.

About Us