Unbeatable Value for Money
We believe that our high quality tours at low costs are unique in China. At first glance you may find that some of our tours appear to cost more than similar looking ones from other tour operators. However when you look closer you will find that we offer the best value for money.
Please take the following into consideration:
Flexibility to change the itinerary or add an evening activity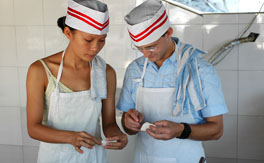 Our motto is Discovery your way! We live up to this motto by making the tour as flexible as possible so that the customer is not hemmed in by an itinerary that is restrictive and inflexible. Our guides will do their best to accommodate our customer's request to change a pre-arranged itinerary. We also want to allow maximum flexibility (within the terms & conditions of the tour) by letting the guides make arrangements for night activities and shows. This means that customers can decide on the day if they want to attend a show instead of weeks or months in advance. The guides are experts on what's good in their city, whether it is a show, a restaurant or local market for shopping.
Absolutely no shopping trips or tourist traps
Everyone hates being dragged to endless expensive factory outlets and tourist traps and everyone knows that the guides get paid commissions on the purchases made by the people they bring. We have been trying for years to protect our customers from this ordeal and we now believe that we have succeeded.
We guarantee that our customers will not be taken to any shops or factory outlets. We are the first China tour company to make our itineraries ABSOLUTELY SHOPPING FREE. If, however, you would like to buy something from China on your tour with our help, you will need to sign a disclaimer releasing your tour guide to recommend the best places to buy and take you shopping.
China Highlights is upfront about shopping, unlike other travel agencies that fail to include shopping in their itineraries; but may nevertheless take customers to three tourist shops a day.
We back this with a money back guarantee. China Highlight will refund the land service costs (excluding hotels, air, and train fares, attraction entrance fees and meal costs) immediately, if our guide deviates from the agreed itinerary without permission.
Please note that many of the attractions e.g. the Great Wall, will have shops, but these are incidental and not included as part of the itinerary. See also Avoiding Tourist Traps.
We pay our guides a base salary plus performance bonuses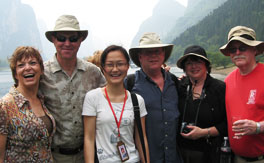 We at China Highlights believe that everybody deserves a fair deal and traditionally guides and drivers have depended on tips and commissions as their sole source of income. Most travel agencies even make the guides pay to take a tour.
We feel that this is not a good practice and not in the best interests of the customers because guides then depend on making their income in other ways. We have been moving towards a better, fairer system for a number of years and have now introduced a system where we pay the guides and drivers a base salary plus a performance bonus.
We draw our guides from a pool of guides who meet the high standards that we have set. We ensure that they are fairly compensated for their services. Scores and comments on the evaluation forms are used to access the bonuses that are paid to the guide and driver above their base salary.  There should be no pressure from the guides for any other payments or to buy from any particular shop. Of course, we realize that some people may like to tip their guide and driver for outstanding service, but this tip is then a tip in the true sense, and not their sole income.
24-hour contacts for a worry-free tour.
When traveling with China Highlights, we will always be available for you, 24 hours a day. We provide our clients with the cell phone number of one of our staff in case they need to contact us urgently. Clients can enjoy a worry-free tour as our support team are always right at the end of the phone.
Sometimes "things happen":
Flights can be changed or canceled by the airlines without advance warning. China Highlights is based in China and has developed very good relationships with most airlines. We can take immediate action to find the best solution if unexpected changes occur.
In July, 2009, during the riots in Xinjiang, no internet access was available in Xinjiang Province. Our travel advisors contacted the family members of our clients who were in Xinjiang to keep them informed and to let them know that they were all safe.
In the unfortunate event that our clients have to cut short a vacation due to an emergency at home, China Highlights will do our best to help obtain the quickest and most economical international flights to return home and make a refund wherever possible for the tour.
Travel with China Highlights for a worry-free China tour.!
Money back guarantee if our promises are not kept
China Highlights is very serious about keeping our promises so "we are putting our money where our mouth is". If our guides vary from our instructions regarding tipping or shopping we will refundthe land service cost (excluding hotels, air and train fares, attraction entrance fees and meal costs) for that city immediately.
Can't take the tour......no risk refund!
We understand that "life happens", circumstances change and though no fault of your own, you may not be able to take your long awaited China trip. We want you to come to China but we don't want to cause hardship. We, in collaboration with our suppliers, have changed our cancellation policy to allow the maximum flexibility possible. We will refund all monies excluding penalties if applicable, charged by hotels, airlines and rail received from our customers for tours booked up to 14 days before the departure date*. Book with us for a great tour and Maximum Peace of Mind.
*Conditions do not apply to special offer package but this will be specified in the quotation.
Further Reading: Why Choose China Highlights to Be Your Travel Agent in China?