China Highlights On-line Volunteers
China Highlights welcomes those who are interested in China and Chinese Culture to join our Volunteer Team. We are now have more than 20 on-line volunteers form over all the world. We appreciate their contribution to China Highlights. Some of our online volunteers' profiles can be viewed below:
Anna

I particularly enjoy traveling, bush walking, skiing, reading and teaching English. In 2005 I taught English in Tianjin for two months. I also visited Beijing and Shanghai.
Last August my husband and I had a lovely holiday in China.
Unfortunately we missed Guilin - next time! In Australia I do English tutoring as a volunteer in order to help immigrants learn English. I have a BA in Asian Studies, CELTA (certificate to teach English)and a diploma in Editing & Proofreading.
<< Back To Top
Bob and Johnette

Bob and Johnette live in Portland, Oregon in the Northwest United States. Bob is a retired attorney, who continues to do some legal work for his firm in Pensacola, Florida via telephone and computer. He has also worked as a tax preparer for H&R Block, a tax firm. Johnette worked as a social worker and as a teacher of special education and art. Her hobbies are reading as well as writing poetry. The handsome boy with the large ears (Django) is very interested in barking and mealtime. He weighs only 7 pounds, but thinks he is the world's biggest, most fierce dog. He likes to visit the pet shop for treats.
<< Back To Top
Eleanor and Neville Hope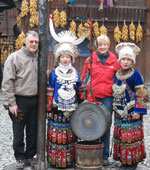 We spent two months in the Autumn of 2006, volunteering with China Highlights. We hail from Vancouver Island, British Columbia, Canada, and treasure the time we spent in Guilin. We made some wonderful friends and were treated extremely well be everyone in China Highlights.
We are both retired public servants (public health nurse manager and highway engineer), and we love to travel. This was our third trip to China, and our best. We managed to take some trips around Guilin and nearby Provinces, that ordinary travelers would likely not have the time or opportunity to do, and for this we have to thank China Highlights. (That's us in the picture, taken in Guizhou - we're the ones without the silver headgear!).
We hope that our experiences as managers and travelers will help some of our fellow Western travelers, through the enjoyable work we did in Guilin.
China is a wonderful country-Guilin is one of its most beautiful areas. We look forward to visiting again some day.
<< Back To Top
Ghandi Wuasi

As Alex Yang's philosophy goes: "Wherever one goes he must take his map along with him." I like traveling a lot and making a contribution and impact in the life of many who I come across. I have strong passion for client management and human relations. I believe that with strong commitment the fish farmer is able to catch enough fish. So, when a strong relationship is created among clients a large customer base will be achieved. I majored in Marketing Management and computer studies.
<< Back To Top
Meriel Ferrell

I live in a suburb of Dallas, Texas, and work with China Highlights as a volunteer. I've visited China once and thoroughly enjoyed it. I am captivated by the variety and beauty of China, as well as the warmth and friendliness of its people. I hope to learn much more about China and it's people through China Highlights . I look forward to the day when I return to China. Otherwise I work for a large IT company full time, try to travel as much as I can, and spend time with my family.
<< Back To Top
Pat Moloney-Harmon

My name is Pat Moloney-Harmon. I traveled to China this year and used China Highlights to help me plan my trip. It was a wonderful experience. I saw the opportunity to volunteer and thought this would be a great way to stay in touch with China. I hope to help with editing some of the English language material and providing input for information on the website.
<< Back To Top
Shirley Jalei Lo

I was born in Beijing, but have lived in the US for most of my adult years. My background is in health care. My experience in editing has been with a pharmaceutical company and at the hospital where I have worked as a pharmacist for the past 37 years. I have also written and edited my own articles on cancer pain management.
Recently, my friend and I visited China. We toured Beijing, Xi'an, Hangzhou, Suzhou and Shanghai in 2005; Guilin, Kunming, Dali and Lijiang in 2006. We found the people to be friendly, helpful and enthusiastic. Many people's faces brightened when I started practicing my Mandarin with them. We had excellent tour guides and drivers. One such outstanding guide was Alex Wei in Guilin. We had fun looking at unintentionally funny English translations of many signs at popular tourist spots. I signed on as web editor with China Highlights Travel after returning home in September 2006. Being bilingual, I feel that I have a unique insight into what the writers are trying to describe or say. My goal in editing the travel articles is to simplify, clarify and improve their readability to Western readers. I'm glad to be able to make a positive contribution to this website, and indirectly, to China! I hope to teach English in China one day!
<< Back To Top
Murray

Hi, my name is Murray and I have been a dedicated world traveler all my 53 years. Currently my wife is living and working in Guangzhou and I am trying to get my company to assign me a position there so I can join her. In the mean time I help China Highlights Travel by editing their travel web pages. As I read about all of the fascinating and vibrant places being described while doing my editing, it makes me want to go explore China even more. Too many choices, not enough time.
<< Back To Top
- Top - or Back to Meat the Team