Yue Fei Temple
The Yue Fei Temple in Tangyin County, Anyang is just one of the Yue Fei Temples; others include one in Hangzhou beside the West Lake in Zhejiang Province, one in Zhuxian, Kaifeng City in Henan Province, one in Wuchang in Hubei Province, and so on.
You can read the story of Yue Fei at: Yue Fei Temple in Hangzhou.
Gate
The two large Chinese characters, which mean 'loyalty' and 'righteousness', are painted on the walls on both sides of the gate. These two characters are a good summary and compliment to Yue Fei's personality.
Five Bronze Statues
Walking inside, you can see five bronze statues on the right, which are the five people who offered false accusations against Yue Fei. They are kneeling on the ground opposite the main temple where the statue of Yue Fei is consecrated, to symbolize that they are apologizing to him.
Tablets
Near the five statues is a stone tablet bearing a carved article written by Qianlong, the emperor of the Qing Dynasty (1636 - 1911), which speaks highly of Yue Fei. Walking towards the main temple, a number of stone tablets were also carved with poems praising Yue Fei.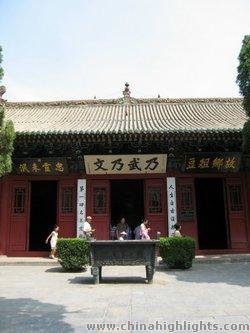 Yue Fei Temple
Temples
The main temple is grand and looks solemn. The Yue Fei statue is sitting in the middle with a serious expression. He is stalwart and powerful. Many travelers, as well as local people, pay a visit to Yue Fei and pray for peace and happiness.
Behind this temple, there is a room which houses some calligraphy works by some famous people and Yue Fei himself. The most outstanding ones are a poem written by President Mao in the middle of the room, and the other by Yue Fei.
The statues in another room tell the traditional Chinese story "Devotion to the Country", which is famous and inspired by many people. The mother of Yue Fei tattooed the characters "尽忠报国" on Yue Fei's back in order to remind him to devote himself to the country.
Travel Essentials
Location: Tangyin County, Anyang
Open: 8am – 5pm
Ticket price: 50 yuan

China Highlights
Anyang Travel Guide