The Six Most Beautiful Ancient Villages around Beijing
Autumn around Beijing is a beautiful time of year. It is not difficult to find somewhere to enjoy the autumn scenery peacefully since there are various traditional ancient villages away from the modern city. Tourists can enjoy both the natural landscape and the folk culture of the area. Below we recommend to you the six "must-visit" ancient villages of the Beijing area.
1.

Diaowo Village in Pinggu District (平谷雕窝村)

Located in the northeast of Huangsongyu Town (黄松峪乡), surrounded on three sides by the mountains and on the fourth by the river, Diaowo Village has beautiful and pleasing scenery. There are over 100 villagers living here, and the residents are enthusiastic and earnest. Visitors are often able to spend nights with the residents in their farmhouses and enjoy home-cooked meals. The famous "baked whole sheep" is strongly recommended, and the taste of each family's dish is quite different.

Besides the beautiful scenery and delicious food, which will also be found in other villages around Beijing, the artistic atmosphere here is unique, and many famous writers and artists come to experience life in the village. There are seven art academies in the village, and so the village is also known as the "Village of Art" in the east-Beijing area. You will find collections of works by famous artists preserved in almost every family, indicating an optimistic view of life. There are three main attractions near the village: Hudongshui Lake (湖洞水), Shilin Valley and Feilong Valley.
Accommodation: 30-200 yuan per night
Address: Diaowo Village in Huangsongyu Town, Pinggu district (平谷区黄松峪乡雕窝村)
Bus Route: Take Express Bus No. 918 to Pinggu District Hospital, and then take Bus No. 25 or No. 26 to Diaowo Village
Car Route: Drive along the airport highway to Pinggu district, and then turn to drive toward the big cavern to the east of Beijing. There are green leaf-shaped signs along the roads. Just follow the signs "Jinghai Lake (金海湖) → Big Caverns (大溶洞) → Diaowo Village," and you will reach the village after going through several tight turns and passing the reservoir.
2.

Ancient City Ancient Villages in Yanqing County (延庆古城民俗村)

This village is located in Jiuxian Town of Yanqing County (延庆县旧县镇), and it has a long history dating back to the Western Han Dynasty. Thanks to its blessed geography and the natural landscape of Longqing Valley (龙庆峡), the tourism industry here has been vigorously developed. Now there are over 100 families, and the village can accommodate over 1,500 tourists at the same time. Tourists can choose to pick fruits or harvest vegetables, fish, go horse-riding experience other agricultural activities such as rice-milling, or just leisurely experience the local folk culture.

In the village, Agritainment (古城农家乐) is a hotel for rest and entertainment, and you will enjoy the heated kangs, a heated bed common in the countryside, here in the winter. The delicious corn cakes, potato cakes and corn noodles are popular among tourists. Outside the Agritainment is an open space for campfires, with an area of 2,000 square meters. Sitting by the campfire with a cup of milky tea, you will be sure to enjoy being in nature. There is also a 3,000-square-meter orchard nearby for you to pick fresh fruit.
Address: Ancient City Ancient Village, Longqing Valley, Yanqing County, Beijing (北京市延庆龙庆峡古城民俗村)
Bus Route: Take Bus No. 919 from Deshengmen to Yanqing County, and then transfer to Bus No. 920, the loop line
Car Route: Drive along the Badaling Highway (八达岭高速) to Longqing Valley Parking Lot (龙庆峡停车场) in Yanqing County, and the village will be 200 meters south of the road
3.

Cuandixia Village (爨底下村)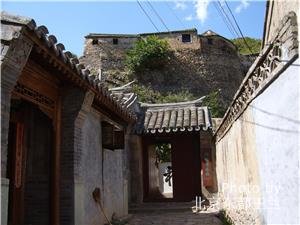 With the ancient style and features of this village well preserved, and the buildings divided into two neat rows, Cuandixia Village is known as the "Potala Palace in Beijing."
This quaint little village is more attractive than you can imagine. The quadrangle courtyards built in the Ming and Qing dynasties are perfectly proportioned, and most of the houses are built with stones from the mountains outside town. Lattice windows, kang beds, fire-red hot peppers, golden corn -- everything combines to produce a jubilant atmosphere. In the village, you will also have the chance to taste many delicious dishes, such as braised pork with vermicelli, deep-fried fish, braised tofu, wild-vegetable salad, steamed pumpkin and red bean rice.
Accommodation: 30-200 yuan per night
Address: Cuanbai scenic spot in Zhaitang Town, Mentougou district, Beijing (北京市门头沟区斋堂镇爨柏景区)
Bus Route: Take Bus No. 929 from Pingguoyuan Railway Station (苹果园地铁口) to Zhaitang Town (斋堂), and then take a taxi to the village. There is a bus every hour and the last bus will leave at 3:00 p.m. going back from Zhaitang Town. You can also charter a bus to go to the village directly for about 100 yuan.
Car Route: Cuandixia Village is over 90 kilometers away from Beijing. Turn right at the Shuangyu roundabout (双峪环岛) in Mentougou district toward the Longquan Hotel (龙泉宾馆), and then drive along National Highway 109, following the signs to reach the village.
4.

Liugou Ancient Village in Yanqing County (延庆柳沟村)

Located in the southeast of Yanqing County, Liugou Folk Village is surrounded by mountains on three sides. There are willow trees and ravines formed by floods all over the village, which is where the name "Liugou" (willows and ravines) comes from. The people here are simple and honest. In winter, with steaming hot Liugou Tofu in the casserole and hot drinks, a trip to Liugou Village is extremely enjoyable. Do not miss the "Tofu Feast" on your visit.

Near the village there are several famous attractions such as the Badaling Great Wall (八达岭长城), Longqing Valley, the Kangxi Grasslands (康西草原), and the Guanting Reservoir (官厅水库).
Bus Route: Take Bus No. 919 to Yanqing County and then transfer to another bus to reach Liugou Village.
Car Route: Drive along the Badaling Highway to the north to Yanqing County, and then on to Liugou Village.
5.

Zhuanghu Ancient Village at the Foot of the Great Wall of China (庄户民俗村)

Near the Xiangshui Lake (响水湖) in Huairou District (怀柔区) there is a folk village named Zhuanghu Village. The village is on the west side of Bohai County in Huairou district, 80 kilometers away from Beijing. It is surrounded by mountains. At present there are 48 families and 120 people living in the village. With its picturesque scenery, elegant environment, earnest residents and the ancient Great Wall and Xiangshui Lake nearby, the village has made a great effort to develop its tourism industry recently.

There are currently 32 host families capable of accommodating 200 tourists at one time. The apples and Chinese chestnuts here are famous, and as the seasons change you can try more than 100 kinds of wild vegetables and other foods. Sitting on the second floor of the village leader's house, you can see the Great Wall stretching off into the distance, barely visible in the rain and quite beautiful. The leader channeled the mountain spring into his house to create an artificial fountain, and you shouldn't miss the tasty roast fish that he cooks!
Bus Route: Take Bus No. 916 from Dongzhimen (东直门) bus stop to Huairou Main Station (怀柔总站), and then transfer to the scheduled bus to Zhuanghu, which leaves at 7:00 a.m., 11:30 a.m. and 3:30 p.m. every day and takes one hour to reach Zhuanghu. The bus back to Huairou leaves at 8:00 a.m., 12:30 p.m. and 4:30 p.m.
Car Route 1: Start from Siyuanqiao (四元桥), drive along the North Fourth Ring Road for two kilometers —— Wanghe Bridge (望和桥) for 719 meters —— Jingcheng Highway for 30 kilometers, get off at Beishicao Exit (北石槽出) —— turn left (283 meters) —— turn right to Huangchang Road (怀昌路) for eight kilometers —— turn left to Taiguan Road (台关路) for 10 kilometers —— turn left (235 meters) —— turn left to Huaihuang Road (怀黄路) for seven kilometers —— 57 meters straight —— turn right to Huaihuang Road for eight kilometers —— turn right and drive six kilometers —— arrive at Zhuanghu Folk Village.
Car Route 2: Start from Sanyuanqiao (三元桥) —— Jingshun Road (京顺路) —— Huairou Viaduct (怀柔立交) —— Yingbin Roundabout (迎宾环岛) —— Yingbin Road (迎宾路) —— turn left at the roundabout —— Qingchun Road (青春路) straight —— Mutianyu Road straight —— Xiangshui Lake (响水湖) —— turn right at Nanye Bridge (南冶大桥) —— turn right at Xiangshui Lake Road crossing.
6.

Beigou Village (怀柔北沟村)

Located at the foot of the Mutianyu Great Wall (慕田峪长城), Beigou Village is only two kilometers away from the Great Wall. There are Chinese chestnuts in the village and all over the mountain. Beyond the mountain stands the ancient Great Wall, which is the most attractive sight in the village.

The houses in Beigou Village are built into the terrain, and the rooms are well proportioned and tidy. The roads are very clean and you will never find cigarette butts or other rubbish strewn about. In the village you will truly be able to relax and return to nature. For dining, there are three little restaurants selling both Chinese and Western food opened up by the American Sayang and his wife from California. You can enjoy both well-brewed American coffee and traditional Chinese meals in company with the great landscape of the Great Wall.
Accommodation: 100-150 yuan per night
Address: Beigou Village in Bohai Town, Huairou district (怀柔区渤海镇北沟村)
Bus Route: Take Bus No. 916 from Dongzhimen to North Street in Huairou, and then take the scheduled bus toward Tianxianyu (田仙峪) and get off at Beigou Village.
Car Route: Get off the Jingcheng Highway at the Huairou exit (怀柔口), go through Huairou toward the north to Mutianyu and go straight for another 100 meters at the Mutianyu Roundabout (慕田峪环岛). Turn right and follow the signs for about three kilometers until you reach the village.
Check out our best selling tour: Four-Day Essence Tour Of Beijing
Let us help you plan a personalized Beijing tour for you or tailor make the travel arrangements for you.
Related Pages
Questions and Answers About The Six Most Beautiful Ancient Villages around Beijing
syerra
2014-02-21
Show Answer
Hi, is it possible to hire car to go to mutianyu great wall and spend one night in the village and the next day, go back to Beijing Airport/train station? We are party of five, thank
Dear Syerra, Thank you for your inquiry. Yes we can proved a private vehicle for the itinerary you mentioned. But I suggest that you hire a tour guide together with the vehicle as drivers can't speak English. Are you going to hiking on the Great Wall? If so, a tour guide is very necessary as some section of the Great Wall are wild, people easily get lost or meet dangerous there. May I know your visiting time and your detailed plan about the Great Wall? I'd like to send you a detailed quotation. Kind Regards Doris Doris Huang replied on 2014-02-22
stephen chapple
2013-05-12
Show Answer
do you have any feedback on staying overnight at Cuandixia Village is it a good experience is it easy to get there using public transport and how much for a private tour there i will be in Beijing from the 19th of July until the 2nd of August
Dear Stephen,
Thanks for your question. We did not arrange overnight staying at Cuandixia Village because the condition of guest house near Cuandixia Village is not good. It is no easy to get there by public transport, especially for foreign travelers. As a travel agency, we glad to arrange one day trip to Cuandixia Village from and back to Beijing. Please check you mail box about the detail quotation of this one day trip and feel free contact me if you need to book it.
Have a nice day.
Nancy
Nancy Deng replied on 2013-05-16
Stephanie
2013-02-25
Show Answer
Cuandixia Village (爨底下村) looks great for a stay! We are going with kids (3.5 and 5.5 years old), are these village accomodation clean and safe enough for them?We are planning a hike from Jingshanling to Simatai, is any of these villages close to Simatai? How can we get to the village without a car? How can we make a booking?
Hi Stephanie, Cuandixia Village (爨底下村) is great for visiting, but the accommodation there is a bit rough, so not suggested.
The Simatai section of the Great Wall has been closed for major renovation, so I recommend the Gubeikou to Jinshanling section instead. It is similar to the route from Jinshanling to Simatai, about 15km in total, needs around 3 hours to complete.
The Gubeikou to Simatai section is almost opposite the direction of Cuandixia Village. So one day is not possible to cover both of them. One day for each would be perfect.
The transportation is not convenient from downtown to these places, so private car is suggested, especially to a group with kids.
We can offer private van with driver and English speaking tour guide, if you need it, please feel free to let me know. Have a nice day!
Whitney Liao replied on 2013-02-26
sam gotsell.
2012-12-12
Show Answer
These villages look so lovely. is it possible to move here and work? I am very interested in seeing china I like the look of Beijing and was wondering on what sort of visa is required and can I purchase property in these areas?
Hi Sam, you can take a trip to these villages first. Then decide weather you will live there or not. You can apply for the "D" visa. I don't know if you can purchase property in these areas or not, please consult the local government.
Whitney Liao replied on 2012-12-13
April Offer $25 Coupon
Send your inquiry before Apr. 30, 2014, and we will email you a $25 coupon.
The coupon is valid till Dec. 31, 2014, for paying tour packages worth $250 or up.
The coupon cannot be used for paying flight tickets, train tickets, hotel rooms and day trips.
Travel Advice or Question? Ask us here

China Highlights
Beijing Travel Guide