Beijing Chinese New Year 2014 Activities
The Chinese New Year, also called the Spring Festival or Chun Jie, is the biggest holiday of the year in Beijing. It is a prime time to visit and experience the local culture. The former capital of the Yuan, Ming, and Qing dynasties (1271–1911) has hundreds of years of traditions and ceremonies associated with making an auspicious year. Beijingers have a Chinese New Year's Eve meal and customs and perform temple ceremonies, and now they also celebrate at the Great Wall, at bars, and at special modern entertainment festivals. Here is what Beijingers do for the festival, travel information, and places where you can celebrate Chinese New Year too.
Chinese New Year Eve at Home (January 30, 2014)
Most Beijing residents will try to be home on Chinese New Year's Eve. They especially want to make the traditional New Year's Eve family dinner. Maybe you'll get a chance to be an honored guest for the celebration.
On that day, people clean the house and don their finest outfits in the spirit of the New Year. People put up red decorations and even don red cloths. The red decorations express wishes for good fortune, prosperity, and well being in the coming year. Red clothes not only signify power, happiness, and vitality, it also is said to scare away the ghosts.
People often paste red couplets that are slogans or poems and pictures of door gods (to guard their doors from evil spirits), and they hang red lanterns in their houses. In North China, it is also customary to paste paper cuts in the shapes of animals and plants on windows. Each kind of animal or plant signifies a special wish.
On the evening of New Year's Eve, families tune in to watch the Spring Festival Gala on CCTV. With over 700 million viewers yearly, it boasts the largest audience of any TV show in the world. The best musicians, dancers, and acrobats perform on stage.
After the dinner feast, people go out to play with fireworks and watch the fireworks display over the capital that is unmatched by any western celebration. Not only the government, but millions of residents join in as well by exploding many, many millions of firecrackers, rockets, and sparklers. It's amazing, and amazingly loud and smoky around 12 midnight. The noise is thought to scare away evil spirits as well. You'll probably experience no other fireworks display like it on earth!
After the fireworks, it is traditional in Beijing and other northern cities to eat dumplings, called jiaozi, to signify prosperity.
Chinese New Year Day (January 31, 2014) and Afterwards

As the week goes on, Chinese people visit relatives and friends, starting with the closest and moving on to more distant relatives and friends. It is customary to bring gifts in the form of food, sweets, alcohol, or hong bao (red envelopes with money).
Meanwhile, both young and old continue to explode their fireworks and light rockets. These will continue to explode over the buildings for the 15 days of the Spring Festival. People also go out to the temple fairs. They are places to go to taste the local flavor in the way of food, art, music, games, & people.
Spring Festival Temple Fairs
Many people go to a local temple during the Spring Festival. They worship a local deity or their ancestors and also enjoy the entertainment. These traditional events feature almost all the kinds of Chinese folk art (music, dance, theater, acrobats, art, crafts, etc.). Temple fairs in Beijing have a long history, and the origin can be traced back to the Liao Dynasty (907 – 1125). The fairs are held at various ancient temples during festivals, so they are called "temple fairs." Here are four temple fairs you could go to.
For foreigners, visiting a temple fair is definitely a cultural experience. You may enjoy the reenactment of the ceremony of worship to Earth and Heaven. Folk performances like dragon and lion dances, the demonstration of traditional arts and crafts, and fun games are all part and parcel of temple fairs. You can also taste numerous Chinese New Year foods such as snacks, gourmet court dishes and delicacies.
Changdian
Located just south of Tian'anmen Square, Changdian Temple Fair is one of the eminent fairs in the city. It's got the essential mix of food, vendors, and performances to give you the authentic fair experience. Here you'll find all kinds of stands selling art, calligraphy, tea, and other goods, while food vendors push carts through the crowds selling numerous local favorites.
Go here for: buying art, tea, ornaments, food.
Admission Fee: 10 CNY
Open: January 31 – February 4, 9 am – 4 pm
Address: Liulichang Jie, Xuanwu District, 宣武区琉璃厂街
Getting there: Take subway line 2 to Hepingmen Station.
Huairou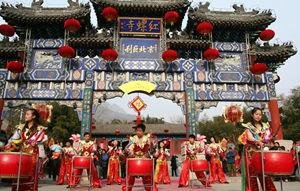 The temple opening ceremony in Hongluo Temple
Want to experience a more subdued, authentic temple experience? Escape the crowds in the city center and take a bus out to Hongluo Temple in Huairou district. Take part in prayer meetings and connect with Buddhist culture, or enjoy the dance troupes and traditional snacks in the scenic temple courtyard.
Go here for: Serenity and authenticity.
Admission: 30 CNY
Open: January 30 – February 4, 8 am – 5 pm
Address: 2 Hongluodong Road, Huairou District, Beijing, 怀柔区红螺东路2号
Getting there: Take bus 936 from Dongzhimen Bus station, then take a short taxi ride to the temple.
Ditan Temple Fair
The Ditan Temple Fair is one of the most popular and long-standing fairs in Beijing. About one million people visit it each year during the Spring Festival. There are reenactments of worship ceremonies of the Qing Dynasty (1636 – 1911) to the god of earth. Besides the ceremonies, there are a wide range of folk performances and activities such as puppet shows, traditional art exhibitions, dragon and lion dances, and acrobatic shows.
Go here for: Reenactment of worship ceremonies, arts, and entertainment.

Address: Ditan (Temple of the Earth) Park, East Avenue, Anding Gate, Dongcheng District
Dongyue Temple Fair
Dongyue Temple Fair had started as early as the Yuan Dynasty (1206 – 1368). The culture of "Fu" has been the essence of this fair. Many activities are centered on the "Fu" culture. Visitors can pray for good fortune at the altar, walk on the "Fu" road, or hang a "Fu" card to invite "Fu" for the coming year. Colorful folk performances, artwork displays, and snacks are also available.
Go here for: The exhibition of "Fu (Good Fortune)" culture.
Address: Dongyue Temple, 141 Chaowai Avenue, Chaoyang District
Other Major Festival Events
Beijing people do more than celebrate at temple fairs, there are also athletic competitions and winter fairs.
Longtan Fair

The Longtan fair is one of the most popular of its kind in Beijing. It is mainly a sporting event with crowd participation. It doesn't take place in or around a temple. It is held in a park. There are athletic competitions and demonstrations to both watch and take part in. Martial arts champions demonstrate their skills, and crowd members are encouraged to take part in various competitions such as table tennis, diabolo (Chinese Yoyo) spinning, arm-wrestling, chess, and rock-climbing. Snacks abound.
Go here for: Spectacle of athletic feats, 300-person parade

Admission: 10 CNY
Open: January 30 – February 6, 8 am – 5 pm
Address: Longtan Park, 8 Longtan Road, Dongcheng District, 东城区龙潭路8号龙潭湖公园北门内(近体育馆路)
Getting there: Take subway Line 5 to Tiantandongmen Station.
Old Summer Palace (Yuanmingyuan)
Dance routines, ice football, operas, and other events will recreate the feel of the late Qing Dynasty (1644–1911). In the 1800s, the old Summer Palace was a particularly busy Spring Festival venue.
Go here for: Qing Dynasty imperial performances, ice activities
Admission: 10 CNY
Open: January 31 – February 6, 8:30 am – 5 pm
Address: 28 Qinghua Xilu, Haidian District, 圆明园, 海淀区清华西, 28号
Getting there: Take subway Line 4 to Yuanmingyuan Station.
Chaoyang International Carnival
This fair puts an international spin on things with flavors from around the world. Go to see international bands, dance troupes, customs, cuisine, and more. This festival is particularly popular with the Western crowd, as there is sure to be a reminder of home.
Go here for: International performances and food
Admission fee: 10 CNY
Open: January 31, 2014

Address: 1 Nongzhan Nanlu, Chaoyang District. 地址: 朝阳公园, 朝阳区农展馆南1号
Getting there: Take subway line 10 to Tuanjiehu station, then go east. The South Gate will be on the left.
Longqing Gorge Ice and Snow Festival
The Longqing Gorge Ice and Snow Festival is about 50 miles outside central Beijing. It is usually open from the middle of January until the end of February. There are ice sculptures like those in Harbin.
It's a great day/overnight trip, especially if you can't make it out to Harbin Ice and Snow World.
Celebrate at the Local Bars

Houhai Lake Rooftops
For the true Chunjie experience, visit Houhai Lake, in the center of the city. While other nightlife areas have been built up and modernized, Houhai has kept its traditional charm and beauty. Stop into one of the plethora of bars along the lake and celebrate in local style.
For a planned event, book a dinner reservation at 4Corners bar. They have a 150 yuan set dinner menu, followed by one of the best parties in town featuring the reggae/dubstep music stylings of DJ Wilbey. At midnight, 4Corners will put on a fireworks display of their own.
Other popular bars include Huxley's, Azucar, Zoom, Drum & Bell, but it's also fun to just wander through the area and choose a bar on impulse.
Sanlitun
The most famous bar district is packed full of parties and deals for New Years Eve. This writer recommends visiting Brussels Bar, located just off Sanlitun South Street. Brussels will have all-you-can-drink cocktails and Tiger Beer from 10-1 for 220 yuan, with their own fireworks show at midnight.
The Great Wall
Why not celebrate atop China's own world wonder? The Brickyard, at the Mutianyu section of the Great Wall, offers the total package. Book one of their luxury rooms for the night, and leave the rest to them.
You can hike the wall during the day and then warm up with a traditional hotpot dinner, which is said to bring good luck. They also have a dumpling-making workshop preceding a massive fireworks show (on top of the great wall, of course) and celebratory dumplings.
Chinese New Year Travel Tips

Traveling within China can get really hectic during this time, as most Chinese people travel to visit relatives and friends in addition to foreign tourists.
Make sure to book tickets in advance — planes, trains, dinner, events, everything.
If you can avoid traveling, do it and avoid the stress of trying to get a ticket, which is quite difficult, along with the overcrowded train cars.
If you do travel during peak times, flying is a much less stressful route.
Many restaurants are closed or have limited holiday hours, so be sure to call ahead to make sure you will be accommodated.
Be aware that the fireworks last all week. While they are exciting, they become less so when they are exploding outside your window around 7 a.m. It's easy to prepare accordingly (pack earplugs, sleeping pills, etc), but can be really frustrating if it's not expected.
Chun Jie is a time for celebration! If you are planning on visiting people, it's not a bad idea to bring them gifts, or better yet, hong bao.
Have fun, and Xin Nian kuaile! ('Happy New Year!')
Related Links
Send Free Chinese New Year Cards
More free Chinese New Year Cards

China Highlights
Beijing Travel Guide