The Top 6 Imperial Cuisine Restaurants in Beijing
Family Li Imperial Cuisine
Chinese imperial cuisine originated from the imperial kitchens, where food was cooked for the emperors and empresses. There are many restaurants in Beijing serving this style of cuisine. See below our list of the best six, according to customers' reviews.
Fangshan Restaurant
Established in 1925, Fangshan Restaurant has been designated by Beijing Tourism Bureau as "a foreign restaurant that serves Chinese imperial cuisine".
Fangshan is located in an ancient complex built during Emperor Qianlong's reign, comprised of Yilan Hall, Daoning Hall and other buildings. Facing water on the front and hills in the back, the restaurant is surrounded by very beautiful scenery.
The restaurant halls are decorated in dragon and phoenix themes. The furnishings are classic and elegant, with strong colors used in the décor of the palace. Curtains, tablecloths, napkins, and chair covers are bright yellow. The tableware is imitation Qing porcelain or silverware labeled 'long life'.
Telephone: 010-64011889, 010-64042573
Address: East Gate of Beihai Park, Wenjin Street, Xicheng District. 西城区文津街1号北海公园东门内
Transportation: Take bus 5 or 609 to Xibanqiao.
Family Li Imperial Cuisine
Family Li Imperial Cuisine restaurant is the most famous restaurant in Yangfang Hutong, Houhai.
Family Li serves imperial cuisine made with recipes and processing techniques handed down from ancestors. The current owner is Li Shanling. His grandfather Li Zijia (厉子嘉) was deeply trusted by Empress Dowager Cixi and was appointed supervisor of the Imperial Household Department in charge of the meals for the royal family. He approved all the daily menus and tasted all the dishes before they were served to the empress and the emperor. He memorized every recipe he read, and wrote them down when he came home. As he grew older, he sorted out a set of recipes for use in the restaurant.
Family Li only serves dinner to ten people every day. If you want to have a taste, you need to make a reservation a few days in advance. The daily menu is informational only, you are not allowed to order your meal of choice. Family Li will present you with a meal suited for an emperor. Many celebrities have enjoyed such a meal, including Bill Gates, Muhammad Ali, former Australian Prime Minister Bob Hawke and others.
Telephone: 010-66180107
Address: 11 Yangfang Hutong, Deshengmen, Xicheng District 西城区德胜门大街羊坊胡同11号
Bai Jia Da Yuan Restaurant 白家大院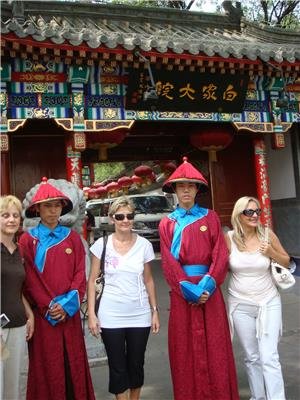 Baijiadayuan Restaurant
Bai Jia Da Yuan Restaurant is located in the famous Roca Garden on Suzhou Street in the Haidian District. It is a garden restaurant of the Qing Dynasty serving mainly imperial cuisine, official cuisine and Bai cuisine with its own features.
With a unique cultural landscape, exquisite decor and a strong Qing Dynasty ambience, the restaurant is modeled after the life of the nobility in the Qing Dynasty. Its superb cuisine and unique artistic features attract guests from other parts of China and around the world.
Telephone: 010-62658851 62654186
Address: 15 Suzhou Street, Haidian District (near Bayi Middle School) 海淀区苏州街15号乐家花园内(近八一中学)
Transportation: Take bus 386, 725, or 944 to Haidian South Road, or take subway line 10 to Suzhou Street.
Bai Family Courtyard Restaurant (Bai Jia Da Zhai Men) 白家大宅门食府
Located in the famous Roca Garden on Suzhou Street in Haidian District, Baijia Dazhaimen is a garden restaurant offering royal cuisine and Bai cuisine, with its own distinct features.
The antique environment is an attractive characteristic. When you walk into the mansion, you will be absorbed by the Qing rituals, costumes, garden, architecture, music, and food. Everything is immersed in a strong cultural atmosphere of the Qing Dynasty.
Coming to the dining hall of the Bai family's great mansion to have a taste of imperial cuisine culture is a symbol of your honorable status.
Address: 29 Suzhou Street, Haidian District. 海淀区苏州街29号
Transportation: Take bus 07, 386, 725, or 944, and get off at Haidian South Road, or take subway line 10 and get off at Suzhou Street.
Mei Mansion Family Feast 梅府家宴
'Mei Mansion Family Feast' (Mei Fu Jia Xi) is located in Dafengxiang Hutong in the Houhai district. It offers the family dishes that Mei Lanfang (a master of Beijing Opera) had during his lifetime.
The restaurant spans 1,100 square meters. It has 3 courtyards, and used to be the residence of a prince's wife in the Qing Dynasty. The courtyards are planted with magnolias, bamboo, and willows, as well as a jujube tree that is more than 200 years old. The mansion is divided into 4 halls: plum, orchid, bamboo, and chrysanthemum. They are separated by a water wall, curtain wall and pools.
The chrysanthemum hall has two parlors, where photos and tableware, camera equipment, and an old-fashioned gramophone that Mr. Mei once used are displayed. The furniture is 1920s and 30s style, and each piece of tableware has a delicate orchid pattern on it. When enjoying the Mei cuisine, classic and original opera from the gramophone gives you a chance to appreciate the charisma and charm of the opera master for whom the restaurant is named.
Telephone: 010-66126845 010-66126847
Address: 24 Dafengxiang Hutong, Xicheng District北京市西城区大翔凤胡同24号
Ritan Inn House 日坛会馆
Ritan Inn House is located in the southwest of Ritan Park, in the embassy district of Chaoyang District. With 6,000 square meters of space, it is a large membership-based business guildhall combining catering, business gatherings, tourism, and leisure.
The guildhall is built in the style of a royal garden with excellent ambience. There are various styles of VIP rooms in all sizes. It offers imperial cuisine from private kitchens, Hong-Kong-style Cantonese cuisine, and teppanyaki. It also offers the finest European coffee, cigars, unique tea ceremonies, as well as an open-air beer garden.
Telephone: 010-65005883
Address: Southwest of Ritan Park, Chaoyang District 朝阳区日坛公园西南角
Transportation: Take bus 639 and get off at Ritan Park
Try Imperial Cuisine with China Highlights
Our more-than-one-day Beijing tours are flexible, allowing you choice of restaurant. If you would like to eat at any of the above imperial cuisine establishments just let us know when inquiring.
Our longer tours also leave free time in the evening for you to enjoy Beijing's nightlife. These are our recommendations if you would like to eat like an emperor.
Further Reading
Questions and Answers About The Top 6 Imperial Cuisine Restaurants in Beijing
April Offer $25 Coupon
Send your inquiry before Apr. 30, 2014, and we will email you a $25 coupon.
The coupon is valid till Dec. 31, 2014, for paying tour packages worth $250 or up.
The coupon cannot be used for paying flight tickets, train tickets, hotel rooms and day trips.
Travel Advice or Question? Ask us here

China Highlights
Beijing Travel Guide