A Romantic Beijing Honeymoon or Anniversary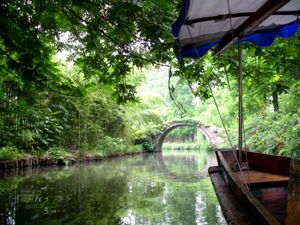 Cities like Florence, Honolulu and Paris horde their labels as romantic cities, yet Beijing offers just as many romance-related sites, and far larger numbers of spectacular hotels. Whether it's the first honeymoon or an anniversary, just bring the love and let Beijing do the rest.
Dragon Boats
Imagine, a moonlit lake, a lantern lit dragon boat, two champagne glasses, even more champagne bottles, hors d'oeuvers and your loved one nuzzled in your arms. In Sichahai Lake it's simple to rent a boat with a licensed navigator who blends into the background. Leaving just you, that special someone and flow of new memories. Minutes from Houhai in the city center, Sichahai Lake will make him or her want to marry you all over again.
Horse and Carriage Tours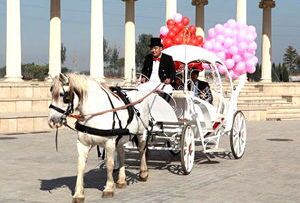 Horse and Carriage
Picture, traveling atop the twirling wheels of a carriage and the drum of a horse's hooves on cobble stone roads arching over still ponds and winding around living streams. The low-populated suburbs of the Miyun offer a seclusion hard to find in the city center. A sprawl of trees arching down from either side of the road dousing the path ahead with shade and dimming the light into an evening-lit setting for two in Miyun in the northeast of Beijing.
Hotels
Envision, floating atop feathered sheets and pillows, stepping on satin like carpet and swimming amid the bubbles of a jocose. The five stars of Beijing hotels are well earned. The heightened number of luxury hotels leads to heighten standards and competition in the capital. Multi-lingual staff offer a number of specialty services from international menus for room service to in-room massages.
Restaurants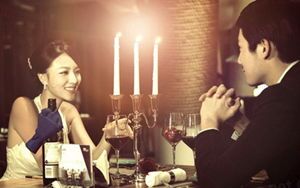 Two lovers' candle lit dinner.
Visualize, a private candle lit dinner overlooking the city below. The staff is an order off of invisible, providing an assortment of courses and cuisines that are only appetizers to the main course: slow roasted, well marinated duck, fish and more desserts than your taste buds have room for. Try Duck de Chine for duck and other Chinese cuisine, (Gongti Bei Lu), Aria for Western cuisine (China World Hotel, 1 Jianguomenwai Dajie), and Maison Boulud (23 Qianmen Dong Da Jie) for everything else.
Get Away
Beyond the commotion of the city lies scopes and vistas that make your eyes water. Sunrises and sunsets on the jade hued hills are the perfect beginnings or ends to a romance filled day. From the snow doused peaks in Changping to the rolling hill tops of Fragrant Hill, Beijing offers countless views for two.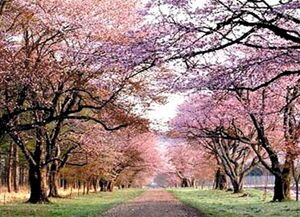 Sakura
Baiyihu offers visitors an escape from the gray city pavements to the flourishing pinks of the Sakura Flower garden, formerly only native to Japan. Lose yourself among the bamboo forest, the drizzle of Sakura petals and the breeze pushing off of its lake. Located in the Southwest of Beijing, a stone's throw from Gongzhufen, Baiyihu redefines romantic vistas and will redefine your perception of Beijing.
Book a Romantic Beijing Tour
If you like what you have read in this article and would like to go to Beijing for a romantic visit, use our Create My Trip service, mentioning this article, and letting us know what you want.
We have 15 years of experience tailor-making China tours to overseas customer requirements, and are confident we can design a memorable sojourn, perfectly suited to you.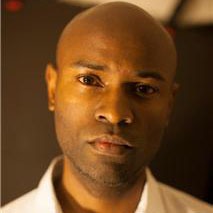 China Highlights
Beijing Travel Guide