Beijing Police Museum
An outgrowth from a former branch of the Citi Bank, the museum is a four-storied quintessential building with a floor space of 2000 square meters. Exhibits include tangible memorabilias, photos, captions and various models. The exhibits are displayed in a chronological order and juxtaposed with the events that happened at that time. The four categories :police history , crime detection , classification of policemen and police armoury boast more than 7000 articles covering a time span from the Ming Dynasty until present. 1500 will be on display. There are many interactive devices for you to get a first hand experience. Simulation driving, shooting and traffic monitoring device and fire-escaping devices are there for you to manipultate.
Exhibits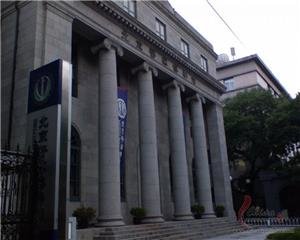 The Beijing Police History Hall
A special wall that we call the Heroes Wall with a height of 8 meters and a width of 18.2 meters and an area of more than 45.6 square meters is the centerpiece of this hall. It records the names of 58 policemen who had sacrificed their lives from the formation of Beijing police force until the year 2000. The key that the Kuomingtang general Fuzuoyi surrendered to the liberating army (its replica) and some cannons used in the The People's Republic of China's founding ceremony are also displayed.
The Crime Detection and Investigation Hall
Located on the second floor , this hall showcased some devices and technology once used by the Beijing force. The fingerprint brush , the multi-wavelength fingerprint differentiator and the computerized image formation system and the lie-detectors are also seen here. A lifesize prison cell and a miniature one are on the west wing of this hall
Police Functions Hall
Located on the third floor , this hall is home to some interesting articles : the anti-heat bamboo T shirt worn by the police during the fifties and sixties, the oldest clunker of a firetruck made during the later Qing Dynasty and the first ID card that ever issued near Chaoyangmen streets.
The Police Armoury Hall
Located on the fourth floor , this hall holds the weapons and amoury and vehicles the force used from 1949 to 2000
Add : No,36 Dongjiaominxiang Lane , Dongcheng District
9:00-16:00
Opening Hours : 9:00-16:00
Questions and Answers About Beijing Police Museum
April Offer $25 Coupon
Send your inquiry before Apr. 30, 2014, and we will email you a $25 coupon.
The coupon is valid till Dec. 31, 2014, for paying tour packages worth $250 or up.
The coupon cannot be used for paying flight tickets, train tickets, hotel rooms and day trips.
Travel Advice or Question? Ask us here

China Highlights
Beijing Travel Guide