Beijing Theater Museum
The museum is located inside the Beijing Huguang (refers to three provinces in China ) Hui Guan (is a kind of venue for businessmen to meet ). Huguang Huiguan is now located at Hufang Qiao , Xuanwu District and was first built in 1807 during the Jia Qing Emperor for the purpose of functioning as the venue for the meeting and residence place for businessmen and government-hosted tests takers from Hunan and Hubei provinces.
This Huiguan boasts both a very deeply ingrained historical and cultural atmosphere and a strong Beijing Opera tradition and since its founding had been a magnet to talents and geniuses. The famous Beijing Opera virtuosos like Tan Xin pei, Yushu yan, Meilan fang had all performed here , making it the most attractive and famous venue for this art. Come here and have a taste of the quintessential Beijing Opera repertoire while sitting there sipping the quintessential Chinese tea in this culturally saturated place.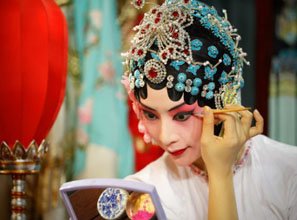 Huguang Guild Hall is situated at 3 Hufang Road in Xuanwu District of Beijing. It's a quadrangle courtyard which covers an area of 2,800 square meters. In the Qing Dynasty, this was the place where people from the Hunan and Hubei provinces held gatherings and banquets. It has a history of more than 200 years.
In the 9th year of Tongzhi's reign (1870 AD), Zeng Guofan (an important official of the Qing Dynasty) from Hunan celebrated his 60th birthday there. Many courtiers went to congratulate him, resulting in heavy traffic and road blockages.
After the Eight-Power Allied Forces occupied Beijing in 1900, Huguang Guild Hall became the general headquarters of the US Army.
In 1912, the great revolutionary pioneer, Sun Yat-sen, visited Huguang Guild Hall five times to give political speeches, and hosted the inaugural meeting of the Chinese Nationalist Party there on August 25th in the same year.
There is an ancient opera theater in Huguang Guild Hall. Beijing operas are performed there every evening. The theater is a two-storied building which can accommodate 260 people, and the second story is composed of 12 boxes.
Both the opera watching pool and boxes are equipped with antique reproduction furniture for the distinguished guests there to drink tea and watch the opera. Chinese and English subtitles, Japanese simultaneous interpretation headphones and other services are provided.
Features : A museum dedicated to the evolution of Beijing Opera.
Exhibits: Precious and rare antiques, photos and audios and reference material will give you real insights into the evolution of Beijing Opera.
Add : No 3 Hufang RD , Xuan wu District Beijing
Open Hours : 9: 00—19:30
Questions and Answers About Beijing Theater Museum
April Offer $25 Coupon
Send your inquiry before Apr. 30, 2014, and we will email you a $25 coupon.
The coupon is valid till Dec. 31, 2014, for paying tour packages worth $250 or up.
The coupon cannot be used for paying flight tickets, train tickets, hotel rooms and day trips.
Travel Advice or Question? Ask us here

China Highlights
Beijing Travel Guide