Beijing Zoo
Beijing Zoo, just west of the second ring road, is now the biggest zoo in China with the largest animal number of species. It features pandas, elephants, gorillas, and dolphins and sharks in a big sea life center, all in a scenic Chinese garden setting.
Beijing Zoo is a natural garden with dense groves of trees, stretches of grassland, a small stream, lotus pools and small hills dotted with pavilions and halls. It was called Wansheng Garden in the Qing Dynasty (literally it means the Garden of 10,000 animals). After the Qing Dynasty was replaced by the Republic of China in 1912, this former royal garden became an experimental area for farming and animal husbandry. The zoo was not established until 6 years after the founding of the P. R. China in 1955, when the garden was officially opened to visitors as the City Zoo of Beijing.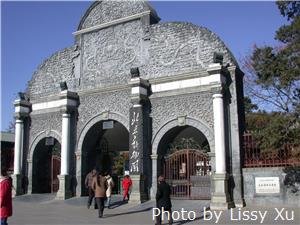 Beijing Zoo Gate
The highlight of Beijing Zoo is for many the hall of the giant panda. As everyone knows, the giant panda is native to China and recognized as one of China's national treasures and a national symbol. Due to people's love for them and its endangered status, the giant pandas always receive "VIP" treatment wherever they go. People can tell where they are in the zoo by the unique appearance of their hall. There is plenty of bamboo, the favorite food of the cute panda. In the hall, the lush bushes and bamboo make the place similar to the wild habitat of the giant panda, in southwest China. Many other halls also attract large number of tourists, among which the hall of the giraffe, the hall of the gorilla and the hall of the elephant are the most recommended.

The Beijing Ocean Hall measures 35,000 square meters, located in the northeast of the zoo. Seen from afar, the hall looks like a gigantic ocean trumpet shell. The shape of the architecture tells the visitors that it is a place associated with the sea. Going into this huge "trumpet shell" you find yourself really in close contact with the sea. The spacious hall is subdivided into several zones: the Hall of Tropical Rain Forest, the Hall of the Shark, the Ocean Theater and the Ocean Library and Reading Hall among others. Here the visitors can touch the aquarium in which the dynamic ocean bottom is visible. Through close proximity to the varied sea life, visitors can feel as if they are at the bottom of the vast ocean. In addition to seeing a replica of the natural conditions of the ocean life, visitors are also invited to enjoy the entertaining sea animal show. Those clever and cute sea animals, like the dolphins, make your trip hard to forget.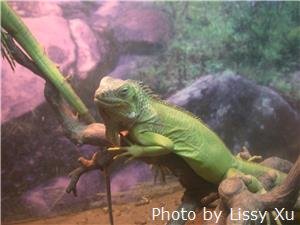 A lizard in Beijing Zoo
Beijing Zoo is more than a paradise for animals. A few gardens were built to grow the flowers that enjoy the most popularity in China, like the Chinese rose and peony (the peony is the national flower of China, signifying wealth and prosperity). While observing the lovely animals and the beautiful flowers, tourists can take a break and enjoy delicious food in the zoo. The restaurant Bin Feng Tang offers great imperial palace cuisines. There is another important attraction in the zoo: Chang Guan Manor, one of the previous temporary palaces for the Qing imperial family. However, it is currently not open for public viewing.
Our Yangtze Memories tour offers a visit to Beijing Zoo or you could request its addition to any one of our Beijing tours. We specialize in tailor-making tours to customer requirements.
Beijing Zoo is a popular destination for family tour in Beijing. Continue to read Beijing family tour plan for more top attractions and useful suggestions.
Questions and Answers About Beijing Zoo
Sandra
2013-08-10
Show Answer
Hello, Do they have any white peacocks at the Beijing Zoo? Also, what time do they feed the pandas or let them come out to play on the swings/climbing toys? I want to know when the best time to photograph them would be.
Hi Sandra,
Thank you for your inquiry.
Yes, there are white peacocks at the Beijing zoo. For the pandas, usually, the zoo keepers release them from their cage at half past 8 in the morning everyday until close the zoo. So during this period, tourists could see pandas, but can not watch keepers feed them.
Sunny Xie replied on 2013-08-12
Hany Gamal EL din
2012-09-05
Show Answer
Ticket price per person opening and closing time
Hi Hany, please see below for Beijing Zoo entrance fee:CNY20 opening time: 7:30 closing time: 17:00-18:00 Whitney Liao replied on 2012-09-06
jay
2012-04-26
Show Answer
we are planing to come visit china first trip ever out of the united states how can we get more information on the our 2 week stay and what kind of thing we can do?
Hi Jay, thank you for your inquiry. This is Nora, a trip advisor of China Highlights. Glad to offer you some information. If this will be your first time to China and you plan to stay for 2 weeks, we recommend Three Gorges with classic China Tour to you. Commencing in Hong Kong and finishing in Beijing, this tour visits Guilin and the beautiful Li River and modern metropolis - Shanghai, concludes with the history and culture of Beijing. You could visi the website below to see details: http://www.chinahighlights.com/tour/cht-75/ Please feel free to contact me at nora@chinahighlights.net and inform the date and number of people in the group if you would like to book the tour. Wish you a wonderful day! Nora Ou replied on 2012-04-27
Lourdes y Jordi
2012-02-23
Show Answer
We need to contact China Zoo's Please! Thanks and Regards
Beijing Zoo Address: 137 Xizhimen Wai Street (西直门外大街137号) Tel: (010)68314411 Lynn Ye replied on 2012-02-28
Thank you very much but I need and e.mail adress from Beijing zoo Please. Thanks a lot . Good favor! guest replied on 2012-02-29
Here are the e-mail address and official website( Chinese version) of Beijing zoo and Beijing Wildlife Park. Beijing zoo:http://www.beijingzoo.com/ e-mail:beijing_zoo@126.com Beijing Wildlife Park:http://www.bjwildlifepark.com/ e-mail:webmaster@bjwildlifepark.com Lussie Lu replied on 2012-02-29
Jojo
2011-12-01
Show Answer
Hello my is Jojo, and I will be coming to china shortly. I hear your zoo is one of the most attracted zoo's in china. Will i be able you hold a baby/small panda and take a picture with it? How much would this cost?
Hi Jojo, I am sorry to inform you that you can not hole a panda and take a picture with it in Beijing zoo; actually you can only see pandas at a distance, please understand. If you wish to do that anyway, you can go to Chengdu Research Base of Giant Panda Breeding or Bifengxia Giant Panda Base (both in Sichuan province) to join the Giant Panda Volunteer Programs. (relevant page: http://www.chinahighlights.com/giant-panda/programs.htm) After the program, you can donate CNY 1000 to the pandas, then hold a baby panda and take photo with it. Hope it helps, wish you a nice day! ;) Robert Hui replied on 2011-12-04
April Offer $25 Coupon
Send your inquiry before Apr. 30, 2014, and we will email you a $25 coupon.
The coupon is valid till Dec. 31, 2014, for paying tour packages worth $250 or up.
The coupon cannot be used for paying flight tickets, train tickets, hotel rooms and day trips.
Travel Advice or Question? Ask us here

China Highlights
Beijing Travel Guide