Chairman Mao's Memorial Hall
Characteristic: The Chairman Mao Zedong Memorial Hall is dedicated to the leader Mao Zedong. Inside of the memorial hall placed the coffin of Chairman Mao Zedong, the founder of the People's Republic of China.
Brief Introduction
The Chairman Mao Zedong Memorial Hall was first built in November, 1976 and finished in August 1977. The front gate of the memorial hall is decorated with a gold-lettered tablet. 44 purplish red granite pillars stand on the grand base, supporting the roof decorated with golden gazed tiles.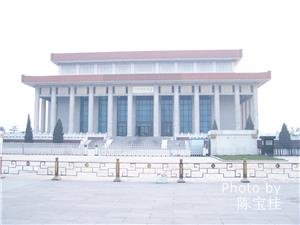 The memorial hall is composed of North Hall, Memorial Hall and South Hall. The North Hall is the place where people hold the public memorial activities in front of the picture of Chairman Mao Zedong. In the center of the hall sits the statue of Chairman Mao. Behind the statue, there is a huge woolen needlepoint tapestry shows the picture of beautiful mountains and rivers. The Memorial Hall is the center of the Memorial Hall. The white marble wall is decorated with 17 Chinese characters which mean "Long live of great leader Chairman Mao Zedong". The crystal coffin is placed at the center of the hall. On the white marble wall, there carved some poems written by Chairman Mao and Guo Moruo. On the east and west side, there are lounge halls. Besides, there are also memorial halls of Zhou Enlai, Liu Shaoqi and Zhu De.
Location: The Chairman Mao Zedong Memorial Hall is located at the south of Tian'anmen Square.
Transportation: Tourists can take City Bus Line 1, 2, 4, 17,20, 52, 57 and 802 and get off at Tian'anmen Station. Or tourists can take subway and get off at Tian'anmen and Qianmen Station.
Ticket: Free
Open Time: From 8:00 a.m. to 12:00 p.m. from Tuesday to Sunday.
Hint:
Handbag, Backpack, Camera, DV, bottle and beverage are not allowed to take to the Hall. Tourists can deposit their belongings.
Tourists should dress neatly.
Please turn off your phone or transfer to mute state.
Nearby Tourist Spot: Tian'anmen Square.
Questions and Answers About Chairman Mao's Memorial Hall
SIRIO
2012-04-25
Show Answer
DEARI CAN HAVE EMAIL FOR THE MUSEUM MAO?THANKS
Dear SIRIO, I am so sorry that we can't fine the email address of Mao Memorial Hall. The phone number is 010-65132277 and the fax number is 010-65120909. You can make a phone call to them immediately. Hope it helps. Candice Song replied on 2012-04-26
April Offer $25 Coupon
Send your inquiry before Apr. 30, 2014, and we will email you a $25 coupon.
The coupon is valid till Dec. 31, 2014, for paying tour packages worth $250 or up.
The coupon cannot be used for paying flight tickets, train tickets, hotel rooms and day trips.
Travel Advice or Question? Ask us here

China Highlights
Beijing Travel Guide