Chaoyang Acrobatics Theater
To see the best daily acrobatics show in Beijing, go to Chaoyang Theater (朝阳剧场; Cháoyáng Jùchang) in Chaoyang District near the center of the city. Though it is a small theater, it has become one of Beijing's tourist highlights. There are two shows daily in the evenings, and the quality of the performance is very high.
Features
You'll be entertained by a variety of stunts, dancing, and loud Chinese music. The show includes tumblers, gymnasts, and contortionists. They perform in rapid succession to keep the audience on their toes without a break in the suspense.
They spin big spindles on ropes and spin plates. There are giant wheels, and you might see a blindfolded acrobat juggling and skipping rope on top as the wheels spin. There are also martial arts choreographers, acrobatic stunts, and female dancers in exotic costumes.
Stunts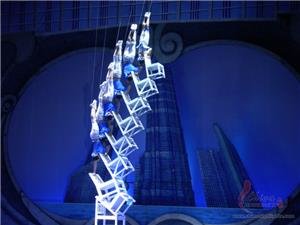 Motorbike globe: The most dangerous stunt involves motorcyclists cycling around inside a transparent globe that looks to be about 18 meters high. More and more riders enter and cycle around in fast circles. They mostly cycle horizontally parallel to the stage, but sometimes they go vertical perpendicular to the stage and make intricate interweaving patterns in fast frequency. At the climax six cyclists circulate together inside the sphere.
Human pyramid on a bicycle: A group of women cycle in circles. More and more women climb on the bicycles and sit on their shoulders or bikes, until there are eleven women riding on one bike in a human pyramid.
Chair tower: A solo acrobat constructs a higher and higher tower with chairs while balancing on the top of them.
Theater Building and Seating
The theater is in a prominent location in Beijing's Chaoyang District next to a subway station and south of the Olympic area. The theater was built in 1984, so the facility isn't modern. But the acts makes it one of Beijing's best cultural centers. It was designated as such in 2001.
The building has two stories and can seat about 1,400 spectators (first floor 800, second floor 600). There are 22 rows of seats on the first floor. The lower floor tickets are priced higher, but the view from the first rows on the top floor are just as good or better (see prices below).
A small auxiliary theater hosts Peking Opera performances. But tourists generally consider their performances to be second-rate compared to more famous Beijing Opera theaters.
Essential Information
Times: Two shows daily at 5:15 pm and 7:15 pm.
Cameras are allowed. You can capture some awesome videos as mementos of your trip.
The refreshments are not all that good. Perhaps bring your own munchies to enjoy.
Ticket Prices
The window ticket prices depend on the row and floor. Our agents can probably help get them cheaper. Contact us for assistance. Ticket reservations are necessary to ensure getting a seat on crowded days.
On the first floor the window ticket prices are:
1st – 4th row: 280 RMB/person;
5th – 7th row: 680 RMB/person;
8th – 9th row : 880 RMB/person;
10th – 11th row: 480 RMB/person;
12th – 14th row: 280 or 380RMB/person;
Side sections are 180 RMB/ person.
The second floor seat prices are 180 RMB.
Getting There
Address: Chaoyang Theater, 36 Dongsanhuan North Road, Chaoyang District, Beijing
(东三环北路36号 Dōngsānhuánběi Lù).
Bus: 9, 112, 118, 101, 830, 846, 859, 420, 611, or 113 to Hujialou Station
Subway: Line 10 goes to Hujialou Station (at least 2 RMB). The station is only about 50 meters south.
Taxi: about 28 RMB from the city center.
Booking:
Book the ticket on your own;
Book a Beijing tour including the show with China Highlights.
Note:
Clients shall book the tickets 2 days in advance;
Clients who book 580CNY and 680CNY tickets get souvenirs.
Nearby Attractions
Chaoyang Park is Beijing's biggest park. Take Line 10 from Hujialou Station north one station to Tuanjiehu, walk east 1 kilometer down Nongzhanguan South Road, and then take Chaoyang Park Road to the entrance of the park (about 500 meters).
Questions and Answers About Chaoyang Acrobatics Theater
April Offer $25 Coupon
Send your inquiry before Apr. 30, 2014, and we will email you a $25 coupon.
The coupon is valid till Dec. 31, 2014, for paying tour packages worth $250 or up.
The coupon cannot be used for paying flight tickets, train tickets, hotel rooms and day trips.
Travel Advice or Question? Ask us here

China Highlights
Beijing Travel Guide