Fahai Temple
Fahai Temple can be found in the western suburbs of Beijing. Fahai Temple is known for the ten large and well-preserved murals in its main hall. This artwork presents the Ming Dynasty's best murals. Fahai Temple is among the most beautiful attractions in Beijing as it shows off history, art and natural scenery.
Fahai Temple History
Fahai Temple was first built in 1439. It was created through the efforts of the Board of Works in the Ming Dynasty. At that time, Li Tong was the Ming Emperor's favorite official eunuch. He raised the funds in order to construct the temple. The construction was completed in 1443, and Emperor Yingzong named it the Fahai Zen Temple. However, it is now known as the Fahai Temple.
The original temple design had a main hall and four ancillary halls. It also used to have a bell and drum tower with several supplementary rooms. The entire temple was adorned with large-sized murals and many other decorations. At present, only a few side rooms, the main hall and some murals have survived. This is why the remaining pieces have become more valuable today.
Fahai Temple Art
Historians say that the murals were created by remarkable artists. They were recruited from all over China and worked under the supervision of famous court painters. The remaining murals are considered to be the best preserved art pieces from the Ming Dynasty in China. They covered 236.7 square meters of the main hall and are distributed on the eastern, western and rear walls.
Art experts and historians are actually amazed at how well these art pieces are preserved. They were created more than 500 years ago, but they still remain intact, bright and fresh-looking. This could be because the special mineral pigments used look even better over time. These murals create sophistication and grandeur in the temple.
The paintings include 77 figures that depict the splendid gathering of the Bodhisattvas. Every figure looks different, but their spirits are unified. The murals show a religious occasion that denotes a link between beliefs and morals. The brushwork is very impressive. The painters made sure that every small detail is as perfect as possible.
Experts and art enthusiasts from all over the world are stunned by how the paintings were done. The painters employed unique techniques. Females look gentle and soft while males are truly robust. This precious artwork has been compared to its western rivals. Most experts agree that the masterpieces found in Fahai Temple are among the best murals in the world.
Fahai Temple Today
Many travelers agree that the artwork in Fahai Temple is unique in its own right and far better than the murals found in Dunhuang and Yongle Palace. Indeed, Fahai Temple is a great place for people who have a passion for Chinese art and history. The government has been preserving precious items to ensure that they stay another 500 years or more. They also invested a large amount of money to restore the entire temple.
Beijing's Bureau of Cultural Relics allotted $1.2 million to save Fahai Temple's Hall of Buddhist Scriptures and the Doctor Hall. The organization will preserve all the original murals as a part of Beijing's relic protection program. Fahai Temple is open for visitors every day. However, opening and closing times may vary depending on the season.
Visiting Fahai Temple
Most visitors who come to Fahai Temple have a great interest in Chinese history and art. They are given the chance to take a closer look at authentic pieces. There are video programs prepared for them about Ming Dynasty murals. There is an admission fee for visitors with different rates for students and adults.
Getting There
There are many buses that go to Fahai Temple from Beijing. Visitors can take the buses 336, 621 and 537 from Pingguoyuan subway station. These buses take them directly to the temple.
Nearby Attractions
Badachu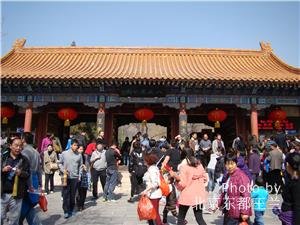 Lingguang Temple in Badachu Park
Badachu means eight great sites. Badachu Park is located on the outskirts of urban Beijing a few kilometers away from Fahai Temple. Badachu is comprised of eight Buddhist temples and nunneries. These sites are dispersed all throughout Cuiwei, Liushi and Pingpo.
Visitors can get the chance to take pictures of the ancient trees that are believed to have lived for more than six centuries. The trees still stand strong and healthy. The best time to visit Badachu and Fahai Temple is in September and October when tourists can climb the mountains after visiting the temples.
Tianyi Tomb
Tianyi Tomb or Eunuch Tomb is another interesting place to drop by when visiting Fahai Temple as it is only about 500 meters away. Tianyi Tomb contains a wealth of stone carvings. The amazing tomb is carved with white marble. This includes the graves and pavilions. The gate is guarded by civil and military officers. The entrance also has an extraordinary design. There is a lying lion embossed on both sides of the gate.
Questions and Answers About Fahai Temple
April Offer $25 Coupon
Send your inquiry before Apr. 30, 2014, and we will email you a $25 coupon.
The coupon is valid till Dec. 31, 2014, for paying tour packages worth $250 or up.
The coupon cannot be used for paying flight tickets, train tickets, hotel rooms and day trips.
Travel Advice or Question? Ask us here

China Highlights
Beijing Travel Guide