The Hall of Clocks and Watches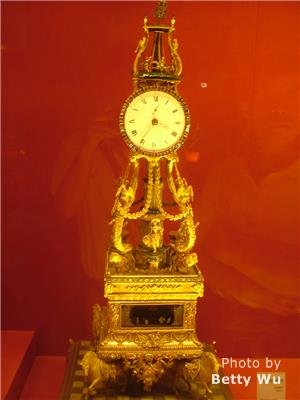 The Hall of Clocks and Watches in The Forbidden City is home to a fantastic collection of Qing Dynasty (Eighteenth Century) timepieces.
The exhibition hall displays about 200 clocks and watches from the imperial collection. These clocks and watches were mostly made in Switzerland, England, France, and Japan, with some Chinese made timepieces on display as well.
The clocks and watches display various styles and exquisite workmanship, and their artistic value makes them very precious. One of the clocks which attracts the greatest attention can easily be seen on the left when you enter the Hall. It is a chiming clock, made during the Qing Dynasty, about 1797, by royal clockmakers. The clock is 5.85 meters high and it stands on a 2.6 meter-high square base. It can still run up for to 72 hours after it is well wound, regularly striking hours and quarters.
The Hall of Clocks and Watches is located in Fengxian Palace (Palace of Dedication), to the east of the imperial palaces in the Forbidden City. Fengxian Palace, built in 1656 (the 13th year of Emperor Shunzhi's reign), was also known as the Hall of Ancestor Worship, as Qing emperors went there to worship their ancestors' memorial tablets. You may also find this hall a nice place to have a rest. While sitting on the chairs in the hall, you can feast your eyes on the collection of clocks and watches.
Our Beijing tours, almost without exception, include a visit to the Forbidden City. You can request a stop at the Hall of Clocks and Watches, or anything else you would like to do, when customizing your tour with our travel advisors.
Questions and Answers About The Hall of Clocks and Watches
Lynn Webb
2010-08-23
Show Answer
Where in the Forbidden City will we find the Blessing and Longevity Clock?
There are some souvenir shops in the Fobidden City. I think you may find blessing and Longevity clock, but items on display in the hall-of-clocks-watches is only for exhibition. Jean Fu replied on 2010-08-24
April Offer $25 Coupon
Send your inquiry before Apr. 30, 2014, and we will email you a $25 coupon.
The coupon is valid till Dec. 31, 2014, for paying tour packages worth $250 or up.
The coupon cannot be used for paying flight tickets, train tickets, hotel rooms and day trips.
Travel Advice or Question? Ask us here
China Highlights
Beijing Travel Guide