Nanshan Ski Resort
Location: Near the village of Miyun, about 60 kilometers northeast of Beijing
Season: December – Late February
Pistes: 10, for beginner, intermediate and advanced levels, including an advanced Mogul trail, plus a snowboarding park (see below)
Toboggan Run: Yes, German designed
Snowmobile Trails: Yes, including a special snowmobile track for children
Lifts: 1 quadruple chair lift, 1 double chair lift, numerous rope tows on beginner slopes
Target Group: Fun-loving people of all age and skill levels
Kickers– 2 Pro, 2 Medium
Jib Features–Advanced: 1 Full Pipe, 1 Wallride, numerous Rails/Boxes;Easy/Beginner: 1 Jump Roller, 1 Mini Kicker, 1 Mini Funbox, 1 Spin Ball
Half-Pipe– 1 (80 meters long and shaped by hand)
Detailed Description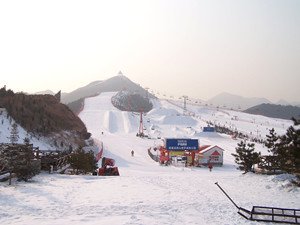 Nanshan Ski Resort
Nanshan Ski Resort is the largest of its kind in northern China, that is, it is the largest ski resort specializing in snowboarding. The ski resort also distinguishes itself in offering more of everything for the Alpine skier, meaning that here one will find more slopes in all skill categories than anywhere else in China. Nanshan Ski Resort is also probably the Chinese ski resort when it comes to the availability of skiing and other snow-activity facilities for beginners. If you are a young person who knows nothing whatsoever about skiing and are looking for a fun place to learn among like-minded young people, Nanshan Ski Resort is your ticket. Its snowboarding park, theQuiksilver Nanshan Mellow Park, is built in cooperation with the famous Austrian snowboard-park designer, the Mellow Company (the current sponsor of the park is the boardsports fashion apparel company, Quiksilver?, which also makes the female fashion apparel line, Roxy?)
Not surprisingly, given that the ski resort also has numerous beginner slopes, Nanshan Ski Resort's 70-member staff of ski and snowboard instructors, many of whom are trained by Austrian coaches (the Nanshan International Snowboarding School is in fact led by an international snowboarding instructor from Austria), boasting one of the largest, if not the largest, staff of ski instructors in all of China. Quiksilver Nanshan Mellow Park is the favorite practice grounds for China's top-competition snowboarders who are preparing themselves, pushing themselves to the limit, for the upcoming 2010 Asian Games. The ski resort has 12 snow-making and 2 snow-grooming machines, all Austrian made. China Highlights has helped many traveler customize their ski tours during the past year. Design your own ski tours with our help, or see our ski tours.
Accomadtion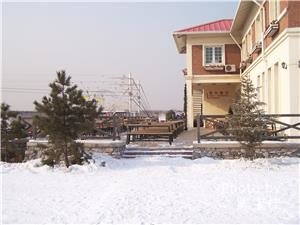 Nanshan Ski Resort offers two sets of standard (as opposed to VIP) accomodations, each with its separate amenities/ price classes: the Shirton Inn (not to be confused with the Sheraton Inn, though one is also advised to keep one's shirt on here too:)), and the Norwegian Villas. The former consists of 2 two-storey structures, with in all 24 double rooms, each equipped with an electric fireplace. The Shirton Inn also has a restaurant and bar that serves Western style food and drinks. There are two Norwegian Villas, which, as the name suggests, is a self-contained single-level house. Each villa consists of 6 rooms, including a living room, a kitchen, and a dining room. They are ideal for families, or for smaller groups who wish to lodge together.
As something extra (one can expect more at Nanshan Ski Resort!), the ski resort's Nanshan VIP Skiing Club offers what are termed in/out lodgings, or lodgings where the skiing begins (and ends) at the lodging's doorstep. The VIP club has its own cafeteria of course, with huge French windows that offer fantastic views of the surroundings.
Facilities
At the base of the mountain, where the ski resort's main facilities are situated, the Terrace Restaurant & Pub serves Western food and drinks, and also Chinese beer. The Nanshan Restaurant specializes in Chinese cuisine, while the Hot Snack Bar serves Chinese snacks and other fast foods. At the top of the mountain, where the chair lift will deposit you, the Lavender Mini Tea Bar serves coffee, tea and light snacks. Also located at the main building complex at the base of the mountain is the Nanshan Ski Service Center, a two-storey structure whose upper storey caters to VIPs while the lower storey is for everyone else (for the modest sum of 50 Yuan you can be certified as a VIP customer!). The Nanshan Ski Service Center has more than 3000 sets of skis, snowboards, toboggans, and snowmobiles for rent.
Lastly, Nanshan Ski Resort offers year-round activities; besides the winter sport activities, there is grass skiing, water skiing, swimming and hang-gliding during the summer, and in the autumn, the local fruit trees offer up their bounty, free for the picking, as they say.
How to get there
There are a number of ways to get to the ski resort, including two different bus routes directly from Beijing Capital International Airport (PEK) and a bus route from downtown Beijing (ask your travel agent for the departure/ arrival details, as these change fom time to time). You can also take a taxi, though this is a bit pricey (about $50 each direction). A one-way trip by bus/ taxi takes about 1 hour.
Continue to read China ski resorts and top ski resorts in Beijing.
Skiing in Nanshan Ski Resort with your kids is fun for a winter tour of Beijing. Click here to know more useful suggestions about travel in Beijing with families.
Questions and Answers About Nanshan Ski Resort
Anthony
2014-04-07
Show Answer
Is Nanshan ski-able in April?
Dear Anthony, It is unavailable in April, the ski resorts are closed from April. Lussie Lu replied on 2014-04-08
Kenny
2014-03-29
Show Answer
May I know do I get to the ski resort from tianjin airport?
Dear Kenny, You need to take a taxi to Tianjin west railway station from Tianjin airport for the train to Beijing railway station. Then take a taxi to Sanyuanqiao station(三元桥站)and take a shuttle bus to Nanshan ski resort, which sets off at 8:30am everyday. Lussie Lu replied on 2014-03-30
Keira
2014-01-26
Show Answer
Hello, can i have the price for one day ?
Hi Keira, no problem. Could you please let me know the exact date and the number of people, please?
Whitney Liao replied on 2014-01-27
James
2013-12-08
Show Answer
Hi there, will the Nanshan Ski Resort be very crowded in early Feb 2014? Can you also recommended a good hotel near the shuttle bus pick up area? Thanks
Dear James,
It may be crowded in early Feb. since it is the Chinese Traditional Spring Festival during that time. If you would like to stay near Nanshan Ski Rsort, you are recommend to stay at Beijing Nanshan Ski Village. As a travel agency, we glad to arrange tour package including to visit Nanshan Ski Rsort and stay at Beijing Nanshan Ski Village. Please feel free contact me if you need any tour arrangement in China.
Nancy
Nancy Deng replied on 2013-12-09
Yanti
2013-01-16
Show Answer
Hi there, how do i go to nashan ski resort with bus or train from Shangda International hotel?
April Offer $25 Coupon
Send your inquiry before Apr. 30, 2014, and we will email you a $25 coupon.
The coupon is valid till Dec. 31, 2014, for paying tour packages worth $250 or up.
The coupon cannot be used for paying flight tickets, train tickets, hotel rooms and day trips.
Travel Advice or Question? Ask us here

China Highlights
Beijing Travel Guide