Temple of the Sun Park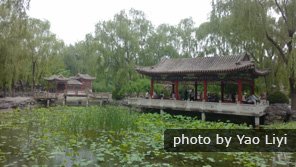 Temple of the Sun Park features serenity, simplicity and elegance in Beijing. It has been open to the public since its establishment in 1951. Temple of the Sun was where emperors of the Ming and Qing dynasties offered sacrifices to the sun god, and it's among the five temples of Beijing, along with Temple of the Moon, Temple of Heaven, Temple of the Earth, and Temple of Agriculture.
Facing west, Temple of the Sun was built in the 9th year (1530) of Emperor Jiajing's reign in the Ming Dynasty, when it was a stone platform with a red glazed surface, symbolizing the Sun, however the stones were replaced by square bricks in the Qing Dynasty. A religious festival was held by ancient emperors at Temple of the Sun on the vernal equinox each year to worship the sun, at which all civil and military officials kowtowed to express their gratitude, and the ceremony was very grand and solemn.
Unfortunately, most ancient architectural buildings were destroyed and cultural relics were stolen in the temple before the foundation of the People's Republic of China owing to unceasing wars and mismanagement. The Temple of the Sun was extended into a park by Beijing Municipal People's Government in 1951.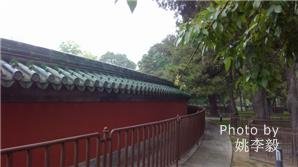 Dotted with 44 ancient trees, Temple of the Sun Park covers an area of 206,200 square meters, to which a number of attractions, such as Children's Amusement Paradise and fishing pools have been added recently. The main scenic spots include Western Heavenly Gate, Northern Heavenly Gate, Holy Warehouse, Holy Kitchen, Animal-Slaughtering Pavilion, Court Dress Palace, Sun-Worshiping Fresco, Southwestern Scenic Area, Yuxin Garden, Peony Garden, and Entertainment Center for the Aged.
Highlights of Temple of the Sun Park
Holy Warehouse and Holy Kitchen
Holy Warehouse was used for storing tablets used for sun god worship, opposite which is Holy Kitchen used for depositing oblations in the Ming and the Qing dynasties.
Court Dress Palace
Court Dress Palace is a rectangular compound, whose main hall faces south with three affiliated halls on each side. It was the place for emperors to change costume before offering sacrifices to the sun god.
Southwestern Scenic Area
With styles of South China gardens and North China landscapes combined as one, the Southwestern Scenic Area features a 4,700-square-meter lake, along which the winding pavilions and antique arch-bridges are scattered. It's an ideal place for taking a walk.
Yuxin Garden
After walking down a winding path, you'll find the 3,000-square-meter Yuxin Garden, which is very shady, owing to its sycamoreS of more than 40-years-old providing shadows for visitors on hot days.
The famous attractions near Temple of the Sun Park include the Bird's Nest, Beijing Happy Valley, Dongyue Temple, the Water Cube, 798 Art Zone and Ruins of the Yuan Dynasty, all of which are worthy of your time during your Beijing tour. China Highlights can tailor-make a tour for you to explore Beijing's attractions.
Travel Essentials
Location: Ritan North Road, Chaoyang District, 10 km from central Beijing
Transport: Buses 1, 4, 44, 729, and 800 can take you there.
Opening times: 8:00 a.m. – 6:00 p.m.
Questions and Answers About Temple of the Sun Park
April Offer $25 Coupon
Send your inquiry before Apr. 30, 2014, and we will email you a $25 coupon.
The coupon is valid till Dec. 31, 2014, for paying tour packages worth $250 or up.
The coupon cannot be used for paying flight tickets, train tickets, hotel rooms and day trips.
Travel Advice or Question? Ask us here

China Highlights
Beijing Travel Guide