Acrobatics Show at Chaoyang Theater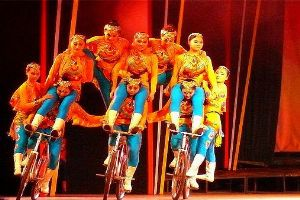 Traditional acrobatics at modern stage setting and excellent performance, this is the key to Beijing Chaoyang Theatre's fame.
Acrobatics is the collective name of various kinds of feats. Greatly involved with music and dancing, it holds some unique artistic characteristics by high requirements for performers' control and precision as well as ingenuity of their moves. At the theatre, people will watch bicycle acrobatics, ballet, circle jumping, ball skill, contortion and Chinese magic tricks. The show itself is a cultural doorway for people to get under the skin of China's traditional art form. As every feat is devoted to present the audience the best of acrobatics, jubilation is sprawling all over the place.
Location: Chaoyang Theatre, NO.36, Dongsanhuan North Road, Chaoyang District, Beijing 北京市朝阳区东三环北路36号
Time: 5:15pm – 6:15pm, 7:15pm – 8:30pm daily year round
Transportation:
Bus NO.9, 112, 118, 101, 830, 846, 859, 420, 611, 113, 801, 729, 113, 725, 402, 405 to Hujialou 呼家楼;
Subway Route 10 to Hujialou 呼家楼;
From Beijing Capital International Airport 北京首都国际机场: Beijing Capital International Airport to Sanyuan Bridge Stop 三元桥站 by airport coach,Sanyuan Bridge Stop to Hujialou 呼家楼 by Subway Route 10.
From Beijing West Train Station 北京西站: Bus NO.673 to Hujialou 呼家楼.
Ticket Pricing:
1st – 4th line: 280CNY / Person;
5th – 7th line: 680CNY /Person;
8th line: 880CNY / Person;
9th – 11th line: 480CNY/ Person;
12th – 14th line: 380CNY / Person.
Booking:
Book the ticket on your own;
Book a Beijing tour including the show with China Highlights.
Note:
Clients shall book the tickets 2 days in advance;
Clients who book 580CNY and 680CNY tickets get souvenirs.

China Highlights
Beijing Travel Guide