Top Food Streets in Beijing
Boasting glorious history, modern metropolis and rich culture, Beijing City has over 200 kinds of different snacks after thousands of years' development. Beijing snacks combine numerous flavors and styles, such as Hui, Mongolian and Manchurian ethnic flavors, and imperial styles of the Ming (1368-1644) and Qing (1636-1911) dynasties. Food streets or snack streets are always popular destinations for locals and tourists, especially at night. There are many such streets in Beijing, some are time-honored, while some are newly thriving ones. The following food/snack streets are among the famous in Beijing.
Learn how to eat like a local in Beijing with China Highlights.
Jiumen Snacks
Jiumen, meaning "Nine Gates" in Chinese, is named after the nine gates of the inner city of old Beijing. Jiumen Snacks is made up of street food vendors, and it is tucked inside the narrow Hutongs. This surprisingly well-hidden cluster of food, drink and dessert shops is home to more than 200 kinds of traditional snacks. Because it is under unified management, the paying system requires that you first need to credit some money on a card, then swipe it to buy food at the stalls.
Chinese Name: 什刹海九门小吃
Address: 1 Xiaoyou Hutong, shichahai Houhai, Xicheng District(西城区什刹海后海孝友胡同1号.
Transport: Public bus No 5, 819, 839 (get off at Guozishi); No 55, 800, 44, 380, 27, 409 (Get off at Deshengmen)
Wangfujing Snack Street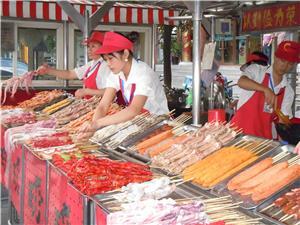 Wangfujing Snack Street
Wangfujing Snack Street is conveniently located just beside Wangfujing Street, the busiest shopping street in Beijing. It is a very popular tourist destination. It is especially busy at night. Besides street food, there are also souvenirs and handicrafts on sale. The food street has a large selection of exotic street food, such as deep fired insects, scorpions and animal parts. Common Foods such as meat kebabs and Tanghulu (candied fruits) can also be found.
Chinese Name: 王府井小吃街
Address: Wangfujing Street, Dongcheng District(东城区王府井)
Transport: Public bus No 20, 37, 41, 59, 103, 120, 420, 802 (get off at Wangfujing). Or take subway line 1 and get off at Wangfujing.
Guijie
Guijie (Ghost Street) is the earliest popular snack street in Beijing, and is also where night birds have a stoke of midnight. The 1.5-kilometer-long Guijie is full of snack shops, which serve snacks with different flavors at a cheap price. One of people's favorites there is the hot and spicy shrimps. Guijie operates around the clock, and every day from six in the afternoon till four in the morning is the busiest time.
Chinese name: 簋街
Location: Dongzhimennei Avenue, Dongcheng District
Transportation: Public bus No 106, 124, 807 (get off at Beixinqiao); subway line 5 (get off at Beixinqiao); subway line 2 (get off at Dongzhimen).
Niujie Muslim Snack Street
Niujie (Ox Street) is famous for its large ethnic community and Niujie Mosque, which is the largest and oldest mosque in Beijing. 23 ethnic groups live there, with Hui people taking up the majority. There visitors can taste genuine Muslim food, mostly made of beef and mutton, various pastries, and traditional Beijing snacks as well.
Chinese name: 牛街
Location: Guanganmen, Xuanwu District
Transport: Public bus No 5, 6, 10, 38, 48, 109, 626 and 717 (get off at Niujie)
Fucheng Street
It is one of the upscale food streets in Beijing. Nearly 50% of the consumers are business people. Dozens of upscale restaurants gather on this 3-kilometer-long street. Hunan cuisine, Sichuan cuisine, Jiangsu cuisine and many other famous Chinese regional cuisines can be found there. Several Cantonese restaurants featuring seafood are among the best in Beijing City.
Chinese Name: 阜成路
Location: It is located between Hangtian Bridge (航天桥) and Dinghui Bridge (定慧桥) in Haidian District
Nearby Attraction: China Central Television Tower
Haoyun Street
Located in Yansha Business Circle, Chaoyang District, Haoyun Street is a medium to upscale food street gathering more than 20 international chain restaurants. It features exotic restaurants, bars and the nearby art galleries, forming an "international dinning mall". French, Italian, Australian, Japanese, Thai and Korean restaurants can be found there.
Chinese name: 好运街
Location: Near Liangmaqiao Road on the East Third Ring
Nearby attraction: Chaoyang Park
Related Links
Questions and Answers About Top Food Streets in Beijing
carmina
2011-09-26
Show Answer
where can i buy preserved fruits
Floor 1 in Xidan market(西单商场), Beijing. nicky replied on 2011-09-26
Hi Carnina, Almost every supermarket of Beijing has preserved fruits. Xidan Market and Chongwenmen Market are the recommended places with great varieties and reasonable price. Nice day! lisa replied on 2011-09-30
April Offer $25 Coupon
Send your inquiry before Apr. 30, 2014, and we will email you a $25 coupon.
The coupon is valid till Dec. 31, 2014, for paying tour packages worth $250 or up.
The coupon cannot be used for paying flight tickets, train tickets, hotel rooms and day trips.
Travel Advice or Question? Ask us here

China Highlights
Beijing Travel Guide