Exploring the Great Wall at Badaling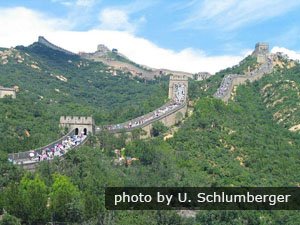 "You will never be a true man before you arrive at the Great Wall". This is a famous saying acknowledged by most Chinese. Indeed, this man-made wonder does live up to this compliment. For those who want to be a true man (or woman), there are several sections of Great Wall available for visit in Beijing. For example, the Great Wall at Badaling, the Great Wall at Mutianyu, Juyongguan, and Simatai.. Among these sections, Badaling section enjoys great prevalence. This travel guide introduce what you need to take into account from the very beginning of you visitation to the end.
Transportation
There is a convenient and economical way to go to the the Great Wall at Badaling- bus No. 877 which you can take in the square north to De Sheng Men (De Sheng Gate, 德胜门北侧). There are bus before 12:00 a.m. Bus will set out when it is filled up with people and normally it will take one hour to get to the Great Wall. Guide on the bus will recommend you to take a cable car up to the Great Wall. The fee for the cable car is 100 yuan. Want to visit the Great Wall? See China Highlights' Beijing Great Wall tours.
Start to explore
The last stop of No. 877 is Shanqian Tingchechang (Fore-mountain Parking Lot; 前山停车场). Follow the guide if you choose to take a cable car to the Great Wall at Badaling. Otherwise, you can have your free moment now. Badaling Great Wall is 3700 meters long. It will take about 2 – 3 hours to finish the visit. There are twelve watch towers in Badaling Great Wall.
Ways up to the Wall
There are two entrances for the Wall. One is Badaling Bear Merry Land(八达岭熊乐园) in the fore-mountain. The other is the main entrance, at the mountain back. If you enter from the front range, walk all the way up to the Badaling Bear Merry Land ( no entrance fee), you are getting closed to the entrance. Keep walking for a moment, you will see the the ticket office. The entrance fee is 45 yuan. If you want to climb from the back range, walk upward to the hall selling group tickets on the left side. When you enter the hall, you will be facing the group tickets office. There is a path on the right side of the office along which there are booths selling souvenirs. After a ten minutes walk along the path, you will be arriving at a big square. There is a huge stone with Chinese Character 八达岭 (Badaling) engraved on it. Continue to walk up hill, you can see a ticket office selling cable car tickets to North Eighth Tower, the highest watch tower of Badaling Great Wall. The whole journey will be quite exhausting. No. 877 will be in operating before 5:00 p.m. So you do not need to hurry. Spend all the time you need.
Way Back
After you finish visiting the Badaling Great Wall, you can take bus No. 877 to go back to De Sheng Men. The earliest returning bus operates at 12:00 a.m. It takes about one hour to get back to De Sheng Men.
Tips:
There are some buses in De Sheng Men (德胜门北广场) which have the same appearance as No. 877. Make sure you get on a No. 877 bus.
One-way fee for the bus is 12 yuan (4.8 yuan if you use an IC bus card). If you want to spend less money on transportation, you can transact an IC bus card in the ticket office in the south of De Sheng Men. Each card requires a guarantee deposit of 20 yuan. You can get it back when you return the card.
Buy yourself some water before heading up because the water in Badaling Great Wall will be more expensive.
When you get on the bus, the guide on the bus will tell you how convenient a cable car is and how difficult the hiking will be. But it turns out to be bluffing. You can make you own choice on this.
The two sides of the Great Wall are bared with iron handrails. Grasp the handrail when you go up or down stairs for you own safety.
The highest tower, North Eighth Tower, draws a throng a tourists from time to time. Avoid staying too long on it and watch you step when there are too many tourists.
Also read Travel Tips for Student Travelers to Beijing.
Questions and Answers About Exploring the Great Wall at Badaling
myrna mesana
2014-04-09
Show Answer
Is badaling great wall open fo tourists now?
Dear myrna mesana. Yes, the Badaling Great Wall is available. If you are interested in travelling there, I am glad to arrange a tour for you. Please feel free to let me know. My e-mail address is lussie@chinahighlights.net Lussie Lu replied on 2014-04-10
April Offer $25 Coupon
Send your inquiry before Apr. 30, 2014, and we will email you a $25 coupon.
The coupon is valid till Dec. 31, 2014, for paying tour packages worth $250 or up.
The coupon cannot be used for paying flight tickets, train tickets, hotel rooms and day trips.
Travel Advice or Question? Ask us here

China Highlights
Beijing Travel Guide