DIY Traditional Chinese Handicraft Hutong Discovery Experiences
Taking a rickshaw ride through Beijing's hutongs is no big deal now. Would you like to learn to make your own price of traditional Chinese handicraft in this historical area?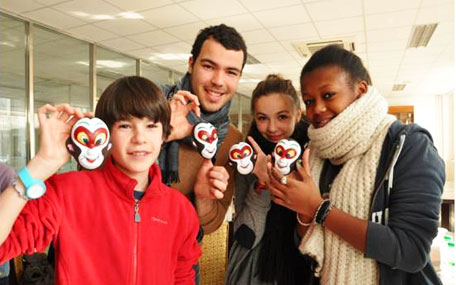 Brief Introduction
This is an opportunity to experience traditional Chinese art in person. China Highlights would like to introduce you to two ways to discover more in the hutongs:
1. Visiting a traditional quadrangle dwelling, and
2. DIY traditional craft activities: braiding Chinese knots, making dough figurines, painting facial makeup, and traditional Chinese painting and calligraphy.
You can tailor make a Beijing tour requesting this product, or have our experienced travel advisor assist in adding a Hutong Discovery Experience into into your itinerary in Beijing at the inquiry stage.
Hutong Discovery and DIY Chinese Handicraft

1. Exploring the hutongs (about 1 hour): Our guide and driver will pick you up from your hotel at 9am and transfer you to the most beautiful hutong area. You can explore the hutong both by walking and rickshaw. These hutongs, together with the quadrangle dwellings will show you Beijing's unique residential culture and architectural features of past centuries.
2. Visiting a local family in a traditional quadrangle dwelling: Walk into a first-rate quadrangle dwelling and learn about its architesture and landscape gardening, and traditional local life.
3. DIY Traditional Chinese Handicraft
Each craft class will last about 1 hour. Select them for your itinerary according to your interest.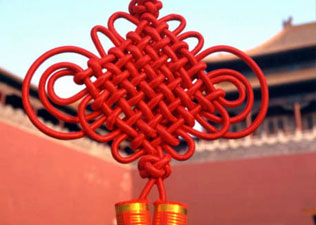 Braiding a Chinese Knot
Made of a rope or a cord, this decorative handicraft symbolizes good fortune and harmony. The complicated Chinese knot shown above is made of two unbroken red cords. These elegant knots were widely used for clothes in the past, and you still can find them attached to a qipao or a Tang suite. They can also be used as wall decorations, key fobs, etc.There are 12 basic ways of making a Chinese knot. You will learn three ways in this class.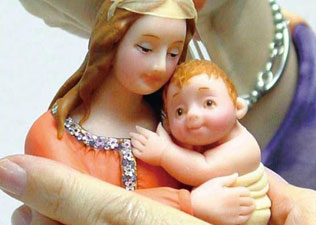 Making a Dough Figurine
The cute and vivid figurine above is made of colored dough, like Plasticene. A preservative is used in the dough, so if you keep your dough figurine dry, it can be well preserved for several years.
The colorful dough can be made into very exquisite figurines. In this class you can learn to make some simple figurines, like flowers or cartoon figures.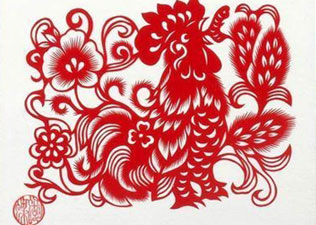 Making a Paper-Cut
Paper-cuts are usually made of red pepper, with images of totems symbolizing good wishes in traditional Chinese culture. It has developed into an art form with extensive themes, like painting.
You can learn some basic paper-cutting skills in the class. Learn to cut out some flowers for window decoration, snowflake, or Chinese characters (like 囍, the 'double-joy' charater used for wedding).
Chinese Operatic Mask
Startling, colorful masks are used in many traditional Chinese operas, including Beijing opera.
Learn to paint an operatic mask in a pattern of your choosing, and learn the meaning of deferent masks.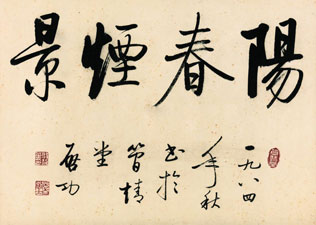 Writing Chinese Calligraphy
Traditional Chinese calligraphy artworks are created with Chinese writing bushes.
Learn the differences between regular script and cursive script. Writting your own Chinese calligraphy under the teacher's guidance can be very enjoyable and fulfilling.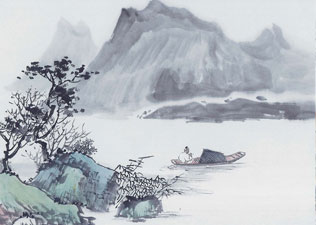 Painting a Traditional Chinese Painting
Traditional paintings are created with Chinese writing brushes.
Learn the differences between traditional Chinese realistic painting and traditional freehand brush painting. Paint your own traditional Chinese painting and calligraphy in traditional freehand style under the teacher's guidence.
If you are interested in traditional Chinese culture and would like to attend a lecture on a particular topic, China Highlight can arrange a lecture by an expert in the field (translation provided where neccessary). Contact us.