Beijing Forbidden City Map
Our Forbidden City map is a detailed plan view of the buildings and layout of the Forbidden City. Important palaces, halls, gates, and other features are labeled. See our Forbidden City page for more information.
Click the map to enlarge it.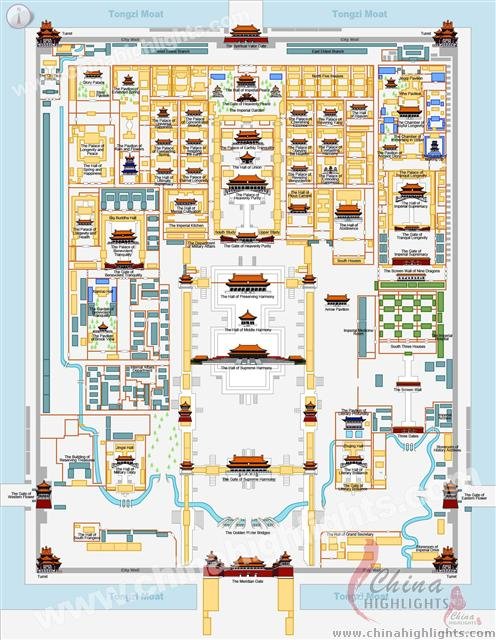 Questions and Answers About Beijing Forbidden City Map
Indrajit
2012-07-16
Show Answer
1.What is the length of walking and how long des it take?2. Is it possible to see only part of the forbidden city and come out
Hi Indrajit,
Thank you for your inquiry. Usually, it takes about 2 hours to visit the Forbidden City. The Forbidden City covers an area of about 72 hectares (178 acres) with a total floor space of approximately 150,000 square meters (1,600,000 square feet). It consists of 90 palaces and courtyards, 980 buildings and 8,704 rooms. So it is impossible to visit the whole Forbidden City. The most popular places are the entrance-Tian'an men Square(天安门广场),the Outer Court(including the Hall of Supreme Harmony 太和殿, the Hall of Central Harmony 中和殿and the Hall of Preserving Harmony 保和殿),the Inner Court(includin gthe Palace of Heavenly Peace乾清宫, the Palace of Union and Peace 交泰殿and the Palace of Terrestrial Tranquility 坤宁宫) and the Imperial Garden(御花园).
Of course, you can see only a part of the Forbidden city and come out, but please note that if you want to enter the Forbidden city again, you have to pay the entrance ticket again.
You can click here to see more information about the Forbidden City http://www.chinahighlights.com/beijing/forbidden-city/, http://www.chinahighlights.com/video/the-forbidden-city.htm. If you interested in our tours, we could book it for you. Please feel free to contact me at alice@chinahighlights.net . Regards, Alice.
Alice Cai replied on 2012-07-17
Charles Hanson
2011-08-13
Show Answer
is the Forbidden City in the city of peking?
Dear Charles Hanson, Yes, the Forbidden City is located at the center of Peking and Tian'anmen Square is near it. Lussie Lu replied on 2011-08-13
April Offer $25 Coupon
Send your inquiry before Apr. 30, 2014, and we will email you a $25 coupon.
The coupon is valid till Dec. 31, 2014, for paying tour packages worth $250 or up.
The coupon cannot be used for paying flight tickets, train tickets, hotel rooms and day trips.
Travel Advice or Question? Ask us here

China Highlights
Beijing Travel Guide