Beijing City Center Map
This is one of our old maps of Beijing city, covering the area inside the fifth ring road. It shows the photos of key attractions, railway stations, and airports.
Click the map to enlarge it.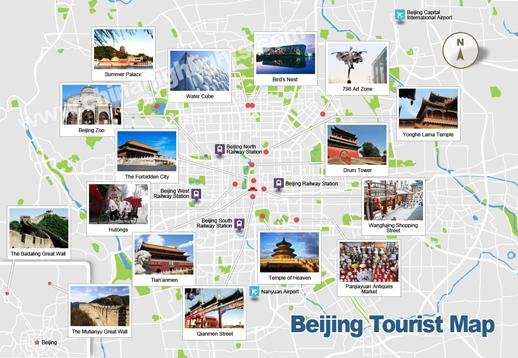 Questions and Answers About Beijing City Center Map
yoiko qizhu
2013-03-11
Show Answer
can you give me information about what are those places that represented on those numbers (1 to 22) in the map?i''ll visit beijing at the end of this month can u give me information about beijing smog? so i can prepare some masks if its necessary
Dear Yoiko,
Sorry to advise the picture on the website was designed about 5-7 years ago and we could not trace it back to the resource, we could not confirm what the figures meant. We are now looking for clearer pictures to replace it, thanks for pointing out the question to us!
If you are looking for attractions in Beijing to see, you will find the following link helpful, googlemap is also helpful when you travel. Usually hotels offer free maps for you to explore the city a bit. And for the weather in Beijing, the current weather is not very good as sandstorms are occasionally there. It is better if you could prepare some masks just in case. You will find more information on the weather by following the second link. Have a nice time in Beijing!
http://www.chinahighlights.com/beijing/attraction/
http://www.chinahighlights.com/news/around-china/beijing-air-quality.htm
Candy Wei replied on 2013-03-11
Yoiko
2013-02-10
Show Answer
could u please give the information of those numbers?thanks
Dear Yoiko,
Thanks for your enquiry! However I am not sure about the numbers you wish to have, are you saying telephone numbers?
Candy Wei replied on 2013-02-12
Ah sorry, I mean those numbers in the map, if I'm not wrong number 1 to 22 I would like to know what places are behind those numbers Thanks before Yoiko replied on 2013-02-12
Frances Leung
2012-09-13
Show Answer
I living on Tsinghua University, how do I get to the Ming Tombs via subway?
Dear Frances Leung, There is no direct subway or bus from Tsinghua University to Ming Tombs. You could take a taxi to get there. It is about 37 km and it costs about CNY150/US$24 per car. Lussie Lu replied on 2012-09-16
jillian Fauser
2012-08-11
Show Answer
Where is Beijing situated in China? Was it formerly Peking? Will travel to china 2013 need as much information as possible would ;like to visit The great wall and the forbidden City. would love a map so that I can recognise beijing and flight to Shanghai. Thank you regards Jill
Dear Jillian, Beijing is located in the north of China, it is called Peking. There are many information about it on our website, such as the attractions, food, maps,transportation,tours. Please click:http://www.chinahighlights.com/beijing/ Lussie Lu replied on 2012-08-12
April Offer $25 Coupon
Send your inquiry before Apr. 30, 2014, and we will email you a $25 coupon.
The coupon is valid till Dec. 31, 2014, for paying tour packages worth $250 or up.
The coupon cannot be used for paying flight tickets, train tickets, hotel rooms and day trips.
Travel Advice or Question? Ask us here

China Highlights
Beijing Travel Guide