Beijing Summer Palace Map
The Summer Palace is located in the northeastern suburb of Beijing. It was initially built in 1750 by Emperor Qianlong. The architecture style of Summer Palace is "making people believe it is inartificial". It covers an area of 70 thousand square meters and holds over 3000 houses. In 1860 and 1900 it was destroyed by invaders and in 1912 it was rebuilt by the Government of Qing Dynasty. In 1924, it began to be open to public.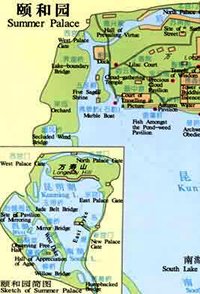 Questions and Answers About Beijing Summer Palace Map
Joanne
2011-10-28
Show Answer
What is the weather like in Beijing during the springtime? Also the altitude of Beiing?
Dear Joanne, From March to May it is spring time in Beijing. Here is the details about the weather based on the former data. March: 1-12°C, need to wear down jacket April:6-20°C, need to wear a sweater or thick coat May: 13-26°C, you can take a coat and shirts. Please check the new information on this website. Click: http://www.weather.com.cn/en/weather/101010100.shtml Lussie Lu replied on 2011-10-29

China Highlights
Beijing Travel Guide