One Week in Summer in Beijing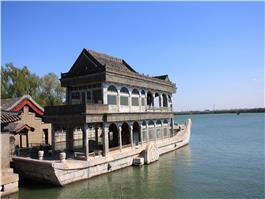 Summer Palace, Beijing
Last summer, I went to Beijing, the capital of China, and a metropolitan city with a great wealth of history, culture, and modernization. It has developed at an amazing speed to be an international city, but despite this some historic relics and places of interest are still well-preserved.
People in Beijing are quite friendly and kind. When you step into the hutongs to enjoy Chinese traditional folk culture, local people there love to tell old stories about Beijing in past times.
I lived in a hotel in Xicheng District, which is close to the Fuchengmen Bus Stop and Subway Station. So I started from there every morning.
Transportation
Beijing's city transportation is very convenient with a vast network of subways and city buses as well as taxis. Before I went out, I only needed to check out the subway or bus lines online. Transfer between subway lines and buses was easy because subway stations are close to bus stations.
Weather
In August, a less rainy month of summer of Beijing, it was pretty hot even in the evening. It didn't rain in that week. The sunshine was so strong. The average temperature during the daytime was between about 35 °C and 37 °C.
Food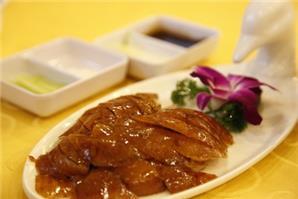 Beijing Duck
Traditional Beijing snacks are one of the highlights of Beijing. Some Western restaurants are also popular in Beijing. I found some delicious traditional Beijing snacks on Wangfujing Snack Street. My favorite was the cookies made by Daoxiangcun Village, a famous Beijing traditional snack brand with a long history. It has many branches in every district of Beijing.
I like Beijing duck very much. Only in Beijing, can you have a taste of the authentic Beijing duck. Because I was financially limited, I didn't go to any expensive restaurants to enjoy the local favorite.
Day 1: Beijing Olympic Park including the Bird's Nest and Water Cube
Ticket Prices:
Water Cube:
Admission is free for children shorter than 1.2 meters (accompanied by at least one adult).
30 yuan per person (Water Cube visit only)
200 yuan per person (including Water Cube visit and Water Amusement Park)
Bird's Nest:
50 yuan per person
Free for children shorter than 1.2m
How to get there (nearly one hour):
Take Subway Line 2 at Fuchengmen Station;
Get off the train at Xizhimen Station, and then transfer to Subway Line 13;
Get off at Zhichun Road Station, and transfer to Subway Line 10;
Get off at Olympic Park Station.
Open: 9am to 9pm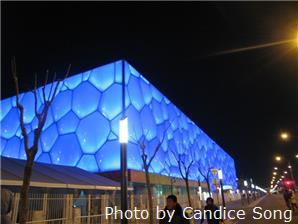 Water cube at night
After having a rest for a half day at my hotel, I went to Beijing Olympic Park first. It covers a large area in the north of Beijing, with two world famous buildings, the Water Cube and Bird's Nest. There were many people flying kites in the square of the park.
The two famous magnificent buildings looked fantastic, especially at night, accompanied by lights.
The Water Amusement Park in the Water Cube is a paradise for children to have fun with their parents. It contained many large and long flumes with water in them, in which people can slide from the top to a splash pool at the end of the pipe.
Because there weren't any restaurants near the park, I went back to the hotel to have dinner in the late afternoon.
How to get there (about 15 minutes): Take the Subway Line 2 at Fuchengmen Station, and then get off the train at Qianmen Station.
When arriving at Qianmen Street, the Chinese traditional buildings and the old train drew my attention. The old Chinese photo studio was standing at the entrance of the street. It is another great shopping street, like Wangfujing Shopping Street, located close to Tian'anmen Square.
Apart from the clothes shops on the street, some traditional shops selling Chinese silk, chopsticks, and Beijing snacks also aroused my interest.
Some famous restaurants, such as Quanjude Beijing Duck Restaurant are situated on the street. What impressed me the most was the two Beijing traditional snack lanes, called Xianyukou and Dazhalan. I liked Beijing-style stirred-fried liver and unexploded belly the best among the Beijing snacks.
Day 3: 798 Art Zone and Wangfujing Shopping Street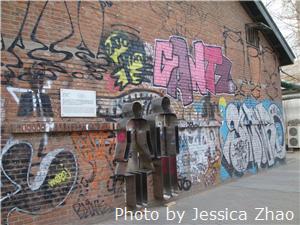 798 Art Street
Ticket price for 798 Art Zone: free
How to Get to Wangfujing Shopping Street (about 20 minutes):
Bus: Take bus 103 from Fuchengmen Stop, and get off at Wangfujing Street North.
Subway:
Take Subway Line 2 at Fuchengmen Station;
Get off at Fuxingmen, and transfer to Subway Line 1;
Get off the train at Wangfujing Station.
How to Get to 798 Art Zone from Wangfujing (about an hour):
Take Subway Line 1 at Wangfujing Station, and then get off at Guomao Station;
Transfer to Subway Line 10 at Guomao Station, then get off at Sanyuanqiao Station;
Finally transfer to bus 401, and get off at Dashanzilukou South.
798 Art Zone
798 Art Zone used to be a factory. Nowadays, it is used by artists for art exhibitions. Many statues, designs, and graffiti combine with factory architecture, buses, bars, and exhibition halls, to create a unique place for young artists.
I bought some sophisticated knickknacks made of copper wire and had a taste of the pizza in the restaurant there.
Among the shopping streets in Beijing, Wangfujing Shopping Street was my favorite, not only for shopping, but also for its Beijing traditional snacks. Modern shopping malls blended well with old clothes shops and photo studios on the street.
I went to the snack street for lunch. People there were very enthusiastic. Mutton kebabs, cookies and cakes were so welcomed.
Day 4: Sanlitun Village
How to get there (about 40 minutes): Take bus 701 at Santasi and get off at Sanlitun Village.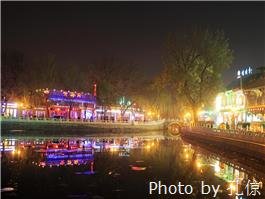 Sanlitun Bar Street
In my opinion Sanlitun Village is a perfect place for young people to go shopping and spend the night. There were scores of famous brands shops and sports shops for the young, such as Nike and UNIQLO. It is a group of modern buildings with a small square used for shows and other activities. At night the shows began. Many dancers and skater boys and girls were having fun in the square.
Another highlight of Sanlitun Village was the bar street. Though I didn't drink alcohol and didn't step into the bars, I felt the romantic and casual atmosphere. I left the village at 10pm when it was still busy.
Opposite Sanlitun Village there was a modern buildings complex called Sanlitun SOHO, which was used for business. There were also some little shops.
Day 5: the National Grand Theatre and the Palace
Ticket price for the National Grand Theatre: 30 yuan per person (visit only), tickets prices for other performances are variable.
Open: Tuesday to Sunday: 1pm to 5pm, and on official holidays: 9:30am to 5pm; closed on Mondays.
How to Get the National Grand Theatre (about half an hour):
Take Subway Line 2 at Fuchengmen;
Get off the train at Fuxingmen, and transfer to Subway Line 1;
Get off at Tian'anmen West.
How to Reach the Palace from the National Grand Theatre (about half an hour): Take Subway Line 1 from Tian'anmen West to Guomao, and then Line 10 to Jintaixizhao.
The National Grand Theatre
The National Grand Theatre was a huge egg-shaped glass building surrounded by water. Walking into the theatre, I was attracted by the luxurious and elegant decorations, exhibitions of drama costumes, scripts, and props. Not only were there Chinese opera exhibitions displayed there, but also some famous foreign ones.
I came across a small concert in the little square in the theatre. It was performed by some professional musicians from the local art colleges and communities.
There were some magnificent performance halls in the theatre. The major color was red, which represented the spirit and tradition of China well.
The Palace
I came to the Palace at night as the lights of the street at night are amazing and spectacular. There was a giant and very long screen like a corridor above head height, which covered the entire street. Another highlight of the Palace was that you could send a message according to the information on the screen, and it would turn up on the screen. So I tried it, and my message appeared and said, "I love Beijing".
The Palace is located in the CBD (central business district) of Beijing where many tall and modern buildings of many influential companies are situated. Shopping malls, as well as some famous restaurants beside the Palace, are deluxe with sophisticated decoration.
Day 6: Beihai Park, South Luogu Lane, and Back Lake
Open Times for Beihai Park:
Low season: 6:30am to 8pm
High season: 6am to 9pm
Ticket Prices for Beihai Park:
High season (from April to October): 20 yuan per person
Low season (from November to March): 15 yuan per person
How to get to Beihai Park (about 20 minutes): Take bus 103 from Fuchengmen Stop to Beihai Park.
How to get to South Luogu Lane from Beihai Park (about half an hour): Take bus 124 to Xiaojingchang, and then walk about 220m.
How to reach Back Lake from South Luogu Lane (about 15 minutes' walk): Walking through a little lane beside the South Luogu Lane, about 300m long.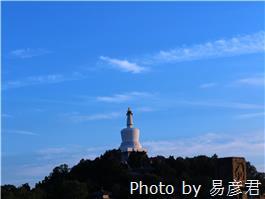 Beihai Park
I got up earlier this morning for a special purpose: I wanted to see the morning exercises of old local people. They stood in groups practicing taiji with the accompaniment of slow-tempo music. Meanwhile the quiet lake and the boats in the park drew my attention, which reminded me of the songs that I sang in my childhood.
South Luogu Lane
This traditional little lane was famous for its long history of hundreds of years and old Beijing characteristics. Some exquisite knickknack shops in Chinese traditional styles, were enjoyed not only by local people, but also by foreign travelers. So were some Beijing traditional snacks, such as mutton kebabs and Tanghulu (candied fruits).
Back Sea
With many romantic and delicate bars beside Back Sea (Houhai), it was a paradise for young people to get together and enjoy the night. Because of the limited time, I didn't step into the bars to have a drink.
Open:
Weekdays: 9am to 10pm
Weekend: 8:30am to 10pm
Ticket Prices:
180 yuan per person (adults and children taller than 1.5m)
120 yuan per person (children between 1.2m and 1.5m and people between 65 and 69 years old)
80 yuan per person (after 6pm)
How to Get There (about an hour):
Take Subway Line 2 at Fuchengmen Station, and then get off at Chongwenmen Station;
Transfer to bus 41, and then get off at Houfeng Bridge South Stop;
Walk about 230m.
I was so excited because I am a great fan of theme parks. Beijing Happy Valley is a great theme park with a lot of interesting architecture and recreation facilities, as well as some wonderful shows. It was more amazing at night with the splendid lights. Some basic facilities, such as the inquiry office and some restaurants, provide great convenience for travelers.
Check out our best selling tour: Four-Day Essence Tour Of Beijing
Let us help you plan a personalized Beijing tour for you or tailor make the travel arrangements for you.
Questions and Answers About One Week in Summer in Beijing
April Offer $25 Coupon
Send your inquiry before Apr. 30, 2014, and we will email you a $25 coupon.
The coupon is valid till Dec. 31, 2014, for paying tour packages worth $250 or up.
The coupon cannot be used for paying flight tickets, train tickets, hotel rooms and day trips.
Travel Advice or Question? Ask us here

China Highlights
Beijing Travel Guide