Beijing International Flights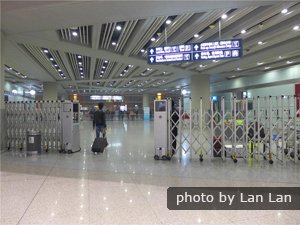 Beijing Capital Airport (Tel: 64653604), is the largest airport in China. It locates about 25 kilometers (16 miles) northeast of downtown Beijing. Beijing Capital International Airport Co. Ltd has 38 major foreign cooperative airline companies, 21 domestic airlines, 1 Hong Kong airline and 1 Macao airline using the airport. Now it is the major door for foreign travelers to get to mainland China.
On arrival in Beijing, foreigners have to complete the followingprocedures:- Immigration, Customs / Quarantine and Health Declarations. The necessary forms will be distributed on board the aircraft before landing. They include the Entry Registration Card, Health Card and Customs Luggage Declaration Form. Please complete and have they ready with your travel documents prior to reaching the Customs and Immigration area.
Health check
On arrival, the first check you have to pass is the Quarantine Check. At the check point, you show your passport and the form you filled in on board. Anyone with listed diseases such as yellow fever, cholera, VD, leprosy, infectious pulmonary tuberculosis or AIDS will be forbidden to enter or be sent to the airport clinic for further checking. Those arriving from areas with epidemics of yellow fever must show their valid certificates of inoculation against this disease. Those with symptoms of fever, diarrhea, vomiting or rashes must declare this information accurately.
For those who are going to stay longer in China, they have to show their quarantine certificate issued by an authorized health department abroad.
Border entry
After passing through the Health Check, you come to the border control area (equivalent to the immigration control in the West) where you show the officer your passport and the Entry Registration Card. You must have a valid passport with the necessary Chinese a visa. A tourist visa is necessary and easily obtained at the Chinese embassies or consulates in your own country. Without a valid visa, you will find it difficult to enter the country. China does not normally issue at-the-border-visas, so you risk being sent home.
Customs
After collecting your luggage, you will pass through the Customs. There are two channels, red and green. If you have nothing to declare, go through the green channel, otherwise take the red channel. If you are not sure which channel you should take, then you should take the red channel.
If you take things listed on the Customs Luggage Declaration Form in the red box such as computers, cameras, video cameras, gold and silver, printed or recorded materials, or anything more than you need during your travel in China, or something that you will not take out of China when you leave, you have to fill in the Customs Luggage Declaration Form which you are given on the plane or at the Customs.
The following items are not allowed to be taken into China
1. Weapons, ammunition or explosives;
2. Forged currencies or forged valuable securities;
3. Printed, audio, video, computerized and other materials which are harmful to China's political, economic, cultural and ethnic life;
4. Various poisons;
5. Opium, heroin, marijuana and other addictive drugs;
6. Plants, animals or other products which may carry diseases, viruses, parasites, etc.,
7. Foodstuffs, medicines or other products which may cause harm to human or animals, which come from areas with epidemics or which may spread diseases or contamination.
Money Exchange
After arriving you can exchange a small amount of money at the Bank of China counter near the Arrival Hall Exit.
Airport to the City
After arriving in Beijing you can go into the city by one of the following means:
Airport Shuttle: The airport shuttle runs every 30 minutes from early 5:30 to 20:00, and cover different routes. and the cost is 16CNY (about $2). The bus stops at certain places in the city and you can continue to other destination in the city by Taxi.
Airport Taxi: The legitimate taxis in a long queue outside the Arrival Hall. The line is usually quite long but taxis move quickly so you won't wait long. At the head of the line a dispatcher will give you your taxi's number, which is useful in case of complaints. The charge will be at least 100CNY but pay according to the meter, which includes an expressway toll of 15CNY. After 23:00, you will pay more.
Hotel Shuttle: The best and easiest way is to go by hotel shuttle. Most major hotels will have this service. When making a hotel reservation, be sure to ask for airport shuttle service from the airport.
Leaving China
Departure is relatively much simpler. As mentioned above, you have to take out the things that you had declared with the copy of your Customs Luggage Declaration Form which you filled in on your arrival. If any item is missing, a certificate by the relevant department is required (for instance, a certificate from the police is required if something is stolen); otherwise, you have to pay import duty according to the Custom regulations.
China has strict regulations for exporting, such as cultural relics, medicinal materials, gold, silver, or antiques for export. The cultural relics that are forbidden to be taken out of China include antiques earlier than the Qing Dynasty and ancient paintings and calligraphy (also some modern ones). Keep the receipt of the antiques you bought so that you can show them on departure. These antiques bought in shops which can be exported usually carry a red wax seal. Travelers should be take care that those items e.g. antiques previously mentioned are purchased from reputable dealers. Be sure to ask for the correct documentation if you intend to purchase this kind of items.
Travelers who want exchange Renminbi (CNY) back to foreign currency at the airport before leaving China will be required to show the exchange slip provided when they exchanged foreign currency into CNY on arrival or at banks.The procedure are the same for all departure points.
- Top - or- Beijing Travel Guide
Questions and Answers About Beijing International Flights
Niki
2014-04-15
Show Answer
I''m a chinese national going on vacation in the UK. Does the Airport Immigration in Beijing need proof of funds before I am allowed to leave the country?
Dear Niki, You need to provide proof of funds when you apply for UK visa. Lussie Lu replied on 2014-04-15
Andy Kidd
2014-02-14
Show Answer
I arrive at T2 at 09:55 and my internal flight leaves at 12:45 from T3. Should this be enough time. It is not a transfer as I bought a seperate ticket from Beijing onwards.
Hi,
Usually we recommend our clients leaving at least 3 hours for airport transfer. Your time is enough but very tight. You can take free shuttle bus at No.11 gate on the first floor at T2 to T3, about 20 minuts. So after take your luggage, quickly move there.
Good Luck.
Christy
Christy Luo replied on 2014-02-15
Nina
2012-12-24
Show Answer
Do we need to proof to the immigration officers before departure that we have some cash (money in cash not in traveler cheque or else) with us while going out from China ?
Dear Sir or Madam, You don't need a proof from immigration office unless your cash or cheque is more than CNY20000 or US$5000. Lussie Lu replied on 2012-12-24
April Offer $25 Coupon
Send your inquiry before Apr. 30, 2014, and we will email you a $25 coupon.
The coupon is valid till Dec. 31, 2014, for paying tour packages worth $250 or up.
The coupon cannot be used for paying flight tickets, train tickets, hotel rooms and day trips.
Travel Advice or Question? Ask us here

China Highlights
Beijing Travel Guide