Beijing Travel Tips
The Great Wall
Traveling in Beijing can be both intriguing and frustrating. Many travelers can be frustrated when trying to find the best sightseeing, eating and sleeping arrangements. Read on to find some Beijing travel tips to help you get the most out of your Beijing experience.
Beijing has numerous sights that should be seen if visiting the city. It is possible to see the absolute highlights in a day, but allow a week to see it thoroughly. A one or two day visit requires very careful selection when choosing which sights to see. If you are in a hurry, we recommend the following attractions: The Great Wall, the outstanding feature of China's ancient heritage; The Forbidden City, the best preserved and largest imperial place in the world; and The Hutong, which epitomizes old Beijing.
Transport, hotels and attractions are extremely busy during the Chinese New Year (usually in January or February) and the week-long holidays of International Labor Day (May 1) and National Day (Oct 1). If you expect to visit Beijing during these periods, it is suggested that you place your booking at least one month in advance.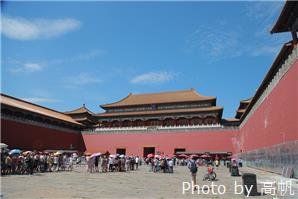 The Forbidden City
We at China Highlights provide various
Beijing tours
ranging from one day to a week or ever longer to cater for our customers personal needs. Most importantly, we are pleased to offer tailor-made services to visitors who want to make a tour fit their own circumstances and interests.
Be warned, although it's definitely not hard to book a Beijing tour, please be cautious when selecting the company you use. Some travel agencies who offer seductively cheap prices are only doing so in an attempt to rip travelers off, by taking them to less attractive sights, or by taking them to endless tourist shops or factories. We at China Highlights guarantee the quality of our tours.
Beijing's weather differs greatly between seasons and travelers are advised to check the weather before departure. Autumn is probably the best season to visit Beijing. During national holidays prices are higher and everywhere is more crowded. The main national holidays are Spring Festival, which affects transport for 2 weeks or so every year between late January and early March, Labor Day Golden Week (May 1-7) and National Day Golden Week (October 1-7).
Beijing has direct air connections with most of the major cities in the world and serves as one of the main entry cities to China. (See USA to Beijing Flights.) As the nation's capital, Beijing has air and rail links with every part of the country.
Beijing's city transportation struggles under pressure from new car owners and congestion is a problem. Public transport such as buses and the metro can be packed with commuters. The most time-saving and hassle-free way of getting around is to take a taxi, or to book a private tour through a reliable travel company that includes private transport.
Nighttime entertainment is considered by many travelers to be one of the highlights of their travels. Beijing won't disappoint in this area. The city has a flourishing entertainment industry. As the veil of night descends, bars, karaoke joints and night clubs all open their doors. Some special shows featuring authentic local culture, such as Beijing Opera and Chinese acrobatics are increasingly popular among foreigners.
Chinese cuisine, with its complexity and variety in taste, is definitely one of the finest pleasures that a visitor can experience in China. Beijing is a gastronomical paradise, where hybrid cuisines from throughout the country are served. Everybody should try not to miss the chance to eat Peking Duck. Many restaurants serve this dish, but the best one is Quanjude Restaurant. You may also opt to try other dishes, such as imperial era food, noodles and hot pots. Wangfujing Street is filled with stalls serving a great variety of snacks at night. Wangfujing is the main pedestrian street in Beijing. You can't miss it.
Beijing has many good hotels to cater for those looking for a luxurious stay. The budget hotels cluster at the city outskirts, while the hotels in the city center are often relatively expensive. Travelers are strongly advised to book a hotel through a reliable travel company, whose good relationship with hotel owners often guarantees a preferential price.
Most travelers want to take home some bargains or souvenirs. The best things to buy in Beijing are Cloisonné and fresh water pearls.
Post Office
There are offices around street corners in Beijing, so it would be quite convenient for to tourists to post mails and packages.
Beijing Tiananmen Post Office Address: East of Tiananmen Square
Beijing Yong'an Lu Post Office Address: 173, Yongan Lu, Xuanwu District
Beijing Fangzhuang Post Office Address: 22, Pufang Lu, Fengtai District
Beijing Hua Shi Post Office Address: 67, Hua Shi Jie, Chongwen District
Foreign Exchange
In Beijing, Great Britain Pound, Euro, U.S. Dollar, Swiss Franc, Singapore Dollar, Swedish Crown, Danish Crown, Norwegian Crown, Japanese Yen, Canadian Dollar, Australian Dollar, Philippine Peso, Thai Baht are all exchangeable at the bank of China, and other authorized banks offer foreign exchange service, some hotels, restaurants and shops will also accept foreign exchange business in order to provide convenience for foreign tourists.
Banks
Beijing Xindongan Emporium Branch of Bank of China Address: No.130, Wangfujing Street, Dongcheng District
Beijing Wangfujing Branch of Bank of China Address: No.1, Chang'an Street, Dongcheng District
Beijing Xidan Branch of Bank of China Address: No.130, Xidan Street (north), Xicheng District
Beijing Dongzhimen Branch of Bank of China Address: No.35, Wangfujing Street, Dongcheng District
Credit card
It is very convenient for tourists to use credit cards in star hotels and the large department stores of Beijing. Major credit cards such as Master Card, Visa, JCB and American Express are accepted. Credit cards usually cannot be used in small restaurants or small convenience stores.
Internet
Surfing the internet is not an adventure any more, for internet cafes' can be easily found along the streets of Beijing, and lots of hotels have internet access. If you want to do business via the internet, chat with family or friends, there are plenty of venues for you to choose.
Telephone
Phone booths can be easily found along the roads, you just need to buy a calling card. Moreover, many hotels are equipped with telephone, it is usually free of charge to make phone calls within China, yet the price may be expensive for making international calls.
Book Stores
Xidan Books Building
Address: No.C17, Chang'an Street (west), Beijing
Wangfujing Xinhua Book Store
Address: NO.235, Wangfujing Street, Dongcheng District, Beijing
Hospital
In Beijing, there are 29 advanced-level hospitals having special foreign clinics which have a high reputation among local foreigners.
China-Japan Friendship Hospital
Address: No.A2, Cherry Road, Heping Street
Tel: 010-64221122
Beijing Tongren Hospital
Address: No.2, Chongwenmen Street (inner), Beijing
Tel: 010-65129911
Beijing Chaoyang Hospital
Address: No.8, Baijiazhuang Road, Chaoyang District, Beijing.
Tel: 010-85231000
Drug Store
Tongrentang Drug Store

Address: No.20, Beida Street, Xicheng District

Yongantang Drug Store

Address: No.2, Huangsi Street, Dongcheng District

Chaoyang Drug Store
Address: No.8, Chaoyang Street, Chaoyang District

Questions and Answers About Beijing Travel Tips
Lisa Rossi
2013-03-12
Show Answer
I am travelling from USA to Shanghai and then over to Beijing for two weeks. Will it be necessary to get a visa? If so, where can I get one and how soon should I get it?
Dear Lisa, You need to apply for a China visa in advance. I suggest you contact Chinese Embassy in your country directly for the details. Here is their official website and you could get their information. Please click: http://www.china-embassy.org/eng/visas/ Lussie Lu replied on 2013-03-12
Eddie
2013-02-26
Show Answer
I''m visiting Beijing for the first time from 21st-27th April 2013 with a friend:- what''s the average temperature?- how should I plan the itinerary for our 6 nights stay there...can you help to list down those ''must visit tourist sites in Beijing'' by daily basis?- how much (in yuan) would we need to get ready for each day expenses.....such as meals (normal food places), transport and those entrance fees to tourist sites?- can you help to advise which type of transportation is suitable or the best when travelling to those tourist sites (we would be staying in a hotel in North Shatan Street, Dongcheng).
Hi Eddie, for a 6 nights stay in Beijing, you can visit almost all the attractions there. Usually 2-4 days is enough for the highlights in Beijing. And I suggest that you spend 2 days in Xian, which is a can't missing for travelers to China. And it is not quite far from Beijing, only 2hr by air. The Terra-cotta Warriors and Horses are one of the 8 wonders in the world.
Highlights in Beijing: the Forbidden City, the Great Wall, Tian'anmen Square, Temple of Heaven, Summer Palace, Hutong, Beijing Zoo(to see the panda), Cuandixia Village, Tanzhe Temple, etc.
I suggest that you rent a private van and tour guide to ensure that you can travel at your pace, and taste the local food there. Public transportation is not so convenient to some of the attractions, and you may waste lots of time on it.
If you need any tour assistance, please feel free to contact me.
Whitney Liao replied on 2013-02-28
ita
2012-12-21
Show Answer
hi, im from malaysia. will be visiting beijing on 25 dec 2012. what kind of dress should i wear? and is it easy to buy handphone sim card there?
Dear Ita, Based on the information from the weather forecast, the temperature will be about from -15℃(5℉) to -3℃(26.6℉), it'll very cold. It'll be sunny and it might be snow. You'd better take down jackage and thick sweaters. It is easy to buy the sim card, you could get it at the airport or in down town. Lussie Lu replied on 2012-12-21
Roger
2012-12-07
Show Answer
Hello. I am on a 10 day China Highlights coach tour in May next year organised through a travel company in Australia. A few people have told me that it is quite hard to get nice meals because a lot of restaurants cater for the local chinese and we would not like to eat it. I love chinese food in Australia but am told not expect the same in China.I am also told that the coach tours are a bit dodgy and not very good. I have done many coach tours with Trafalgar, Cosmos and Insight in Europe and America ad Canada. Could I expect the same standard. Finally, am I better off exchanging dollars for Yen in Australia or is China better.Look forward to hearing from you.regards Roger Laffrey
The service standard is different if the tour is operated by different company. Mainly there are group tour (coach tour) and private tour. The private tour is of higher quality with more flexibility. The coach tour costs much less than private one and the meals will be arranged in tourist restaurants with fixed dished. So normally no high expectation is right. Of course, it is not true for all the group tour. You need to contact your agency in Australia for the exact service standard. The food in social restaurant in private tour can be comparable with those in your country. Ruby Zhao replied on 2012-12-08
Angelina
2012-10-29
Show Answer
Does places of interest like the Great Wall, Forbidden City and others charge entrance Fees? Is Credit Card acceptable at these places?What is the average entrance cost per person, if need to prepare cash.
Hi Angelina, yes, they do. Credit Card is not acceptable at these places. Entrance Fees as below: Great Wall(Mutinayu section): CNY 32 Forbidden City: CNY60 Temple of Heaven: CNY35 Summer Palace: CNY40 Whitney Liao replied on 2012-10-30
April Offer $25 Coupon
Send your inquiry before Apr. 30, 2014, and we will email you a $25 coupon.
The coupon is valid till Dec. 31, 2014, for paying tour packages worth $250 or up.
The coupon cannot be used for paying flight tickets, train tickets, hotel rooms and day trips.
Travel Advice or Question? Ask us here

China Highlights
Beijing Travel Guide