Changsha Maps
Find Changsha's location in China on our Changsha map. A Google map on Changsha is also offered on this page.
Other City Maps
View Changsha details on Google map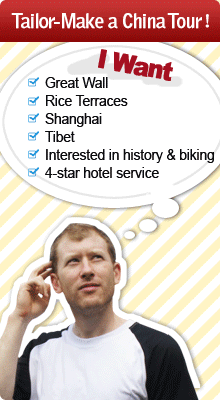 Questions and Answers About Changsha Maps
Ramon Montoya
2013-07-05
Show Answer
I am planning a trip from Denver Colorado USA to Changsa China, looking for 1 ro 2 stops and lowest price. I plan to travel in late September.
Hi Ramon, It is my pleasure to help plan your China tour. In order to give you an accurate quotation please help me with below the information:
1. Number of people in your group including yourself
2. Length of stay in China
3. Entry/ exit city
4. Places or attractions that you want to visit
5. Class of hotel: economy/deluxe/superior/
6. Estimative total budget per person
After getting further information from you, I will send you a detailed itinerary.
Whitney Liao replied on 2013-07-06
mr.nyi
2013-05-14
Show Answer
how far from kuming to changsha?
Mr.nyi, it is about 1400km.
Whitney Liao replied on 2013-05-15
geoff
2013-03-07
Show Answer
hi im wonderin how i can send a parcel to changsha with out a phone number i only have an address on Qutang road in yuhua district
Hi Geoff, sorry, for this issue, we are not able to help you.
Whitney Liao replied on 2013-03-08
phoebe
2012-11-25
Show Answer
Is changsha on highlands, or near the seas,
Hi Phoebe, Changsha is neither on highlands, nor near the seas. It is over hilly terrain.
Whitney Liao replied on 2012-11-26
Dumaa
2012-09-06
Show Answer
Is far from Chengdu sity?
Yes, it is. From Chengdu to Changsha is about 1,500km. Whitney Liao replied on 2012-09-07
April Offer $25 Coupon
Send your inquiry before Apr. 30, 2014, and we will email you a $25 coupon.
The coupon is valid till Dec. 31, 2014, for paying tour packages worth $250 or up.
The coupon cannot be used for paying flight tickets, train tickets, hotel rooms and day trips.
Travel Advice or Question? Ask us here
Changsha Travel Guide
Changsha Facts
Chinese Name: 长沙
Chinese Pinyin: cháng shā
Location: South of China
Latitude: 28° 12' N
Longitude:112°?59′?E
Elevation: 44.6 M (146 FT)
Time Zone: (UTC+8)
Area Code: 0731
Population: 6.5 million