Chengde Travel Guide
The little town Chengde gained its prominence during the Qing Dynasty when the emperors built a palace where they spend their summer months when the heat in Beijing became unbearable.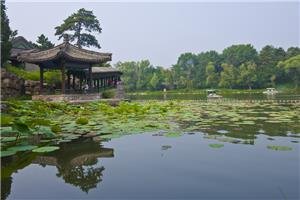 Chengde Summer Palace
Chengde Summer Resort, together with the temples around, was added to the World Heritage List by UNESCO (United Nations Educational, Scientific, and Cultural Organization) in 1994. So far, many scenic attractions in Chengde have already been rated as 4-A class, highest level in this field in China.
Chengde has advantaged and abundant tourist resources. It has the world's largest royal hunting- the Mulan Paddock; the largest royal garden-the Summer Resort; the greatest royal temple group -the Eight Temples in the north of the Great Wall; the biggest wooden Buddha statue -the Kwan-yin Bodhisattva with a thousand hands and a thousand eyes, and the shortest river- the Hot River.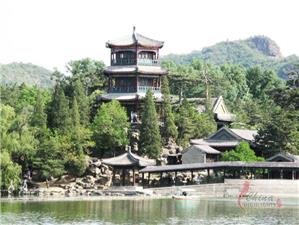 Chengde Summer Palace
Chengde Summer Resort occupies a large area, incorporating countless buildings into natural setting of plains, mountains, lakes and islands to create an impressive scene which was praised by the emperor Kangxi, who reckoned its natural scenery more beautiful than the West Lake in Hangzhou Zhejiang province.
The Eight Temples in the north of the Great Wall around the Summer Resort is resplendent and magnificent. It fuses the architecture styles of the various nationalities in China such as Man nationality, Han nationality and Mongolian nationality to create buildings of multi-features.
The Mulan Paddock, familiar to many people, has been rated as a National Forest Park owning to its magic charm of a great grassland whose beauty was once described in a Chinese poem, like a peaceful and harmonious picture with a vast sky above, boundless grassland below and wind blowing the low grass then flocks and herds coming into view.
In the north of Chengde is Wulingshan Mountain Natural Reserve; in the west lies the No.1 Grassland for the purpose of spending one's holiday and in the east are Yuquanxing Palace and Liaohe River Holiday Zone.
Chengde Restaurants

Questions and Answers About Chengde Travel Guide
Eric Van Ruyskensvelde
2012-10-13
Show Answer
Hi,I would like to visit Chengde on Saturday 20th with my parents,which should include a visit to the imperial summer resort and the night show. We would like to have a guide for this day trip. Could you kindly contact us to arrange program?Thank you.
Bonjour Monsieur, Je m'appeller Sabrina MA, conseillière de CHINA HIGHLIGHTS. J'organise un voyage d'une journée à Chengdu pour votre groupe de 3 adultes. notre guide va vous accueillir à votre h?tel à 9h et nous allons visiter Palais d'été de Chengde et Temple de Putuo Zongcheng (surnommé le Petit Potala) le 20 octobre. A propos des spectacles, je suis désolée qu'il n'y en a pas à Chengde. Si vous les intéressez, je vous propose d'admirer après le retour à Pékin. Il y a plusieurs choix, tels que l'Opéra de Pékin, Kong Fu spectacle au Théatre Rouge etc. Considèrant qu'il faut environ 5heures aller et Retour, je vous suggère de réserver le spectacle avec notre guide sur place, d'après le temps et votre force. je vous envoie un devis pour ce voyage. Si vous avez des questions ou des modifications, n'hésitez pas à me dire: sabrina@chinahighlights.net Dans l'attente de vous lire. Bien cordialement Sabrina Hello Sir, I am Sabrina MA, a travel advisor of CHINA HIGHLIGHTS. I've organized a one-day trip to Chengde for your group of 3 adults. Our guide will pick you up at your hotel at 9:00 am and you will visit the Summer Palace and Temple of Chengde's Putuo Zongcheng (nicknamed the Little Potala) on October 20. About the show, I'm sorry that there is no one in Chengde. If you are interested in it, I suggest you watch it after returning to Beijing. There are several choices, such as Peking Opera, Kong Fu show at the Red Theater. Considering that it takes about 5 hours from Chengde to Beijing, I suggest you book the show with our guide on arrival, according to the arrival time and your strength. guest replied on 2012-10-14
Jean
2012-01-25
Show Answer
Hello, I plan to travel by bus from Chengde to Mentougou this winter. Is there a bus and which bus station must I use in Chengde? Happy new year and thanks a lot.
Thank you for your question. Based on our information, there is no direct bus from Chengde to mentougou. You can take train from Chengde to Beijing Railway Station (train search: http://www.chinahighlights.com/china-trains/), and then take subway to Pingguoyuan Stop, and then take the public bus 370, 981 or 931 to Mentougou. If there is any other thing regarding the tour we can do for you, please feel free to contact us. Ruby Zhao replied on 2012-01-27
Ilyas Ahmed
2010-08-21
Show Answer
what is the highest and lowest temperature in Chengdu, Sichuan and in which months
Hi, Chengdu is situated at the western edge of the Sichuan Basin and is therefore sheltered from northwest winds from Siberia in winter by the Qinling Mountains to the north; the short winter is milder than in the Lower Yangtze because of the sheltering effect of the Qinling. Snow is rare but there are a few periods of frost each winter. The summer is hot and humid, but not to the extent of the "Three Furnaces" (三大火炉) cities of Wuhan, Nanjing, and Chongqing in the Lower Yangtze basin. The average daytime high in July and August is just short of 30 °C (86 °F), with afternoon highs sometimes reaching 33 °C (91 °F). The average low in January is 2.8 °C (37.0 °F), with lows sometimes dropping below freezing. Rainfall is common year-round but peaks in July and August. Chengdu also has one of the lowest sunshine totals in China (less sunshine annually than London), and most days are cloudy and overcast even if without rain. This is especially so in the winter months, when it is typically interminably grey and dreary added the bad air quality. Spring (March-April) tends to be sunnier and warmer than autumn (October-November). Thanks again for visiting our website. KevinMa@chinahighlights Kevin Ma replied on 2010-08-22
Chengde Facts
Chinese Name: 承德
Chinese Pinyin: chéng dé
Location: North of China
Latitude: 40° 57' N
Longitude: 117° 51' E
Elevation: 330 M (1083 FT)
Time Zone: (UTC+8)
Area Code: 0314
Population: 3.7 million