The Best Ancient Towns Around Chengdu
Have you ever wished you could go back in time and visit China the way it was in ancient times?
Maybe you've forgot how our modern amenities make life livable. There are many ancient towns around Chengdu that will give you that special ancient feeling.
Keep in mind that these places have been remodeled and in some cases completely rebuilt. For some this may feel like it steals the ancient flavor, but just like when watching a movie, it is best to temporarily suspend your disbelief.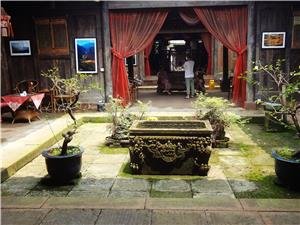 A house of Pingle Ancient Town
Pingle Ancient Town
In Pingle there is a river that runs through the ancient town. The picturesque bridge is the center of the town. From there you can enjoy interesting snacks and activities found along the ancient street. If you are looking for an adventure on a mountain then you can visit the tranquil Lugou Bamboo Sea.
Location: Pingle Town, Qionglai City(四川省邛崃市平乐镇)
How to get there: Take a bus from the Jinsha Bus station to Qionglai (about one hour), then take a bus or small van to Pingle (about 15 minutes)
Luodai Ancient Town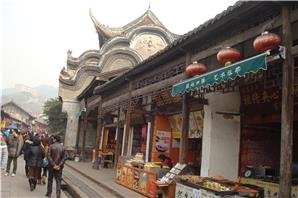 A street of Luodai Ancient Town
The special thing about Luodai Ancient Town is Hakka culture. Although the Hakka people are not recognized by the Chinese government as a minority the Hakka people have some distinctive characteristics that you can learn about in the Hakka museum. Also keep an eye out for Hakka snack shops.
There is a nearby mini Great Wall. Perhaps a good place to go for a comparison to the real thing or some photos to fool the family and friends back home with.
Location: Luodai Town, Longquanyi District, Chengdu (成都市龙泉驿区洛带镇)
How to get there: Take bus 80 from the Gaosuntang bus stop to Qinglongcun, then take bus 219 to Luodai Passenger Center (total travel time about 1.5 hours)
Liujiang Ancient Town
Liujiang translates as 'Willow River', so just imagine a relaxing boat ride on the river. There are plenty of romantic places to relax and absorb the ancient atmosphere.
Liujiang is also the home to a few very old trees. As you walk down the street don't forget to stop and notice the sweet smell.
Location: Liujiang Town, Hongya county, Meishan City (眉山市洪雅县柳江古镇)
How to get there: Take a bus from the Xinnanmen Bus station, to Hongya, and from Hongya take another bus to Liujiang (total travel time about 3 hours)
Lizhuang Ancient Town
Perhaps during your stay in Chengdu you'll have the chance to enjoy Lizhuangbairou.
It is a delicious dish and this ancient town is the origination point of that dish. Of course there are many other foods to try as well.
Walk down the narrow alleys and stop at one of the temples. If you feel like a little adventure enjoy fresh fish on a boat.
Location: 1 Wenxing Jie, Lizhuang Town (李庄镇文星街1号)
How to get there: Take a bus from the Chengdu bus station to the South Yibin Tourist Bus station, from the South Yibin Tourist Bus station take a bus to Lizhuang (total travel time about 4 hours)
Shangli Ancient Town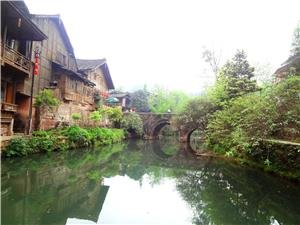 Beautiful scenery of Shangli Ancient Town
Come and check out wooden houses of Qing-Dynasty-style architecture at Shangli Ancient Town. Many stop at Shangli while traveling down a less well-known Silk Road (also known as the Tea Horse Road). You may be lucky enough to find someone shooting a movie or TV show there. Who knows, if you are really lucky they might ask you to be in it!
Location: Yucheng District, Ya'an City (雅安市雨城区)
How to get there: Take a bus from Chengdu's Xinnanmen Bus Station or Shiyangchang Bus Station to Ya'an Tourist Bus Station, and from there take a bus to Shangli (total travel time about 2 hours).
Jiezi Ancient Town
As you walk around this town you may notice mountains surrounding you. For a quick hike head west to Tianguo Mountain. Once up there you can visit Dragon Temple.
Location: Jiezi Town, Chongzhou City (崇州市街子古镇)
How to get there: Take a bus from Jinsha Bus Station to Jiezi Ancient Town (total travel time about 3 hours)
Visit Chengdu's Ancient Towns with China Highlights
A visit to any one (or more) of these ancient towns can be customized into one of our Chengdu tours. We are experts at tailor-making China tours to overseas customer requirements.
Further Reading
Questions and Answers About The Best Ancient Towns Around Chengdu
April Offer $25 Coupon
Send your inquiry before Apr. 30, 2014, and we will email you a $25 coupon.
The coupon is valid till Dec. 31, 2014, for paying tour packages worth $250 or up.
The coupon cannot be used for paying flight tickets, train tickets, hotel rooms and day trips.
Travel Advice or Question? Ask us here

China Highlights
Chengdu Travel Guide