The Best Places for Families in Chengdu
Traveling as a family will give you many wonderful and memorable experiences for life.
However, during your China trip you may find the children getting a little crazy and in need of a good place to play and explore. Well, China Highlights has already found the best places for families in Chengdu and has set them out for you below.
Amusement Parks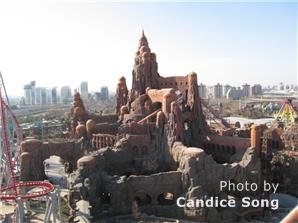 Happy Valley
Although you won't find them unless you look, Chengdu has a surprising number of amusement parks. These parks are also quite diverse; not simply the same parks with slightly different names and rides.
The time-test proves Happy Valley to be an amusement park worthy of a visit when children become restless. You'll find rides to spin you, shoot you into the sky, flip you upside-down and, on a hot summer day, get you wet. Just by Happy Valley check out Sky Venture, a vertical wind tunnel (to dry off of course).
If you'd like to take a trip around the world, then Floraland is a theme park that offers just that. What does your home country look like in the eyes of the Chinese? This is a pay as you go amusement park, so you only pay for the things you'd like to do.
Happy Valley (欢乐谷): 16 Huaxi Dadao 华西大道16号
Floraland (国色天乡): Wenjiang District, Tianxianglu Section 2温江区天香路2段
Animals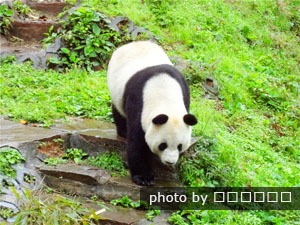 Lovely panda
For those children who have a special place in their hearts for sea animals and animal performances there is the Chengdu Haichang Polar Ocean World. Here you can watch a good variety of animals from the North and South Poles do tricks and stunts.
No one in their right mind would go to Chengdu and miss the Panda Research Base, especially if they have children. It is absolutely a must-see for any family visiting Chengdu. The base has been growing and expanding over the years, so there is something for everyone. The most attractive thing about the base is the chance to watch tiny pandas playing which will not be easy to find anywhere else in the world. See China Highlights' panda tour
Another great place to check out is the Chengdu Zoo (which of course also has pandas). You'll find this zoo offers some things you can't find in other zoos, like the chance to feed the animals. Also, keep in mind that visiting a zoo in a foreign country means they will have animals that your hometown zoo doesn't.
Chengdu Haichang Polar Ocean World (成都海昌极地海洋世界): 2037 Tianfu Dadao South Section, Huayang Rural District 华阳镇天府大道南段2037号
Panda Research Base (熊猫基地): Xiongmao Dadao熊猫大道
Chengdu Zoo (成都动物园): 234 Zhaojuesi North Road, Chenghua Area 成华区昭觉寺北路234号
Parks
Another place to release the children and let them tucker themselves out is the Stone Elephant Lake. This is a perfect place to get away from the city and enjoy beautiful scenery, go on boat rides, fly kites, have a picnic and try the delicious snack foods of Sichuan. You can also find seas of many beautiful flowers.
Finally there is a park in the city that has it all. Baihuatan Park has petal boats, a bonsai garden, informal music performances and a small amusement park. Here you can also find large groups of people dancing and playing with traditional Chinese toys. Generally Chinese people are very welcoming if you'd like to dance with them or try out one of these toys.
Stone Elephant Lake (石象湖): 86 km exit, Chengya Expressway, Pujiang County浦江成雅高速路86公里出口处
Baihuatan Park (百花潭公园): 175 First Ring Road West Section 2, Qingyang District 青羊区一环路西二段175号
Questions and Answers About The Best Places for Families in Chengdu
April Offer $25 Coupon
Send your inquiry before Apr. 30, 2014, and we will email you a $25 coupon.
The coupon is valid till Dec. 31, 2014, for paying tour packages worth $250 or up.
The coupon cannot be used for paying flight tickets, train tickets, hotel rooms and day trips.
Travel Advice or Question? Ask us here

China Highlights
Chengdu Travel Guide