Chengdu Location Map
Our Chengdu location map shows the location of Chengdu in the southwest of China.
Please also see our Chengdu Travel Guide for more information.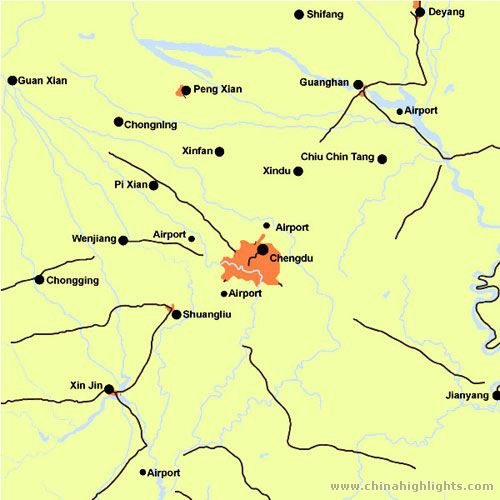 China Highlights
Planning a trip? Ask us here 800-2682918 (USA & CA)
86-773-2831999 (Int'l)
Q:
bilal
Asked on 2011-10-20
Reply
i am new in chengdu ...... basically a pilot..... im here for 2 years.... want to learn chinese language... want to see places around...... want to have gud circle of friends.... airforce_khan@yahoo.com
Q:
Sol de villa B. Rama
Asked on 2011-08-28
Reply
hello, I would like to ask if thre is a train from Guangzhou to Chengdu? How many hours would it take from Guangzhoi to Chengdu?
Dear Sol de villa B. Rama, It takes about 31-40 hours by train. It is very tired to take a train. You can check the schedule on our webiste:http://www.chinahighlights.com/china-trains/search-result.asp If possible, i suggest you take a flight. You only spend 2.5 hours. It can safe your time. Please check the details on our website:http://www.chinahighlights.com/china-flights/flight-list.asp?QueryID=4135822&fcook=2011082911222198&star=CAN&dest=CTU&rDate=2011-8-31 Lussie Lu Replied on 2011-08-28
Hi Sol, There are four trains from Guangzhou to Chengdu: 1) Train Number :K586/K587 Dep.-Arr. Time: 13:09 (first day)-23:28 (next day) Duration: 36 hours and 53 minutes 2) Train Number : K192/K193 Dep.-Arr. Time: 9:04 (first day)-15:58 (next day) Duration: 30 hours and 54 minutes 3) Train Number : K827/K830 Dep.-Arr. Time: 19:22(first day)-11:21(the third day) Duration: 39 hours and 59 minutes 4) Train Number : K1224/K1221 Dep.-Arr. Time: 17:49(first day)-10:24(the third day) Duration: 40 hours and 40 minutes You can book train tickets on China Highlights: http://www.chinahighlights.com/china-trains/ Nice day! lisa Replied on 2011-08-29
Chengdu Travel Guide