Chengdu Transportation
Air
Chengdu Shuangliu International Airport
The appearance of the Chengdu Airport
Chengdu Shuangliu International Airport is seated in the central section of Shuanxi Plain and is 16km southwest to the center of Chengdu City. Located at 30 °34 '47 ''N and 103 °57 '02 ''E, it is an important aviation hinge and distribution center of passengers and cargo in the southwestern region. It is stationed with over 20 civil aviation and port units, including Southwestern Civil Aviation Administration of China, China International Airlines Southwest Division, Sichuan Airlines, etc. The airport is connected with the urban district via expressway.
Founded in 1938, the airport was formerly named Shuangguisi Airport and possessed earth surface for small biplanes to take off and touch down. Expanded in 1944, it has a 1,400 m runway rolled with limes and pebbles and used for the airplane under 15 tons.
On 12th Dec. 1956, the Headquarters of the General Staff the Central Military Commission approved that Shuangguisi Airport was put under civil aviation. Then it was formally listed as civil aviation airport and renamed Chengdu Shuangliu Airport. In 1957, the flights of Chengdu civil aviation were shifted to Shuangliu Airport from GuanghanAirport. The flight courses from Chengdu were thus opened to Beijing, Taiyuan, Xi'An, Chongqing, Kunming, Guiyang, Nanchong, etc.
The airport was expanded for the first time from 1959 to 1960. The expanded airport had a 2200m runway which can be used for Yell 18 and the planes under 100 tons to take off and touch down. The newly built departure building covered an area of 8500 m2 and was incorporated with thin shell and arch structure. Its asymmetry form connected to high-level control building received praises from all parties. In 1967, the runway was extended to 2600m. The extended runway still can only be used to take off and touch down for the planes under 100 tons.
The airport was expanded for twice in 1983 and 1991 respectively. As a result, the area of the departure building was increased to 17,400 m2 and the facilities with oil storage/ supply capacity over 10,000 tons were introduced. Compared with other southwest airports, ShungliuAirport possessed more advanced facilities involving navigation control, communication, weather forecast and transportation service.
Large-scale expansion was conducted on flight area and navigation area from 1994 to 2001. The total investment amounted to RMB2,800,000,000.00. The flight area reached Class 4E. The runway was extended to 3,600m and could be used to take off and touch down for various plane models, including Boeing 747-400. Moreover, the runway was incorporated with PCLS II. The newly built departure building covered an area of 82,000m and was incorporated with three-parallel-porch design. The passengers of departure and arrival were separated. The domestic passengers were also separated from foreign passengers. It accommodated an hourly capacity of 3,500 passengers at rush hours. The newly built park covered an area of 74,000 m and the station site lanes covered an area of 44,000m.
The airport invested RMB3, 800, 000, 000. 00 to build the international departure building of 39,000m in 2003 and it is estimated to be completed by 2004. People will find a modern airport with largest scale, sound facilities and complete functions in the west on the occasion.
In the 21st century, Chengdu Shuangliu International Airport will strengthen its function and status as southwest hinge airport. It will receive guests from all over the world and will become the important southwest window facing the world, with more beautiful environment, more attentive service and more modernized facilities.
Chengdu Shuangliu Airport is the forth-largest airport in China. There are more than 60 scheduled flights to the major cities in China, including Beijing, Shanghai, Guangzhou, Qingdao, Nanjing, Hangzhou, Zhangjiajie (in Hunan Province), Xi'an, Lanzhou, Urumqi, Lhasa, Chamdo, Xiamen, Guilin, Kunming, Haikou. The international and interregional flights include those to Hong Kong and Bangkok. The Airport is 20km from the city center, around 35 minutes' drive. It costs 8-10 Yuan to take the shuttle buses which leave every 15 minutes. Tourists can take the buses in front of the Civil Aviation Mansion (on Southern Renmin Street). The shuttle buses do not stop on the way, but tourists from the airport can ask to get off near Tiaoshanta, and take No.34 bus to get to the Western Bus station or the Northern Railway Station. It takes about 40 yuan to go from the International Airport to the Western Bus Station by taxi. Tourists who want to get to the Xinnanmen Bus Station can take the shuttle bus first and get off at Minshan Hotel, and then walk along Minjiang road before getting to the bus station( it takes about 5 yuan to get to the bus station by taxi from the hotel). Tourists can get to Wuguiqiao Bus Station by No.303 bus.
Airport Tel: 028-85205333
Company Name: Sichuan Province Airport Group CO., LTD
Airport Code: CTU
Website: www.cdairport.com ( airport map )
Address: Chengdu Shuangliu International Airport, Chengdu, China.
Zip Code: 610202
Telephone: 86-028-85702649 / 86-028-85205063
Ticket Offices:
Southwest Airlines Ticket Office, Chengdu
Address: No.41, Erduan, Southern Renmin Street, Chengdu
24-hour inquiry and ticket-delivery telephone: 028-86668080
Group tickets delivery telephone: 028-86662200

Sichuan Airlines Ticket Office, Chengdu:
Address: Tianfu Square, Chengdu Telephone: 028-86678541
Railway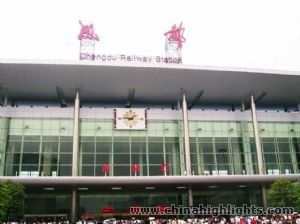 The appearance of Chengdu Railway Station
Chengdu is the most important transport hub in southwestern China. There are trains running between Chengdu and the major cities of China, such as Beijing, Xi'an, Kunming, Guangzhou, Chongqing, Urumqi, Shanghai, Lanzhou. Introduction of Chengdu Railway Station
Express Train Between Haikou and Kunming
Since July1, 2011, express train (K486/ K488) between Chengdu and Haikou has been available, and the railway links Hainan Province with South China, running pass Chongqing and provinces of Guangxi, Guizhou and Sichuan. The length of time for the whole journey is about 38 hours. Every day, the train departs from Haikou at 18:40 and the other train departs from Chengdu East Railway Station at 18:01.
City Transportation
It costs 1 yuan for common buses and 2 yuan for air-conditioned buses in Chengdu. Tourists can get to most of the scenic spots in the city by bus.
Taxi
The starting price is 5 yuan (for the first 1 km) andit it's then 1.4 yuan for every additional km. A 50% return charge is required when the distance exceeds 7km.
Highway
Chengdu is also the largest hub of highway transport in southwestern China. Six national highways join in Chengdu: national highway 108( Sichaun - Shanxi highway, Sichuan - Yunnan highway), national highway 213( Sichuan - Gansu, Chengdu - Kunming Highway), 317( the northern Sichuan - Tibet Highway), 318 (Sichuan - Wuhan, Hubei Province, Sichuan - Tibet highway), 319 (Chengdu - Chongqing), and 321 (Sichuan - Guizhou). There are long distance buses running between Chengdu and many tourist scenic spots, such as Jiuzhaigou-Huanglong (Jiuzhaigou is located in Nanping County of northwestern Sichuan; and Huanglong in Songpan County, about 100 km from Jiuzhaigou), Daocheng County (in southwestern Sichuan), Emei Mountain (in Emei City, which is in southwestern Sichuan), Leshan Giant Buddha (in Leshan City), Kangding (located in the western plateau of Sichaun where many Tibetan people live), Dujiangyan Irrigation Project (in western Chengdu Plain, 56 km from Chengdu), Ziyang City (in central Sichuan).
Bus/Coach to Nearby Cities
| Cities Depart To | Ticket Price | Time for A Trip | Departure Interval | Available Time |
| --- | --- | --- | --- | --- |
| Ermei | 39 | 2 hours | Every 20 Minutes | 6:40am–7:20pm |
| Kangding | 128 yuan | 7.5 hours | Every One Hour | 8am–2pm |
| Leshan | 47 yuan | 2 hours | Every 20 Minutes | 7:10am–7:35pm |
| Jiuzhaigou | 147 yuan | 12.5 hours | Three Times A Day | 7:10am, 8am and 2pm |
| Qingcheng Mount | 25 yuan | 2 hours | Every 20 Minutes | 7:40am–2pm |
| Yaan | 45 yuan | 2 hours | Every 35 Minutes | 7:50am–6:30pm |
Pedicab
The price is similar to that for taxies, sometimes even more expensive. Generally the starting price is 5 yuan.
Tips:
Tourists should prepare some small changes since most of the public buses without conductors.
Complaint telephone for taxi service:028-86636630
One pedicab seats at most 2 adults and one child who is no higher than 1.2m. Generally no luggage is allowed in the pedicab.
Questions and Answers About Chengdu Transportation
Fred Weems
2014-02-22
Show Answer
I am in Xi''an and I want to go to Kang ding for a few days. How can I get there?
Hi Fred, there is no direct transportation between Xi'an and Kangding. Do you need a private van? Whitney Liao replied on 2014-02-24
david
2014-02-14
Show Answer
I want to take a bus from Chengdu to Kangding. Which long distance bus station in Chengdu should I use.
Hi,
You can take long distance bus from Xinnanmen Station to Kangding. Every hour per bus from 7 am to 17pm. Price for your reference is RMB110 or so.
Good Luck.
Christy
Christy Luo replied on 2014-02-15
Peter
2013-09-21
Show Answer
Dear , i am at jiang XI province but i want to go Chendu , Sichuan province. how can i get there? thanks
Hi Peter,
This is Christy from China Highlights Travel in China.
You can take flight from Nanchang to Chengdu. It takes about 2 hours. Please see flight details on our website: http://www.chinahighlights.com/china-flights/. If you take train, it is about 24 hours or more. I highly suggest you taking flight.
Christy
Christy Luo replied on 2013-09-22
umar
2013-06-27
Show Answer
hello , i would like to go to chengdu from beijing is there any bus service from beijing to chengdu and if have bus service pls tell me the timetable for tht thanks...
Dear Umar, There is no long distance bus from Beijing to Chengdu, in addition, it is about 2100 km between Beijing and Chengdu, it is not safe to take a bus. You'd better take a flight or a train. Please click this link to check the time schedule and price. Flight: http://www.chinahighlights.com/china-flights/ Train: http://www.chinahighlights.com/china-trains/ Lussie Lu replied on 2013-06-27
Anita
2013-04-22
Show Answer
Hello, I would like to go to Dazu from Chogqing in the morning and then got Chengdu by bus from there in the afternoon. Could you please tell me the bus timetable from Dazu to Chengdu. Also what is the address of long distance bus station in Dazu in Chinese and what is the name of arrival bus station in Chengdu for buses from Dazu. Thank you.
Dear Anita, I checked the information on line and found out there are three buses from Dazu to Chengdu. It sets off at 9:00am, 13:00pm and 17:00pm. You could take the bus at Dazu new bus station(大足新汽车站(客运中心))and arrive at Chengdu Hehuachi bus station(荷花池汽车站). It takes about 4.5 hours and it costs about CNY85/US$14 per person. Lussie Lu replied on 2013-04-22
April Offer $25 Coupon
Send your inquiry before Apr. 30, 2014, and we will email you a $25 coupon.
The coupon is valid till Dec. 31, 2014, for paying tour packages worth $250 or up.
The coupon cannot be used for paying flight tickets, train tickets, hotel rooms and day trips.
Travel Advice or Question? Ask us here

China Highlights
Chengdu Travel Guide