Guiyang Train Ticket Office
The city of Guiyang is the capital of Guizhou Province, which lies just north of Guangxi Province and east of Yunnan Province, meaning that it also lies south of Chongqing, southeast of Sichuan Province and west of Hunan Province. Guiyang is a true railway hub, forming a junction for a string of major railway lines such as the Hunan-Guizhou Railway, the Sichuan-Guizhou Railway, the Kunming-Guizhou Railway and the Guizhou-Guangxi Railway, thus linking Guiyang with all of the major cities in the area. Guiyang Railway Station is situated in the heart of the city, and can be reached by public buses Nos. 1 and 2.
Besides the option of purchasing train tickets at Guiyang Railway Station itself, the visitor may purchase train tickets at alternative railway ticket offices in the following districts: Huaxi, Nanming and Yunyan. Currently, the only railway ticket office that provides ticket delivery is the railway ticket office situated at 38 Zhongshan West Road, Tel: 0851-5284203.
Where to Buy Train Tickets in Guiyang
All
Baiyun District
Huaxi District
Kaiyang County
Little River District
Nanming District
Yunyan District
Sort by areas:
All
1.Train Ticket Office of Guiyang Station Travel Service Company
贵阳站旅行服务公司火车售票处
Address: 131 Sanqiao South Road
Chinese Address: 三桥南路131号
2.Train Ticket Office of Mountain-Forest Tourism Company, Guiyang
贵阳山林旅游有限公司火车售票处
Address: 118 Mountain-Forest Road
Chinese Address: 山林路118号
Phone: 0851 6511022
3.Train Ticket Office of Guiyang City Commercial Bank
贵阳市商业银行火车售票处
Address: 145 Zhonghua Middle Road
Chinese Address: 中华中路145号
Phone: 085 5815072
4.Train Ticket Office of Guiyang City Commercial Bank
贵阳市商业银行火车售票处
Address: 88 Yanan Middle Road
Chinese Address: 延安中路88号
Phone: 0851 5285304
5.Train Ticket Office of Guiyang Railway International Travel Agency
贵阳铁路国际旅行社火车售票处
Address: Floor 1 of Mao-tai Building,No.2 Yanwu Street
Chinese Address: 盐务街2号茅台大厦一楼
Phone: 13765112265
6.Train Ticket Office of Guiyang Station Travel Service Company
贵阳站旅行服务公司火车售票处
Address: 453 Yellow River Road ,Little River
Chinese Address: 小河黄河路453号
Phone: 0851 3835557
7.Train Ticket Office of Guiyang Station Trading Company
贵阳站贸易公司火车售票处
Address: 102 Construction New Street, Qingzhen
Chinese Address: 清镇建设新街102号
Phone: 0851 8421858
8.Train Ticket Office of Chenyun Ticketing Service Nanming District, Guiyang City
贵阳市南明区晨运票务服务部火车售票处
Address: 34 Shenqi Road
Chinese Address: 神奇路34号
Phone: 0851 8050008
9.Train Ticket Office of Guiyang City Commercial Bank
贵阳市商业银行火车售票处
Address: 64 Zhongshan East Road
Chinese Address: 中山东路64号
Phone: 0851 5220380
10.Train Ticket Office of Guiyang Railway Xinghua Tourism and Trade Company
贵阳铁路兴华旅游贸易公司火车售票处
Address: 74 Zunyi Road
Chinese Address: 遵义路74号
Phone: 085 8271247
11.Train Ticket Office of Guiyang Station Trading Company
贵阳站贸易公司火车售票处
Address: 10 Youzha Street
Chinese Address: 油榨街10号
Phone: 0851 5595899
12.Train Ticket Office of Guiyang Station Trading Company
贵阳站贸易公司火车售票处
Address: Second Floor of Shopping Center, Kaiyang County
Chinese Address: 开阳县购物中心二楼
Phone: 0851 7253889
13.Train Ticket Office of Air Force Equipment Department in Guiyang Reception Center
空军装备部驻贵阳接待站火车售票处
Address: 106 Qingxi Road,Huaxi District
Chinese Address: 花溪区清溪路106号
Phone: 0851 3851403
14.Train Ticket Office of Guiyang Station Trading Company
贵阳站贸易公司火车售票处
Address: 6 Tongxin Road,Baiyun District
Chinese Address: 白云区同心路6号
Phone: 13984146059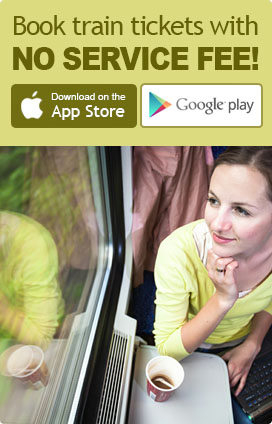 More about Guiyang Trains