Kunming Train Ticket Office
The city of Kunming is capital of Yunnan Province, and an ancient capital with lots of history. Kunming was also the terminal point for the famous Burma Road (Rangoon-Kunming), interdicted by the Japanese in 1942, then the terminal point for the Ledo Road (Ledo, Assam state, India), constructed to replace the Burma Road.
During the same period, the city was also the terminal point for the revived ancient Tea and Horse Caravan Road which, unlike both the Burma and Ledo Roads, was designed not for vehicular travel, but for horse-and-mule caravans along narrow paths through treacherous mountain passes, from Calcutta to Kalimpong (West Bengal state, India) to Lhasa (Tibet Autonomous Region), and finally on to Kunming, Kunming being the headquarters of the Allied effort (British and American) to arm and mobilize the Chinese resistance).
Kunming is the junction of the Chengdu-Kunming Railway, the Guiyang-Kunming Railway, the Nanning-Kunming Railway and the Kunming-Hekou Railway (Hekou is a "last stop before Vietnam" border town in south-central Yunnan Province). The city is served by four railway stations: North, south (the main, or "central", railway station, called simply Kunming Railway Station), East and West, though not all of these are passenger railway stations. Kunming Railway Station, the railway station that most tourists will encounter, is located on Huannan Road, about two kilometers south of the city center. It can be accessed by public buses Nos. 23, 68 and 80.
There are trains that arrive in and depart from Kunming in every direction, including a train to Dali, in the direction of Myanmar (and from Dali, long-distance buses ply the highways toward Lijiang and Deqen (aka Shangri-La), both being cities along the WWII revived Tea and Horse Caravan Road, and from Lijiang it is but a short hop to Lake Lugu, on the border with Sichuan Province, and the home of the matriarchal society of the ethnic Mosuo).
Besides the option to purchase train tickets at the main railway station in Kunming, there are many alternative railway ticket offices round about in Kunming, the bulk of them located in the following districts: Guandu, Panlong, Shilin, Wuhua, Xishan and Yuxi. Several of these offer ticket delivery.
Where to Buy Train Tickets in Kunming
All
Guandu District
Panlong District
Wuhua District
Xishan District
Sort by areas:
All
1.Train Ticket Office of Kunming Network
昆网火车票代售点
Address: 120 Ankang Road, China Telecom Building, Xishan District, Kunming
Chinese Address: 昆明市西山区安康路120号中国电信大楼
Phone: 0871 4168800
2.Train Ticket Office of Chuanhong
川宏火车票代售点
Address: 56 of Floor 1, Guihua Building, Xiyuan Road, Xishan District, Kunming
Chinese Address: 昆明市西山区西苑路56号桂花大厦一楼
Phone: 0871 4185396
3.Train Ticket Office of Xintie
鑫铁火车票代售点
Address: Floor 1 of Department 5, Shulin Street, Shulin Garden, Xishan District ,Kunming
Chinese Address: 昆明市西山区书林街书林花园5幢1楼
Phone: 0871 3189533
4.Train Ticket Office of Daguan
大观制药厂火车票代售点
Address: 28 Danxia Road, Xishan District, Kunming
Chinese Address: 昆明市西山区丹霞路128号
Phone: 0871 4774516
5.Train Ticket Office in Dianxi Company
滇西公司火车票代售点
Address: 39 of Xinghong Lane, High and New Technology Industrial Development Zone, Xishan District, Kunming
Chinese Address: 昆明市西山区高新技术开发区科业路兴洪巷39号
Phone: 0871 6136511
6.Train Ticket Office of Guangke
官科火车票代售点
Address: 101 Unit 1 of Department 1, Beizu Group, Xinying Area, Panlong Distrcit, Kunming
Chinese Address: 昆明市盘龙区新迎小区北组团21幢1单元101号
Phone: 0871 3368777
7.Train Ticket Office of Chahua
茶花火车票代售点
Address: 96 East Dongfeng Road, Chahua Hotel, Panlong District ,Kunming
Chinese Address: 昆明市盘龙区东风东路96号茶花宾馆
Phone: 0871 3166600
8.Train Ticket Office in Labour Security Building
劳动保障大厦火车票代售点
Address: 95 East Ring Road, Floor 1of Labour Security Building, Panlong District, Kunming
Chinese Address: 昆明市盘龙区环城东路95号劳动保障大厦一楼
Phone: 0871 3337340
9.Train Ticket Office of Juhua Village
菊花村火车票代售点
Address: 95 Dongjiao Road, Panlong District, Kunming
Chinese Address: 昆明市盘龙区东郊路95号
Phone: 0871 3374870
10.Train Ticket Office of Xiyuan
西园火车票代售点
Address: 168Beijing Road, the first floor of National Defense Hotel, Guandu District, Kunming
Chinese Address: 昆明市官渡区北京路168号国防宾馆一楼
Phone: 0871 3557766
11.Train Ticket Office of Zhengyuan
正元火车票代售点
Address: 548 South Station Xincun, Department Office Complex, Guandu District, Kunming
Chinese Address: 昆明市官渡区南站新村548号机关综合楼
Phone: 0871 6124900
12.Train Ticket Office of Printing House
印刷厂火车票代售点
Address: 218 Tangshuang Road, inside the Printing House yard, Guandu District, Kunming
Chinese Address: 昆明市官渡区塘双路218号印刷厂院内
Phone: 0871 3145495
13.Train Ticket Office of Guanshang Chihang
关上 驰航 火车票代售点
Address: 101 Guanping Road, Guandu District, Kunming
Chinese Address: 昆明市官渡区关平路101号
Phone: 0871 6297889
14.Train Ticket Office of Railway Tourism
铁旅火车票代售点
Address: Floor 1 of Railway Building, Beijing Road, Guandu District, Kunming
Chinese Address: 昆明市官渡区北京路铁路大厦一楼
Phone: 0871 3551389
15.Train Ticket Office of Tianyu
天宇火车票代售点
Address: 1 Muxing Street, oppose to Tianheng Grand Hotel, Wuhua District, Kunming
Chinese Address: 昆明市五华区木行街1号天恒大酒店对面
Phone: 0871 3153009
16.Train Ticket Office of Huaxing
华兴火车票代售点
Address: 92 East Huashan East Road, Wuhua District, Kunming
Chinese Address: 昆明市五华区华山东路92号
Phone: 0871 3612555
17.Train Ticket Office of Huaxia
华夏火车票代售点
Address: 338 One Two One Avenue, Wuhua District, Kunming
Chinese Address: 昆明市五华区一二一大街338号
Phone: 0871 5319908
18.Train Ticket Office in Wuyi Road
五一路火车票代售点
Address: 122 Wuyi Road, Wuhua District, Kunming
Chinese Address: 昆明市五华区五一路122号
Phone: 0871 3639888
19.Train Ticket Office of Baidahui
百达汇火车票代售点
Address: 99 West Dongfeng Road ,Wuhua District ,Kunming (close to Kunming Department Store
Chinese Address: 昆明市五华区东风西路99号昆明百货大楼旁
Phone: 0871 3621789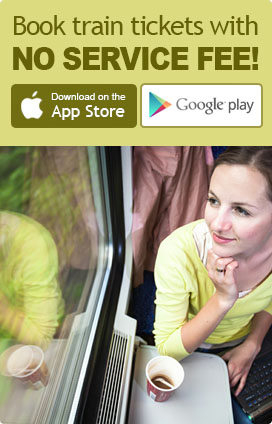 More about Kunming Trains