Zhengzhou Train Ticket Office
The city of Zhengzhou, located in the north of Henan Province, itself situated in the north-central part of China (think: Cradle of Chinese Civilization), is the province's capital. Lying in the heart, as it were, of China's vast railway network, the city of Zhengzhou represents the junction of two main railways: the Beijing-Guangzhou Railway and the Lanzhou-Lianyungang Railway. Zhengzhou Railway Station, located at 19 Longhai West Road in the Erqi District, is one of the country's largest and busiest railway stations, with over 200 train departures daily, serving every corner of China.
Zhengzhou offers high speed rail connections to Shanghai, Beijing and Wuhan, daily, requiring roughly only 7, 5 and 4 hours of travel time, respectively. In addition to the ticket office at Zhengzhou Railway Station, there are many alternative railway ticket offices round about Zhengzhou, located principally in the following districts: Zhongyuan, Erqi, Guancheng and Jinshui.
Where to Buy Train Tickets in Zhengzhou
All
Dengfeng City
Erqi District
Gaoxin District
Gongyi City
Guancheng Hui Nationality District
Huiji District
Jinshui District
Shangjie District
Xingyang City
Xinmi City
XinZheng City
Zhongmou County
Zhongyuan District
Sort by areas:
All
1.Train Ticket Office in Industrial Development Corporation of Zhengzhou station in ZhongmouCounty
郑州车站实业开发总公司中牟客票代售点
Address: 37 Guanfu Street, Zhongmou County, Zhengzhou
Chinese Address: 中牟县官渡大街37号
Phone: 0371 62192185
2.Train Ticket Office in Henan Zhongyuan Rail Travel Group Co., Ltd. in Zhongyue Street of Dengfeng
河南中原铁道旅游集团有限责任公司登封市中岳大街客票代售点
Address: Zhongyue Street, Dengyue, Zhengzhou
Chinese Address: 登封市中岳大街
Opening Time: 08:00–17:00
3.Train Ticket Office in Industrial Development Corporation of Zhengzhou station in Dengfeng
郑州车站实业开发总公司登封客票代售点
Address: 72 Shaolin Avenue, Dengfeng, Zhengzhou
Chinese Address: 登封少林大道72号
Phone: 0371 62850389
4.Train Ticket Office in Xinmi Coach station
新密市长途汽车站客票代售点
Address: NO.100 of West Section, Songshan Avenue, Xinmi, Zhengzhou
Chinese Address: 新密市嵩山大道西段100号
Opening Time: 08:00–17:00
5.Train Ticket Office in Industrial Development Corporation of Zhengzhou station in Xinmi
郑州车站实业开发总公司新密客票代售点
Address: 73 Qingping Street, Xinmi, Zhengzhou
Chinese Address: 新密市青屏大街73号
Phone: 0371 69869169
6.Train Ticket Office in Success College
成功学院客票代售点
Address: Floor 2 of Commercial Street, Success College, Zijing Road, Gongyi, Zhengzhou
Chinese Address: 巩义市紫荆路成功学院商业街二楼
Opening Time: 08:00–16:00
7.Train Ticket Office in Industrial Development Corporation of Zhengzhou station in Gongyi
郑州车站实业开发总公司巩义客票代售点
Address: 84 Xinxing Road, Gongyi, Zhengzhou
Chinese Address: 巩义新兴路84号
Phone: 0371 64399078
8.Train Ticket Office in Luoyang Train Transport and Trading Company in Gongyi East Train Station
洛阳车务段运输贸易公司巩义东客票代售点
Address: East Train Stetion in Gongyi, Zhengzhou
Chinese Address: 巩义东火车站
Phone: 059 80229
9.Train Ticket Office in Luoyang Train Transport and Trading Company in Gongyi
洛阳车务段运输贸易公司巩义客票代售点
Address: 222 Xinhua Road, Cultural Center, Gongyi City, Zhengzhou
Chinese Address: 巩义市新华路222号文化馆
Phone: 0371 64595010
10.Train Ticket Office in Yingbin Road of Xinzheng Airport
新郑机场迎宾路客票代售点
Address: Yingbin Road, Xinzheng Airport Port, Jindefu Hotel, Xinzheng, Zhengzhou
Chinese Address: 郑州市新郑机场港区迎宾路金德福酒店内
Opening Time: 08:00–17:00
11.Train Ticket Office in Long Lake Town
新郑市龙湖镇客票代售点
Address: Commercial Street of Long Lake Town Government, Xinzheng, Zhengzhou
Chinese Address: 新郑市龙湖镇政府商业街
Opening Time: 08:00–17:00
12.Train Ticket Office in Zhonghua Road
新郑市中华路客票代售点
Address: cross of the Zhonghua Road and Renmin Road, Xinzheng, Zhengzhou
Chinese Address: 新郑市中华路与人民路交叉口
Phone: 0371 68385555
13.Train Ticket Office in Industrial Development Corporation of Zhengzhou station in Xinzheng
郑州车站实业开发总公司新郑客票代售点
Address: 124 Renmin Road, Xinzhen, Zhengzhou
Chinese Address: 新郑市人民路124号
Phone: 0371 62693036
14.Train Ticket Office in Xingyang
荥阳客票代售点
Address: 161 Wanshan Road, Xingyang, Zhengzhou
Chinese Address: 荥阳万山路161号
Opening Time: 08:00–17:00
15.Train Ticket Office in Gongyi Branch of Luoyang Train Transport and Trading Company in Xingyang
洛阳车务段运输贸易公司巩义分公司荥阳客票代售点
Address: Xingyang Train Station
Chinese Address: 荥阳火车站
Phone: 059 80097
16.Train Ticket Office in Zhongxin Road
上街区中心路火车票代售处
Address: Zhongxin Road, East Date of the Bus Station, Shangjie District, Zhengzhou
Chinese Address: 上街区中心路汽车站东出站口
Phone: 15638899875
17.Train Ticket Office in Henan Zhongyuan Rail Travel Group Co., Ltd. in Ruida Road
河南中原铁道旅游集团有限责任公司瑞达路客票代售点
Address: NO.2 Uite 1, Building 11, Ruida Road, Gaoxin District, Zhengzhou
Chinese Address: 郑州市高新区瑞达路11号楼1幢1单元2号
Opening Time: 08:00–17:00
18.Train Ticket Office in Industrial Development Corporation of Zhengzhou station in Lotus Street
郑州车站实业开发总公司莲花街客票代售点
Address: NO.2 Building 1, Academy Garden, Gaoxin District, Zhengzhou
Chinese Address: 郑州市高新区莲花街学府花园1号楼2号
Opening Time: 08:00–17:00
19.Train Ticket Office in Industrial Development Corporation of Zhengzhou station in Gaoxin District
郑州车站实业开发总公司高新区客票代售点
Address: 15 Shihehuan Street, Gaoxin District, Zhengzhou
Chinese Address: 郑州高新区市合欢街15号
Opening Time: 08:00–17:00
20.Train Ticket Office in Henan Zhongyuan Rail Travel Group Co., Ltd. in Laoyachen Street
河南中原铁道旅游集团有限责任公司老鸦陈客票代售
Address: Laoyachen Street, Unicom Service Hall, Huiji District, Zhengzhou
Chinese Address: 郑州市惠济区老鸦陈街(联通大厅
Opening Time: 08:00–17:00
21.Train Ticket Office in Yellow River Guest Hotel
惠济黄河迎宾馆客票代售点
Address: 1 Yingbin Road, Huiji District, Zhengzhou (West Gate of Yellow River Guest Hotel)
Chinese Address: 郑州市惠济区迎宾路1号(黄河迎宾馆西门)
Opening Time: 08:00–18:00
22.Train Ticket Office in Industrial Development Corporation of Zhengzhou station in Zhengbian Road
郑州车站实业开发总公司郑汴路客票代售点
Address: 126 Zhengbian Road, Jinshui District, Zhengzhou
Chinese Address: 郑州市金水区郑汴路126号
Opening Time: 08:00–17:00
23.Train Ticket Office in Labor Service Company of Zhengzhou station in Garden Road
郑州车站劳动服务公司花园路61号客票代售点
Address: 61 Garden Road, Jinshui District, Zhengzhou
Chinese Address: 郑州市金水区花园路61号
Opening Time: 08:00–17:00
24.Train Ticket Office in Industrial Development Corporation of Zhengzhou station in Institute of Light Industry
郑州车站实业开发总公司轻工学院客票代售点
Address: 4 Dongfeng Road, Jinshui District, Zhengzhou
Chinese Address: 郑州市东风路4号
Phone: 0371 63841391
25.Train Ticket Office in Industrial Development Corporation of Zhengzhou station in Garden Road
郑州车站实业开发总公司花园路客票代售点
Address: 14 Garden Road, Jinshui District, Zhengzhou
Chinese Address: 郑州市花园路14号
Phone: 0371 65950280
26.Train Ticket Office in Air China of Zhengzhou Business Department
国航郑州营业部
Address: 16 Jinshui Avenue, Jinshui District, Zhengzhou
Chinese Address: 郑州市金水大道16号
Phone: 0371 65956285
27.Train Ticket Office in Renmin Road
郑州人民路客票代售点
Address: 66 Renmin Road, Guancheng Hui Nationality District, Zhengzhou
Chinese Address: 郑州市管城回族区人民路66号
Opening Time: 08:00–22:00
28.Train Ticket Office in Industrial Development Corporation of Zhengzhou station in Suoke Building
郑州车站实业开发总公司东明路索克大厦客票代售点
Address: 218 Dongming Road, Guancheng Hui Nationality District, Zhengzhou
Chinese Address: 郑州市东明路218号
Phone: 0371 65622210
29.Train Ticket Office in Industrial Development Corporation of Zhengzhou station in Dongming Road
郑州车站实业开发总公司东明路客票代售点
Address: 30 Dongming Road, Guancheng Hui Nationality District, Zhengzhou
Chinese Address: 郑州市东明路30号
Phone: 0371 66366817
30.Train Ticket Office in Industrial Development Corporation of Zhengzhou station in Huayi Building
郑州车站实业开发总公司城东路华亿大厦客票代售点
Address: 94 Chengdong Road, Guancheng Hui Nationality District, Zhengzhou
Chinese Address: 郑州市城东路94号
Phone: 0371 68263588
31.Train Ticket Office in Industrial Development Corporation of Zhengzhou station in Zhongyuan Road
郑州车站实业开发总公司中原路客票代售点
Address: 101 Zhongyuan East Road, Erqi District, Zhengzhou
Chinese Address: 郑州市中原东路101号
Phone: 0371 67712586
32.Train Ticket Office in Industrial Development Corporation of Zhengzhou station in Guangnan Road
郑州车站实业开发总公司京广南路万客来客票代售点
Address: 280 Guangnan Road, Erqi District, Zhengzhou
Chinese Address: 郑州市京广南路280号
Phone: 0371 67015872
33.Train Ticket Office in Henan Zhongyuan Rail Travel Group in Wenhua Road
河南中原铁旅集团文化路客票代售点
Address: 126 Wenhua North Road, Zhongyuan District, Zhengzhou
Chinese Address: 文化北路126号
Phone: 0371 63563369
34.Train Ticket Office in Henan Zhongyuan Rail Travel Group in Changxing Road
河南中原铁旅集团长兴路客票代售点
Address: 1 Changxing South Road, Zhongyuan District, Zhengzhou
Chinese Address: 长兴南路1号
Phone: 0371 68220376
35.Train Ticket Office in Industrial Development Corporation of Zhengzhou station in Longyuan Hotel
郑州车站实业开发总公司龙源酒店客票代售点
Address: 1 Huai River West Road, Zhongyuan District, Zhengzhou
Chinese Address: 郑州市淮河西路1号
Phone: 0371 67906225
36.Train Ticket Office in Industrial Development Corporation of Zhengzhou station in Dukang Hotel
郑州车站实业开发总公司杜康酒店客票代售点
Address: 178 Tongbo Road, Zhongyuan District, Zhengzhou
Chinese Address: 郑州市桐柏路178号
Phone: 0371 67224882
37.Train Ticket Office in Industrial Development Corporation of Zhengzhou station in Zhengshang Road
郑州车站实业开发总公司郑上路客票代售点
Address: 602 Zhengshang Road, Zhongyuan District, Zhengzhou
Chinese Address: 郑州市郑上路602号
Phone: 0371 67656626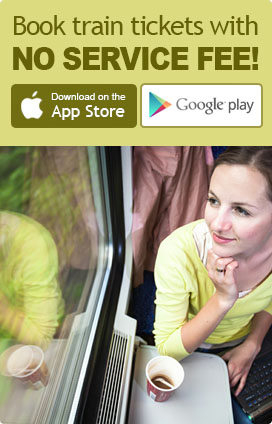 More about Zhengzhou Trains