Lanzhou Railway Station
Lanzhou Railway Station Taxi Directions
Chinese Name: 兰州

Address: Railway Station East Road, Chengguan District, Lanzhou, Gansu Province.

Chinese Address: 甘肃省兰州市城关区火车站东路

Telephone: 0931-6218378 0931-8828180

Number of platforms:5
Where the Trains Going to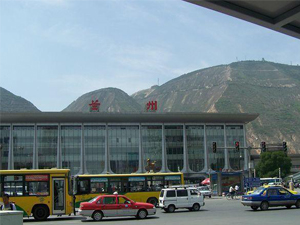 Lanzhou Railway Station is located on Railway Station East Road, Chengguan District, Lanzhou, Gansu Province. There are many railway lines running through it, such as Longhai Railway (from Lianyungang, Jiangsu Province to Lanzhou, Gansu Province), Lanxin Railway (from Lanzhou to Urumqi), Baolan Railway (from Baotou to Lanzhou) and Lanqing Railway (from Lanzhou to Xining, Qinghai Province)
Transportation to Lanzhou Railway Station
Bus: Few take the bus, so it won't be crowd. The ticket price is 2 yuan. Bus line 57 (from Xigu Park to Liugou West) passes the railway station.
Taxi: The starting rate is 8 yuan. If you want to take a taxi, you should work out the cost before you agree to travel.
Lanzhou Railway Station Special Tips
Phone Numbers
Station Inquiry Number: 0931-6218378
Station Ticket Booth Number: 0931-8828180
Special Service on Lanzhou Railway Station
Station Services
1. Guide Service:Passengers can find advanced LED electronic information systems, different signs and electronic information boards in the waiting rooms, at the ticket barriers and at boarding zones. Station staff will take passengers with soft seat tickets to their trains. Station staff will also take those in the waiting room for infants and their mothers to their trains.
2. Retail Services:In the station there are newspaper kiosks and Xinhua Bookshops. Various magazines are also provided for reading free of charge.
3. Hot Water Service: There are places in the station where passengers can get free hot water.
4. Elderly and Disabled Service:  In the first floor concourse, there are offices where senior citizens and the disabled can seek help with moving about the station. These offices are equipped with wheelchairs, stretchers and drip stands. Station staff will help the elderly and disabled to get on the trains.
5. Mother and Child Priority Service:There are mother and child rooms in the waiting room. Mothers in these waiting rooms will be taken care of by the station staff. Priority will be given to these passengers when they board a train.
6. English and Sign Language Service: An English language service is provided at the international waiting room, soft seat waiting room and the Central Ticket Checking Area. A sign language service is also provided.
7. Tools and Equipment:There are boxes at the service desk of the waiting room where passengers can find sewing equipment, screwdrivers, pliers and other hand tools.
8. Public Address Service:The Railway Station is equipped with the most advanced automatic public address system. Announcements in different languages, such as Chinese, English, Russian and Korean, will be bradcast when necessary.
9. Inquiry Service:The Inquiry Station has an automated telephone enquiry system. The inquiry line number is 010-51019999. This line can answer 60 calls at the same moment, mainly answering questions related to passengers' transportation and station services.
Lanzhou Railway Station Overview
Passenger and goods transport is separated. There are luggage/parcel consignment services with passenger services. Cargo transport only runs on industrial lines and accepts no passengers.
Station facilities
In Lanzhou Railway Station, there are 5 platforms and 12 cargo tracks. In the Ticket Concourse, there are four automatic ticket machines and automatic change machines. Passengers can insert a one yuan coin into the ticket machine according to the operation instructions and then will get the ticket. If you don't have coins, you can use an automatic change machine to change notes into coins, then use the automatic ticket machine to buy tickets. In order to make sure passengers have a smooth journey during the holidays, Lanzhou Railway Station has taken many measures, such as opening more ticket booths and reserving enough tickets to meet passenger needs.
As there are many stairs in the railway station, it is hard for those passengers using wheelchairs. In consideration of these people, Lanzhou Railway Station has taken steps to solve this problem.