Urumqi Railway Station
Urumqi Railway Station Taxi Directions
Chinese Name: 乌鲁木齐

Address: The eastern foot of Yamalike Hill, Saybagh District

Chinese Address: 新疆维吾尔自治区乌鲁木齐市沙依巴克区

Telephone: 0991-7945222.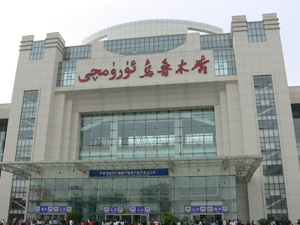 Urumqi Railway Station is located at the eastern foot of Yamalike Hill, Saybagh District. It is an important point on the second Euro-Sino Continental Railway. It is also an important external gateway enabling the construction of two aspects of civilization in Xinjiang (material civilization and philosophical civilization).
Transportation to Urumqi Railway Station
It is quite convenient for passengers to take a taxi or bus from Urumqi Railway Station.
Passengers can find a taxi station on the right of the Railway Station. The starting rate is 6 yuan, 1.3 yuan per kilometer (0.8 yuan per mile) after the first 3 kilometers (2 miles) in the day time and 1.5 yuan per kilometer (1.0 yuan per mile) after midnight. After dark, it is preferred if men not to seat in the front passenger seat and you should register at the police station if you want to go out of the city.

Most of city buses in Urumqi are conductor-less buses. The price is one yuan in the daytime and 1.5 yuan after midnight. It is quite convenient for passengers to reach the railway station from Urumqi bus station. There are also many city bus routes from the railway station to the city center.
Special Service on Urumqi Railway Station
Passenger transport includes luggage/parcel consignment services. Cargo transport includes retail transport, container cargo transportation and cargo storage, Explosives and dangerous chemicals are not transported together.
Urumqi Railway Station Overview
Urumqi Railway Station was opened in 1962. There are many railway lines running through it, such as the Lanxin Line, the Southern Xinjiang Line, and the Northern Xinjiang Line.
Station facilities:
Station facilities include: the Ticket Concourse, General Waiting Room, Soft Seat Waiting Room and VIP Waiting Room. The station can accommodate 7,000 passengers at a time. The waiting room has advanced facilities and is spacious and bright. Advanced facilities include a closed circuit TV anti-thief monitoring system, fire alarm and emergency lighting system, an integrated information management system, electronic ticketing system, a Mishina security inspection system, passenger escalator, LED color screen, international PA system, multifunctional automatic passenger inquiry machine, automatic broadcasting system, phone inquiry system, internet access and centrally controlled air-conditioning. 
Planning a trip? Ask us here

800-2682918 (USA & CA)

86-773-2831999

1800-764678 (AU)

0800-0327753 (UK)

800-8793-007 (China)
Q:
zul mulji
Asked on 4:46 PM May. 21 2012
Reply
Is the train station at Urumqi open all night?
Q:
zul mulji
Asked on 3:13 PM May. 21 2012
Reply
is there a bus from the airport to the railway station? When does the last bus leave the airport? Is the train station open all night?

Hi zul mulji! There is a bus from the airport to the railway station. It is said that the bus will leave after each flight landing. It opens from 7:30 am to 24 pm Beijing time(+0800 UTC). Peter Replied on 07:40 AM May. 22 2012
Q:
muhammad Afgn
Asked on 04:59 AM May. 13 2012
Reply
how much is the bullet train ticket price from Urumqi to Guangzhou??
There is no bullet train from Urmqi to Guangzhou. However train T36/37 is available. The cheapest ticket is for a hard seat, costing 427 yuan, and the cheapest ticket for a hard berth costs 718 yuan.
For more detailed information, you can ckeck out on the page of China train schedule search: http://www.chinahighlights.com/china-trains/. Lynn Ye Replied on 04:43 AM May. 14 2012
Q:
Sergey
Asked on 05:40 AM Dec. 21 2011
Reply
Transportation of a cargo from Urumqi up to Shanghai interests
Dear Sergey,
Our company is a travel agency, we are not sure about this. I would like suggest you ask the railway department for more information. Lee Li Replied on 8:19 PM Dec. 21 2011
Q:
nadeem bashir
Asked on 6:11 PM Aug. 03 2011
Reply
how far is urumqi railway station from southren suburb bus station?
Hi, Nadeem,
The distance is around 5-6 kilometers. You can take public bus No 915 to Sandunbei (三屯碑), and then walk to the bus station for a few minutes. A taxi ride costs about 10 yuan. Ruru Zhou Replied on 7:25 PM Aug. 03 2011