Wuhan Railway Stations
Where the Trains Going to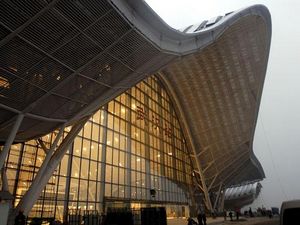 Wuhan, as one of the four major railway hubs in China, is the at the crossway of Beijing-Guangzhou railway line, Hankou-Danjiangkou railway line and some other important railway lines. Every day trains depart from Wuhan to almost every city inside Hubei province and trains are available for getting to major cities in China, like Beijing, Shanghai, Harbin, Urumqi, Luoyang, Chongqing, Xi'an, Kunming, Chengdu, Liuzhou, Guangzhou, Nanchang and Hefei. There are over 70 trains departing from the station every day and more than 120 trains pass here.
Bullet trains are available between Wuhan and seven cities. By taking a bullet train, it only takes 4 hours to get to Guangzhou, 4 hour to Zhengzhou and 9 hours to Beijing.
Transportation to Wuhan Railway Stations
Transportation:travelers can take city buses No. 234, 540, 551, 610, 643, 725 and 734 to get to the railway station.
Wuhan Railway Stations Special Tips
Tip: Because the three train stations are not close to each other, travelers should make sure in advance which station they should go to board the train.
Wuhan Railway Stations Overview
There are three main railway stations in Wuhan, namely Wuhan Railway Station, Wuchang railway station and Hankou Railway Station. Wuhan Railway Station offers passenger service on the Beijing-Guangzhou Railway Line; Hankou railway station is mainly responsible for travelers on the Shanghai-Wuhan-Chengdu line and Wuchang railway station is mainly responsible for freight and general transport.
Planning a trip? Ask us here

800-2682918 (USA & CA)

86-773-2831999

1800-764678 (AU)

0800-0327753 (UK)

800-8793-007 (China)
Q:
Peter
Asked on 06:21 AM Aug. 02 2012
Reply
Hi!How frequent are trains from Jingzhou Hubei to Yichang Hubei? Also for the return trip how late is the last train of the evening or do they run all night?
Hi Peter,
There are about lots of bullet trains from Jingzhou to Yichang, departing at about each 30 minitutes from 07:40 to 21:40. It is about 3a mins train travel and the price is CNY 31 per first class seat.
Regards,
Coco Coco Yang Replied on 03:44 AM Aug. 03 2012

Hi, are the high speed trains in operation yet? Where can I get the times guest Replied on 02:25 AM May. 08 2014

Hi, I actually meant to ask whether it would be better to travel to Jingzhou from Wuhan or Yichang? What are the travel times by high-speed train and would it be possible to get something like a schedule for better planning?
Reason I ask is that I''m trying to see where I can cut the journey short. I''m coming from Malaysia so if I travel from Malaysia, I''d have to change flights at Shenzhen to get to Yichang. If I travel from Singapore, I can get a direct flight to Wuhan. guest Replied on 02:48 AM May. 08 2014

Somehow this site thinks I am asking these questions! But I can answer what you ask as I have done regular trips between Yichang and Wuhan and also have been to Jingzhou from Yichang many times. Firstly Yichang is much closer to Jingzhou than Wuhan. It is only 30 mins compared to 1 1/2 hours. Trains are very regular as stated by Coco.
By the way- I have flown from KL to Yichang via Guangzhou a few times. Air Asia also fly into Wuhan from Bangkok- easy enough from KL. guest Replied on 05:31 AM May. 08 2014
Q:
Taein Chung
Asked on 10:41 PM Jul. 07 2012
Reply
1.Whant number of bus should I take to go to Wuhan railroad station from Wuhan Internatiuonal airport?2.What kind of train can I take to go to Zhuzhou from Wuhan railroad station?
Hi Taein, as for your first question, you can take an airport shuttle bus from the airport to the downtown and get off the bust at Fujiapo Station. Then you can take a bus NO.811 to the railway station. There are lost of bullet train from Wuhan to Zhuzhou, such as G1149 and G1151. Michael Hu Replied on 08:59 AM Jul. 09 2012
Q:
john
Asked on 10:24 PM Jul. 04 2012
Reply
whats the most convinient means of transportation from wuhan railway station to 122 Luoshi Road,Wuhan,Hubei please and how to write luo shi in chinese characters gon be my first time in wuhan so im totally lost and i dont speak chinese. thanks
Hi John, thank you for your inquiry. The most convenient way is to take a taxi from Wuhan Railway Station to 122 Luoshi Road. The No. 122 Luoshi Road is the Wuhan University (武汉大学). The Chinese characters is 武汉珞狮路122号. It takes about 40 minutes and costs CNY50-70 to get there.
Wish you a nice journey! Nora Ou Replied on 06:11 AM Jul. 05 2012
Q:
Mariephil
Asked on 06:50 AM May. 28 2012
Reply
hi, i am traveling from beijing west to wuhan(wuchang) , and wuhan to guangzhou via bullet train..i am confuse of the Wuhan station and Wuhan (wuchang) because i will get off at Wuhan (wuchang) from beijing west by 6:30 am..so please from Wuhan (wuchang) how can i go to Wuhan station to take bullet ...
Hi,Mariephil
I suggest that you take taxi to Wuhan station since you only have 1hour,it is 40miu by taxi. you can Change a later time train ( wu han to Guangzhou).otherwise it is quite risky if the first train delay or anything happened on the way.
China Highlights offers a full range of travel services including tour packages.hotel rooms and air tickets.Are any of these services if you interest? I can help you with any of these services right now.
wish you have a good trip
Lily Guo Replied on 00:01 AM May. 29 2012
Q:
trish
Asked on 00:09 AM Apr. 11 2012
Reply
hello,I would be coming to china in june. I am looking at possible areas to fly from Malaysia to Jingzhou City. Any advice as I do not speak chinese.
Hello Trish,
Thank you for your continually interest in our service.
Regarding your inquiry, personally, I think fly from Kuala Lumpur to Guangzhou, and then fly from Guangzhou to Yichang, take the intercity coach from Yichang to Jingzhou is the best way since there is no airport in Jingzhou.
You can book your international flight tickets here: http://www.chinahighlights.com/china-flights/flights-to-china.htm
It takes about 1.5 hours to get Jingzhou from Yichang, and there are many coached run between them.
If you visit China after May, the high speed train between Yichang and Jingzhou should be in operate.
Hope it helps.
Wish you a nice day! Robert Hui Replied on 07:35 AM Apr. 12 2012