Yinchuan Railway Station
Yinchuan Railway Station Taxi Directions
Chinese Name: 银川

Address: Xingzhou North Street, Xixia District, Yinchuan City

Chinese Address: 银川市西夏区兴洲北街

Telephone: 0951-3922222

Number of platforms: 10
Where the Trains Going to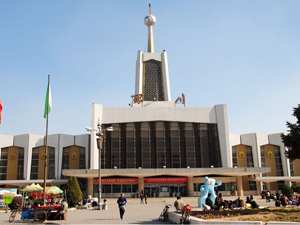 Yinchuan Railway Station was built in 1958. It's located on Baotou – Lanzhou Railway Line, 511 km (318 miles) from Baotou, and 468 km (291 miles) from Lanzhou.
The Baotou—Lanzhou railway runs across the Ningxia Hui Autonomous Region. It connects Baotou in the east, which is an important town in North China, and Lanzhou in the west, which is an ancient city in Northwest China. In addition, it also joins the Beijing—Baotou railway, Lanzhou—Xinjiang railway, Lanzhou—Qinghai railway, Zhongwei—Baotou railway and the Zhongbao railway which connects with the Longhai Railway, also known as the Eurasia Land Bridge. Trains departing from Yinchuan can take passengers to big-and-mid-sized cities directly, including Beijing, Shanghai, Xi'an, Chengdu, Xining, Lanzhou, Baotou, and Hohhot etc. They can also take passengers to some cities and counties in Ningxia Province.
Transportation to Yinchuan Railway Station
Transportation: Travelers can take public buses No. 1, 11, 26, 30, 36, 41, 45, 101, 201, 301, 303, and 306 to get to the railway station.