Chongqing Restaurants
Chinese Restaurants
Cai Xiang Yuan (yangjiaping Branch)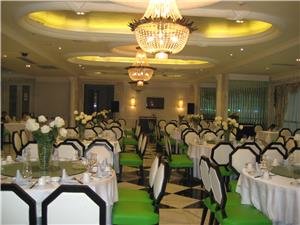 Cai Xiang Yuan
It has accommodation for 320 dinners with 20 personal boxes. Most of dishes are cooked with local flavors and ingredients, meanwhile Cantonese dishes are available.
Address:Floor 2, Guan Jiang Ge, Pearl River Garden, Zhigang Ave., Chongqing.
Tanyingxiong Hotpot Restaurant
Chongqing Tanyingxiong Hotpot Restaurant wins the Jinding Prize for China Famous Hotpot Shop. Tanyingxiong Yutou(head of fish) hotpot uses the head of silver carp living in freshwater lakes as material. The fish is fat and tender. At the same time, it's rich in unsaturated fatty acid which human body can't synthesize by itself, amino acid, and some microelements which can strengthen human's memory. Tanyingxiong Hotpot gets rid of the characteristic of traditional Chongqing hotpot that there is too much oil. Its oil mainly adopts vegetable oil. After hotpot is boiled, oil will spread about on all side and the middle soup is white, which is the effect of "one flower in the middle". In addition, rice mixed with the soup of Tanyingxiong hotpot is very delicious. Tanyingxiong Hotpot is the first one to mix soup with rice. Tanyingxiong base material is extremely fragrant. After fish head is boiled for a long time, the hotpot becomes more delicious and fragrant, and is rich in abundant nutrition. People who are lack of appetite can eat a lot if they eat the rice mixed with hotpot soup.
This restaurant has many chains in the city
1. Chongqing Shapingba Branch
Address:Tianxingqiao Main Street (near Lishuwan), Shapingba District
Tel: (023) 65303978
2. Jiangbei Branch
Address:521 Jiangbei Third Avenue (at the back of the Customs), Jiangbei District
Tel:(023) 67725424
Little Swan Zhigang Restaurant
It's a first class hotpot restaurant with good environment, especially the room with scenery. When people withdraw curtains, they can see clusters of light along the bank of the Yangtze River. It's really a good place for enjoying scenery and tasting food.
Add: No. 36-1, the Zhiguang Avenue, the Yangjiaping
Fish Eating Sheep
In this restaurant, people can taste three famous dishes: Fish Eating Sheep, which was granted by Hubilie, the emperor of the Yuan Dynasty; La Zhi Lian, which was named by Venice businessman, Marco Polo; Zi Yang Chicken, which was named when Gong Sunshu was proclaimed emperor in Baidi City. After Hubilie unified China, these three dishes became the famous dishes in the court of the Yuan dynasty. The materials of them are very fresh and the prices are
Location:Enter the gate of the Zhujiang Garden located in the Zhiguang Avenue of Yangjiaping and then go down for 50 meters.
Taoran House
Taoran House was set up in 1955, with the registration funds of 510,000,000Yuan. It mainly deals in food. It's a large-scale food group combining chain management, ecological cultivation, food processing, people training, and material supply into a whole body. In present, there are more than 50 chain stores in over 20 provinces and cities in China. Taoran House has won a lot of titles, such as "Famous Shop of International Food", "Famous Shop of China Food", and "China Food Baiqiang (the best 100 of all) Enterprise". In the Fifth China Food Festival, it won the 12 awards, such as "Five-star Prize of International Famous Food Shop", "International Gold Prize of Food Quality", etc. They are all the highest awards. "Famous shop displays strength; glory creates resplendence". For 10-year development, Taoran House has invented more than 50 "China's famous foods and desserts" and hundreds of flavor foods . Taoran House has been well-known in the world.
Specialty: peppery river snail, chicken cooked with dasheen, Taoran peppery chicken, bunched hare with orange fragrance.
Tips: The restaurant is very popular among the locals and it's usually very crowded in the evening particularly in holidays. Booking in advance is necessary.
Location:

1. the main restaurant: at the exit of the Hangu Town highway, Jiulongpo District, Chongqing; Tel: 023-65700199 65730238

2. Beibin Road branch: the Binjiang Road, Jiangbei District, Chongqing; Tel: 023-67012188 67012199

3. Southern Garden branch: Num.46, the Keyuan 3rd Avenue, the Southern Garden, the High and new technology development zone Tel: 023-68691999 68696629

Tips: The restaurant is very popular among the locals and it's usually very crowded in the evening particularly in holidays. Booking in advance is necessary.
Other famous hotpot restaurants include Su Da Jie Hotpot, Qiao Tou Hotpot, Ba Xiang Fish Head.
Food Street In Nanbin Road
Food Street in Nanbin Road is the highlight of Chongqing's food streets. Located in the south bank of the Yangtze River, the Food Street in Nanbin Road gathers the delicious food from lots of parts in both domestic and abroad areas. The most famous food in the street is the series of hot pot, and the famous hot pot restaurants include many senior and nice restaurants: Taoran House (陶然居), 'Grandma Bridge' (外婆桥), 'Following Wind 123' (顺风123) and 'Senior Courtyard' (老院子). Besides restaurants offering Chinese food, cafés, teahouses and western-style restaurants are also available there. Diners can have a walk along the bank, and enjoy themselves in the public places of entertainment after their dining.
Chinese name: 南滨路美食街 Nanbin Lu Meishi Jie /nan-bin lu: may-shee jyeh/
Address: Nanbin Road, Nan'an District (南岸区南滨路)
Indian Restaurant
Sumo Indian Restaurant苏摩印度风味餐厅
Address:No.5-2, Zhonghua Alley, Jiefangbei, Yuzhong District (渝中区解放碑中华巷5号附2号3楼)
Average Price per person: 40yuan
Tel: 023-8199 0188
Muslim Restaurants
Lvxiang Restaurant绿翔食府
Address: No.8, Xinyi Road, Yubei District ( 渝北区新牌坊新一路8号)
Average Price per person: 38 yuan
Tel: 023-6750 8618
Baijian Restaurant百家羊肉馆
It is a restaurant famous for the delicious mutton.
Address: No.68, Jiefang Xi Road, Yuzhong District (渝中区解放西路68号)
Average Price per person: 32 yuan
Vegetarian Restaurants
Vegetarian Lifestyle菩提素素食餐厅
Address: the 1st Jingli Building, No.168, Xinnan Road, Yubei District (渝北区龙湖水晶郦城晶郦馆1楼)
Average Price per person: 78 yuan
Tel: 023-6739 6911
Foshanyuan Vegetarian Restaurant佛善源素食餐厅
Address: inside Luohan Temple, Minzu Road, Yuzhong District (渝中区民族路罗汉寺内)
Tel: 023-6605 0111
Questions and Answers About Chongqing Restaurants
Raymond
2014-04-12
Show Answer
I am an American male planning to visit Chongqing.My question is,where can one find a nice western culture restaurant ? I plan on eating some of the Chinese food as well,but I was just curious of where I can go in Chongqing to eat some of the good old American food ?
Dear Raymond, It is difficult to find a restaurant for eating old American food.There are many fast food restaurant, such as KFC, Mc Donald. For the western restaurants, you could go to the hotels to find them. We listed some local restaurants on website for reference. Click:http://www.chinahighlights.com/chongqing/restaurants.htm Lussie Lu replied on 2014-04-14
Umm waraquah
2012-07-09
Show Answer
hello, i am planning to visit chongqing very soon and i would like to know of any Arabs or any halal(清真) restaurants there?thank you
hi this is Sammi, here is some information on Halal food for you. It seems there are quite a few halal food restaurant on Zhongxing road in Yuzhong district. here is the details in Chinese: 新疆天山餐厅 渝中区中兴路3号 phone number 023-63833803 庆聚斋清真餐厅 渝中区中兴路5号穆斯林大厦 023-63702133 Sammi Dai replied on 2012-07-10
bishal
2011-03-22
Show Answer
how many indian restaurants are there in chonqing??
i am sorry that i do not know the exact amount of Indian restaurants in Chongqing.But i have two options for you as below: 1.Name:Indian Xiao Chu Location:5th Floor,New world Depatment store,Guanyin Bridge,Jiangbei District,Chongqing Tel:+86-13452570456 2.Name:Indian Cai Cai Restaurant Location:Beside YiChu Lotus supermarket,Yubei District,Chongqing Tel:023-67508090 The local food in Chongqing is also famous for the spicy and hot flavour,but Chongqing's spicy is different than Indian's.You may identify the difference after having it. Karen Yang replied on 2011-03-23
April Offer $25 Coupon
Send your inquiry before Apr. 30, 2014, and we will email you a $25 coupon.
The coupon is valid till Dec. 31, 2014, for paying tour packages worth $250 or up.
The coupon cannot be used for paying flight tickets, train tickets, hotel rooms and day trips.
Travel Advice or Question? Ask us here

China Highlights
Chongqing Travel Guide